The Leading Commercial Pool Enclosure Manufacturer
Excelite provide the most strongest and very affordable Commercial Pool Enclosure around the world.
Why Excelite Commercial Pool Enclosure
High Quality Standard
Our Engineers uses Polycarbonate sheet as Commercial Pool Enclosure's raw material.
1
Certified ISO9001:2008
Excelite strictly control their production steps to ensure Commercial Pool Enclosure can last for ten years.
2
Sales expertise
Excelite sales team is full of professional, enthusiastic, personable people. We put quality and customer first all the time.
3
Excellent after-sale service
Quality of sold product guaranteed, our professional service team is always available to reply your enquiries.
4
Popular Commercial Pool Enclosure Model for Family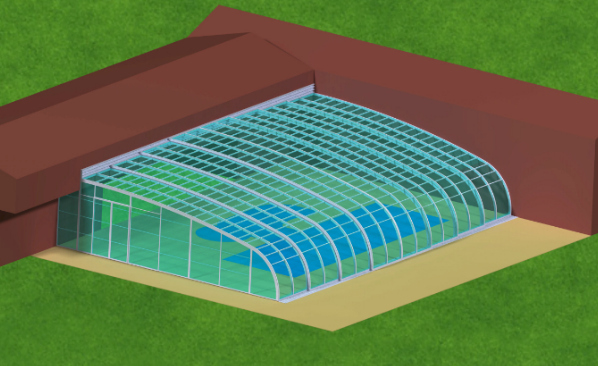 Model Y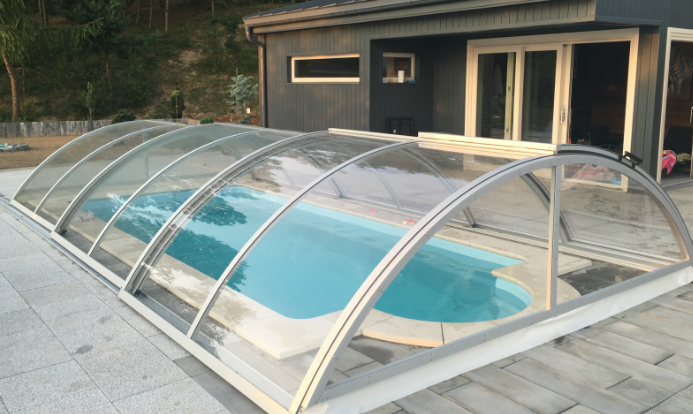 Model B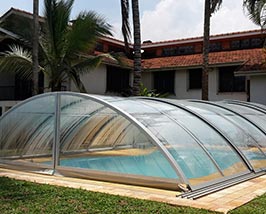 Model C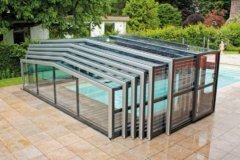 Model G
Excelite Commercial Pool Enclosure
Modern Excelite Commercial Pool Enclosures have embraced elegant architecture and unobtrusive design in order to ensure that such enclosures become a feature in their own right.
Indeed, commercial pool enclosures can be grand, simple, seamless or make statement. It simply depends on what your business needs.
Excelite Commercial Pool Enclosures feature several designs that incorporate retractable roofs or elements. This certainly entails the best of both worlds, allows customers and patrons to use the open space when weather is cooperative, but still keeps the outdoor vibe that makes those spaces so popular in the first place.
Everyone wants to have a quiet and relaxing retreat for the perfect place for entertainment. As Excelite manufactures polycarbonate sheet, we can help you get the most affordable Commercial Pool Enclosure.
Also, Excelite provides you comfortable, customizable and standard Commercial Pool Enclosure that will enhance the value of your pool.As polycarbonate sheet is much stronger than glass, we provide you a high quality Commercial Pool Enclosure.
Excelite can tailor made your pool enclosure based on your DIY requirements. You will get 15 years warranty on any Excelite pool enclosure. Tell us your pool size and get a quick quote today!
Don't Take Our Words For It.
Listen to what our clients say about our enclosure
Commercial Pool Enclosures:The Ultimate Guide
Having to deal with frequent disruption of your pool activities as a result of adverse weather conditions can be discouraging.
This can be felt more if you are living in regions that experience climatic changes all year round.
Take for example, snow in Calgary, Canada or scorching sun and high speed winds in Arizona U.S.A.
I know you'd not wish your pool to look like this: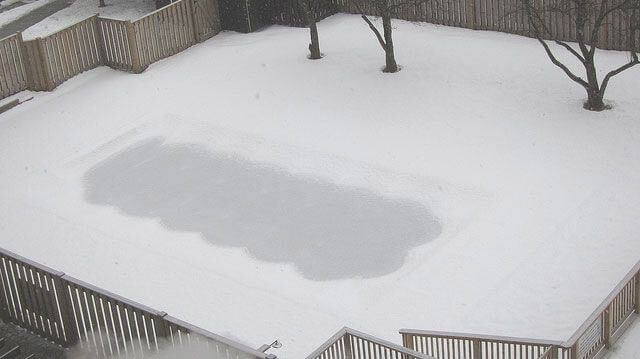 Pool covered with snow
So today, I want to give you a reliable and trusted solution that will help increase swimming season.
What exactly am I talking about – Commercial Pool Enclosure.
Chapter 1:
What is a Commercial Pool Enclosure?
Pool enclosures come in handy to ensure that both the swimming pool and the pool users are well protected from harsh weather conditions all year through.
You can choose to build it in your residential or commercial space depending on your choice and preferences.
Commercial pool enclosures can be a little bit challenging to put up due to the many requirements that are needed.
In this case, you may be interested in gaining more knowledge about commercial pool enclosures.
So, what do we mean by commercial pool enclosures?
Well, for you to understand better, I will start by explaining to you what a swimming pool enclosure is.
A pool enclosure basically refers to a structure that is built over your pool often made of transparent panels for the purpose of protecting your swimming pool and pool users.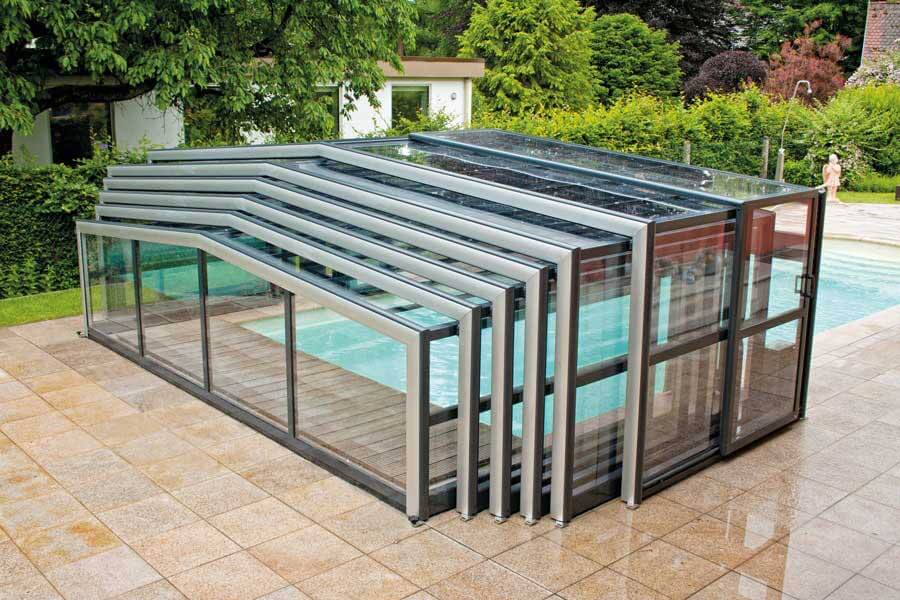 Retractable swimming pool enclosure
Therefore, a commercial pool enclosure refers to an enclosure that is built on public areas such as community swimming pools, institutions, hotels and restaurants or other recreational amenities meant for public use.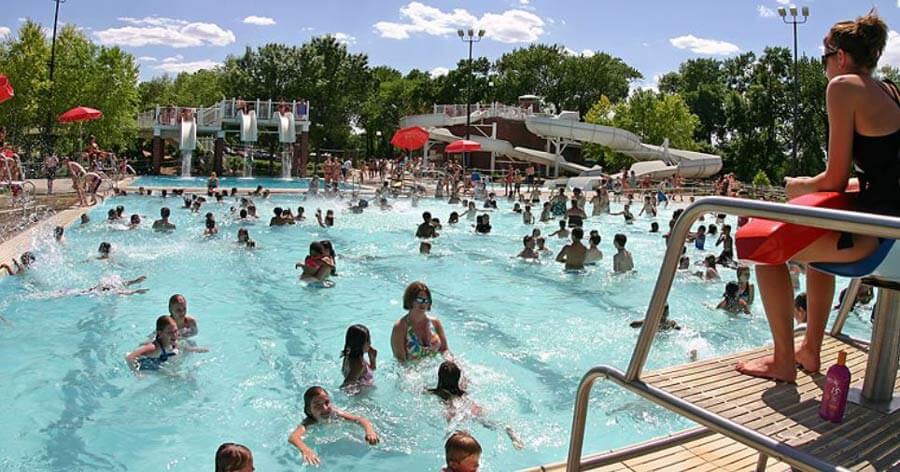 Public swimming pool
The question remains, why should you install commercial pool enclosures around public pools?
Chapter 2:
Why Install Commercial Pool Enclosures around Public Pools
Public pools are open to many users.
It is for this reason that I recommend you install a high quality and reliable commercial pool enclosures around these accessories.
1. To prevent water loss
Much water is normally lost during hot weather. Once the swimming pool is heated, evaporated water rises and settles on the roof of the enclosure.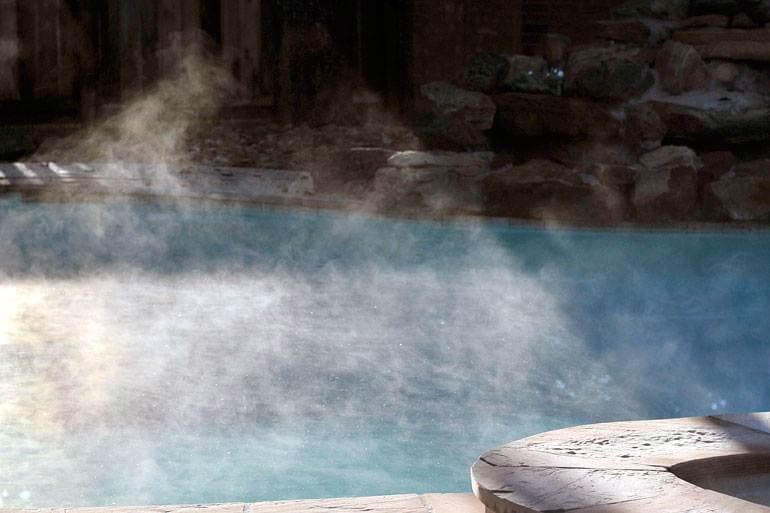 Water evaporating from a swimming pool
Later on after it condenses, it falls back into the swimming pool in turn reducing water loss.
2. Reduces frequency of pool maintenance
Building a commercial pool enclosure around public pools will prevent debris as well as other foreign materials from falling into the swimming pool.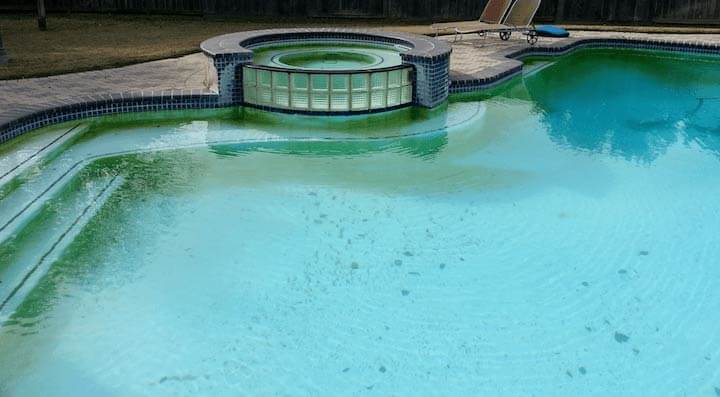 Dirty swimming pool
As a result, the pool maintains its tidiness thus minimizing the frequency of maintaining it.
3. Enriches the beauty of your swimming pool
A commercial pool enclosure is one structure that is built using transparent panels which tend to bring out a classy appearance around your swimming pool space.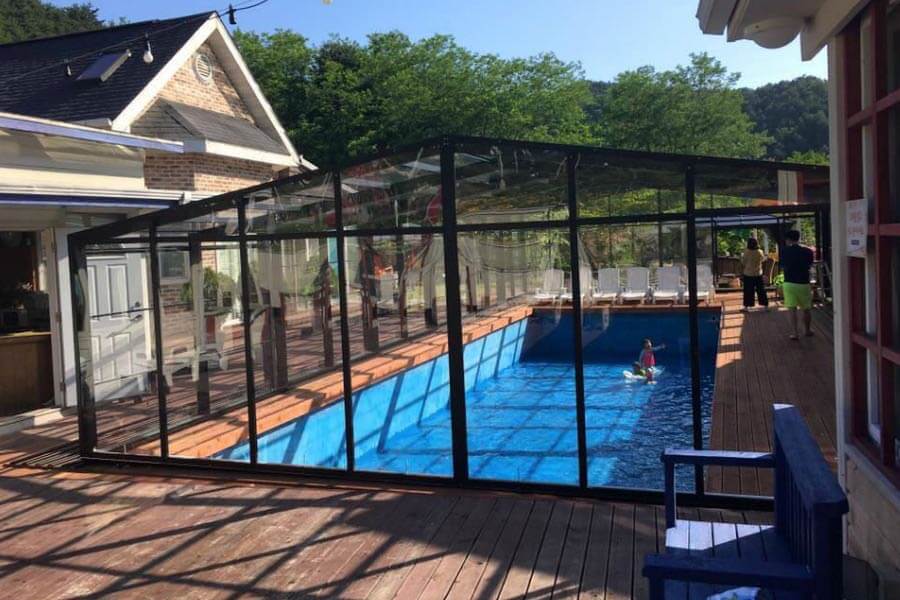 6 A commercial pool enclosure enhances beauty
The reflecting feature of the glass or polycarbonate panels enhances the beauty of your swimming pool as well as the surrounding landscape.
4. Prolongs the swimming sessions
One of the key reasons as to why pool owners build enclosures is to lengthen the swimming sessions by preventing harsh weather conditions from halting any pool activities.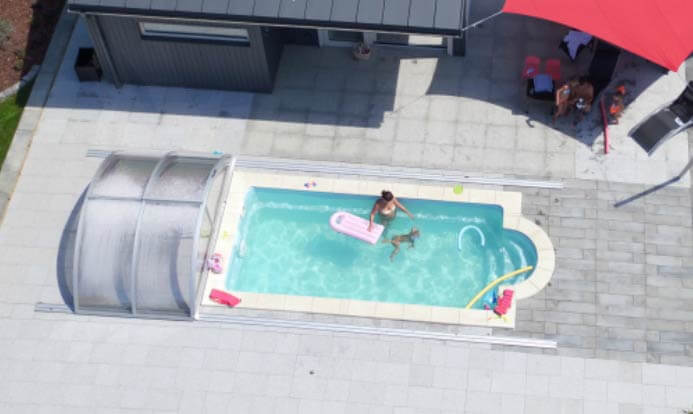 Swimming in pool with enclosure
A pool enclosure provides a "cover" over your swimming pool preventing snow or rainfall from causing disruption of pool activities.
5. Increases value of property
A swimming pool enclosure is a structure that will shoot the value of your property in case you are planning to sell your property in future.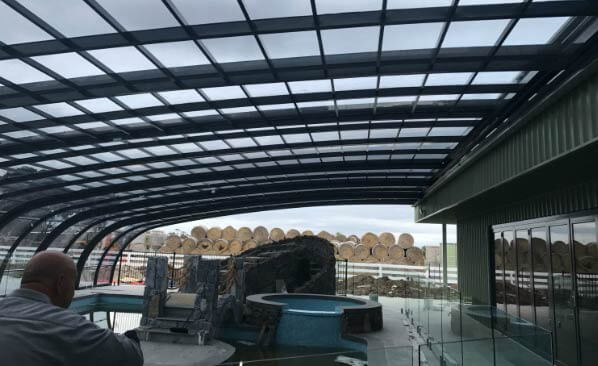 Pool enclosure increases value of property
The added feature will attract prospective buyers and lure them to buying your property as a result of the added advantage it stands over other properties.
6. Protects the pool users against harmful UV rays
Swimming pool enclosures are designed to block harmful UV rays from gaining access into the pool.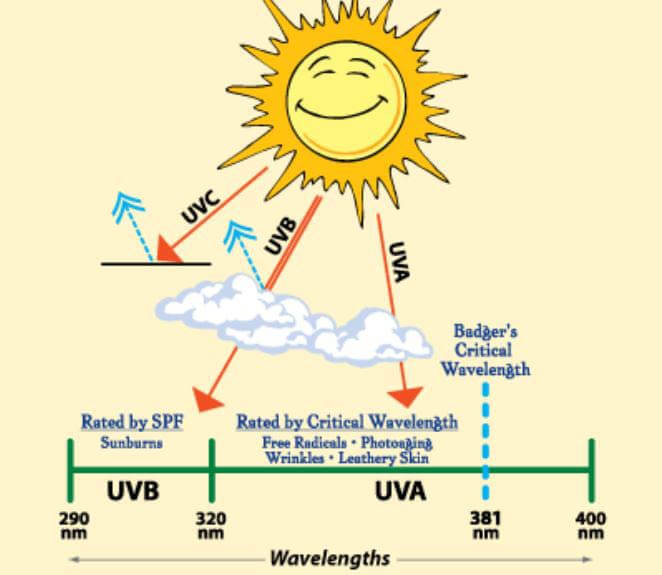 UV
Polycarbonate sheets are readily designed to block the harmful UV rays as compared to glass panels which require slight modifications in order to block the harmful radiations.
Chapter 3:
Commercial Pool Enclosure Ideas
Do you want to install a commercial pool enclosure?
Worry no more because today I want to introduce you to a few designs you may consider for your commercial swimming pools.
Fixed Commercial Pool Enclosure
Just as the name implies, fixed commercial pool enclosures do not give room for adjustment as they are permanently secured all around the swimming pool.
By this I mean, they don't give room for sliding the panels in order to open or close the enclosure.
This is what I am talking about;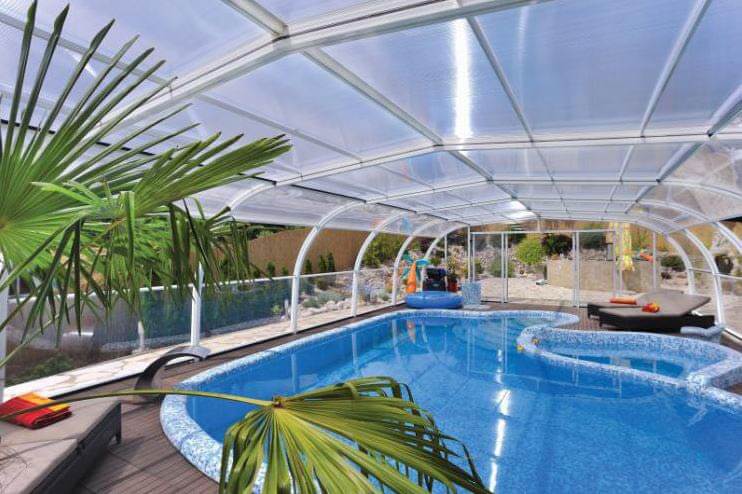 Fixed pool enclosure
From the diagram above, you can clearly see that such an enclosure is fitted with a door which facilitates movements in and out of the swimming pool.
So, how different is a fixed pool enclosure from a retractable or rather telescopic pool enclosure?
Stay with me to learn more.
Retractable Commercial Pool Enclosure/Telescopic Pool Enclosures
Unlike a fixed commercial pool enclosure, a retractable commercial pool enclosure can be adjusted to suit your needs.
What do I mean by this?
Such an enclosure has the ability to be opened or closed simply by sliding the glass or polycarbonate panels back and forth.
On the other hand, other telescopic pool enclosures are fitted with wheels which facilitate pushing and pulling of the panels to open or close the enclosure.
Take a look at this;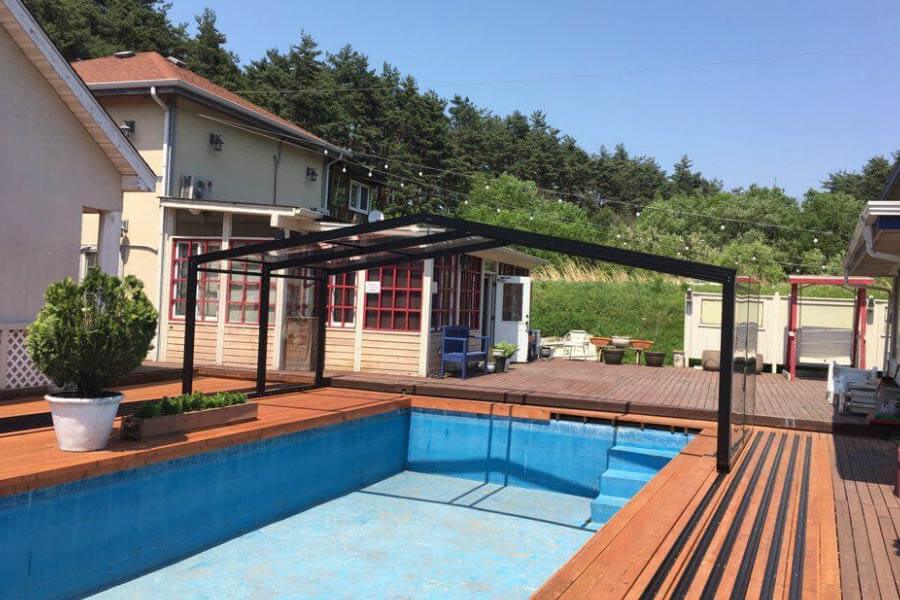 Retractable commercial pool enclosure
The wheels as well as the rail system facilitate the easy sliding of the panels back and forth when opening or closing the enclosure.
Clear Pool Enclosure vs. Tinted Pool Enclosure
Both clear pool enclosure and tinted pool enclosure serve similar purposes.
However, the difference lies on the design of each of this enclosures.
Just as the name suggests, a clear pool enclosure is designed using clear transparent glass or polycarbonate sheet.
Have a look at it;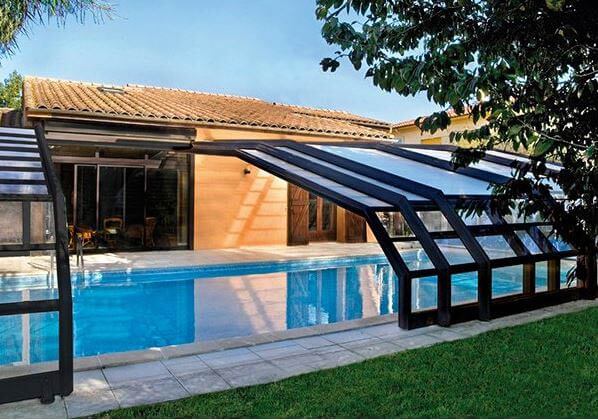 Clear commercial pool enclosure
Alternatively, tinted pool enclosure glass or polycarbonate panels have a dark effect when exposed to sunlight.
This makes it a suitable option when trying to achieve maximum privacy.
This is what I'm talking about;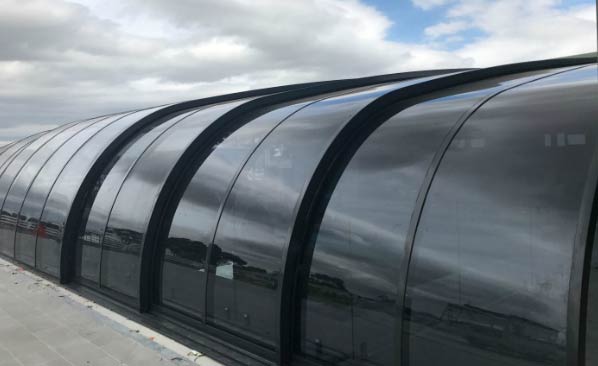 Tinted commercial pool enclosure
Roofing Ideas for Custom Pool Enclosures
There are several roofing ideas for commercial pool enclosures that you can incorporate for your custom pool enclosures not excluding;
Mansard roof
Dome roof style
Gable roof style
Slope roof style
Flat roof style
Hip roof style
But, before anything, it's important for you to clearly differentiate among the above roofing designs by carefully studying the diagrams below.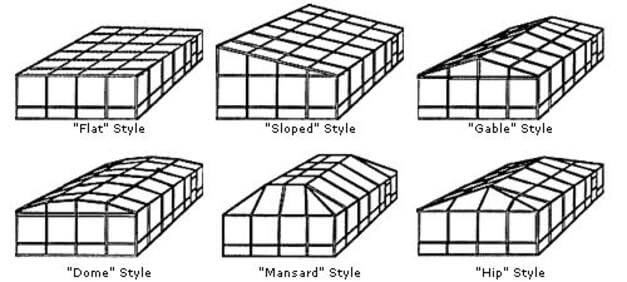 Different roofing designs
1) Mansard roof
Not only is a mansard roof classy and spacious but also can be integrated into a variety of architectural structures.
A mansard roof comprises of four opposite trapezoidal sides that meet a flat surface at the top.
However, a mansard roof might be challenging to install due to its complex nature.
Basically, a mansard roof is made up of two roof designs namely;
Flat roof design– This is brought about by the topmost flat surface of your commercial pool enclosure.
Gable roof design– This roofing design is represented by the two slanting sides of the pool enclosure.
Some of the many advantages of building such a pool enclosure would be;
It can easily be expanded
Mansard roof is attractive and unique
Also, this roofing design can be integrated to different architectural structures.
Nevertheless, we have some drawbacks of using mansard roof design;
It is costly to install- This is due to the fact that it has a complex design
Expensive to maintain and repair- in the recent times, it is difficult to get an expert to repair such roof designs.
Mansard roof design would be unsuitable for areas experiencing adverse weather conditions.
2) Dome Roof Style
Just as the name suggests, a dome roof style takes a semi-circular shape, in other words a dome shape.
It can be considered as a medium to high profile pool enclosures as it has the capability of accommodating extra amenities inside the enclosure such as furniture.
As if that's not enough, the dome shape enables water and snow to slide down the enclosure preventing destruction of the enclosure.
Although it carries more advantages, a dome roof style can be disadvantageous in that it is costly to build as compared to a flat roof design.
Furthermore, such a roof design consumes more materials.
3) Gable roof style
Gable roof design is popular among most homes roofing styles. It comprises of two sloping sides that converge at the top.
You can otherwise refer to it as A-frame roof. A name that was derived from the two slanting sides that resemble the letter "A".
This feature enables snow, water or other unwanted materials to effortlessly slide down the enclosure preventing damages from occurring.
However, building a gable roof design is costlier as it needs increased manpower and requires a lot of materials to construct.
4) Slope roof style
Pool enclosures with this roofing design are mostly aimed to be attached to commercial buildings or residential houses.
So, this is what happens.
The side that gets attached to the building is the highest side in which the enclosure slopes from.
By so doing, unwanted materials are able to slide down the enclosure preventing accumulation which might pose risks to the enclosure.
However, this roofing design makes pool water much colder as the building creates a shade preventing maximum sunlight from covering the entire pool space.
5) Flat roof style
Just as the name suggest, a flat rood design has a flat surface on the roof. This feature makes it retain water in turn exposing it to future damages.
However, the flat roof design has the ability to warm pool water faster as it lies closer above the pool.
Due to this feature, it can otherwise be classified as a low profile pool enclosure.
A flat roof design would save on your heating costs as the pool water get heated easily due to the low lying roof design.
Despite of it being one of the most affordable roof designs, most people do not settle for it.
Why I'm I saying so?
First, it is due to the fact that such a roofing design appears to be unattractive. Secondly, the fact that it accumulates water makes people shy away from them.
6) Hip roof style
Most people might mistake a hip roof design for a gable roof design as they so much resemble each other.
However, this two are quite different from each other.
For the hip roof style, the sides have a slanting effect as compared to a gable roof design which has flat sides from the rooftop all the way to the pool deck.
A hip roof design is able to accommodate extra features such as furniture and plants as it is spacious.
To add on that, such a roof design is more resistant to wind and allows debris to slide down the ensure preventing accumulation.
Wall Mounted Commercial Pool Enclosure
A wall mounted commercial pool enclosure basically refers to a pool enclosure designed to be mounted onto walls of buildings or houses.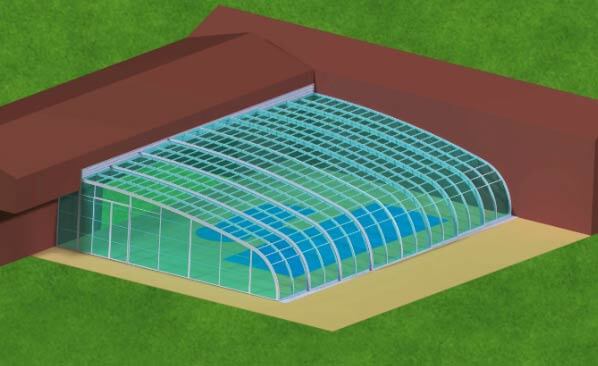 Wall mounted commercial pool enclosure
Such enclosures are better suited for swimming pools that are located closer to buildings.
By the way, it can be of different roof designs such as sloped, flat, dome among many others depending on your choice and preference.
Just like any other type of enclosure, the wall mounted commercial pool enclosures are fitted with a proper drainage system to ensure optimal drainage of falling snow, rainfall or any other unwanted material from the enclosure.
As if that's not enough, tests have confirmed that a wall mounted pool enclosure has the ability to resist wind of up to 250km/hr.
Furthermore, the same pool enclosure has shown ability to withstand snow load.
So maybe, just maybe, we can get you excited about installing a flat roofed pool enclosure without fear of destruction caused by snow accumulation.
You have to keep in mind that this type of enclosure has similar properties with other enclosures only that it is attached to a wall.
Meaning, you can choose to include sliding covers, doors and all other features you desire.
But, before embarking on constructing a wall mounted commercial pool enclosure, you will need to have knowledge on the best materials to use.
Chapter 4:
Best Material for Commercial Pool Enclosure
Do you know the choice of material plays an integral role when choosing a commercial pool enclosure?
You need to evaluate both the material for the commercial pool structure and cover.
Here are some of the best materials for commercial pool enclosure:
Glazing Material
There are two types of materials that are best recommended when building any type of pool enclosures.
Glass Pool Enclosure for Public Pools
Polycarbonate Pool Enclosures for Public Pools
a) Glass Pool Enclosure for Public Pools
It's no doubt that glass is a classy as well as attractive material. The reflective transparent nature makes them transform the look of a given area into one luxurious and classy environment.
Have a look at this;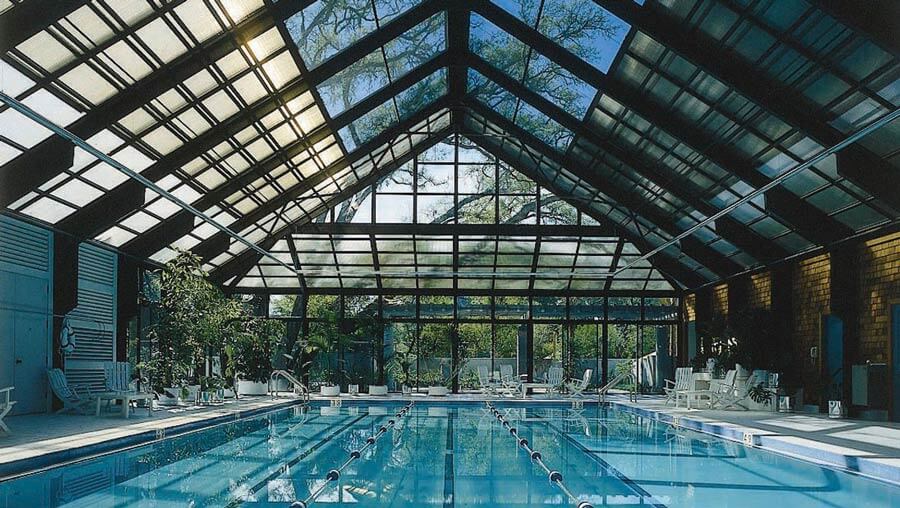 Glass pool enclosure
As if that's not enough, glass is resistant to rust and can easily be cleaned.
Nevertheless, most people prefer not using it for a number of reasons that I am about to explain to you.
First, glass is prone to breakage. What does this imply?
Using it in some commercial areas would expose it to damage more so if the pool serves more kids than adults.
This alternatively would increase the cost of security.
Also, a glass pool enclosure is not only expensive to install but also a heavy and fragile material.
This in turn raises the cost of transportation as it requires to be handles with care.
So, in case you don't want to use glass, then the other option would be polycarbonate sheet.
b) Polycarbonate Pool Enclosures for Public Pool
Here is the reality that most manufacturers won't tell you.
Polycarbonate sheet stands out to be the suitable material to use when installing your pool enclosure be it for commercial or residential use.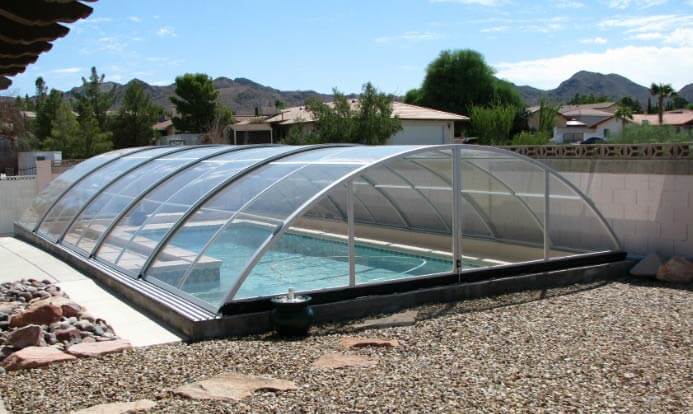 Polycarbonate swimming pool enclosure
Why am I recommending it?
Less costly– Polycarbonate sheets are less costly as compared to glass. This stands to be the key factor as to why most people settle for it.
Lightweight– As compared to glass, Polycarbonate material is lighter making transportation cheaper and easier.
Polycarbonate material is designed to block sound making it the appropriate material to use in commercial pools that required a bit of privacy.
Versatility– Polycarbonate can easily be transformed into several attractive shapes that would actually add more beauty to your building.
Easy to install– Due to its lightweight nature, polycarbonate can easily be installed.
As compared to glass, polycarbonate sheets are resistant to breakage and can last more than 25 years if well maintained.
All these factor render polycarbonate pool enclosures the best for use in commercial pools.
Structure of the Commercial Pool Enclosure
Once you are done choosing the right glazing material for your commercial pool enclosure, you must also come up with the best framing material to use.
In our case, we shall look at two main types of materials that you can use which include wood and extruded aluminum;
a) Wood Pool Enclosure
Wood pool enclosures are one of the most affordable types of enclosures in recent times.
They are best suited for buildings located in the woods as the theme blends perfectly.
However, before embarking on starting the installation process, it's important to put a few factors into consideration.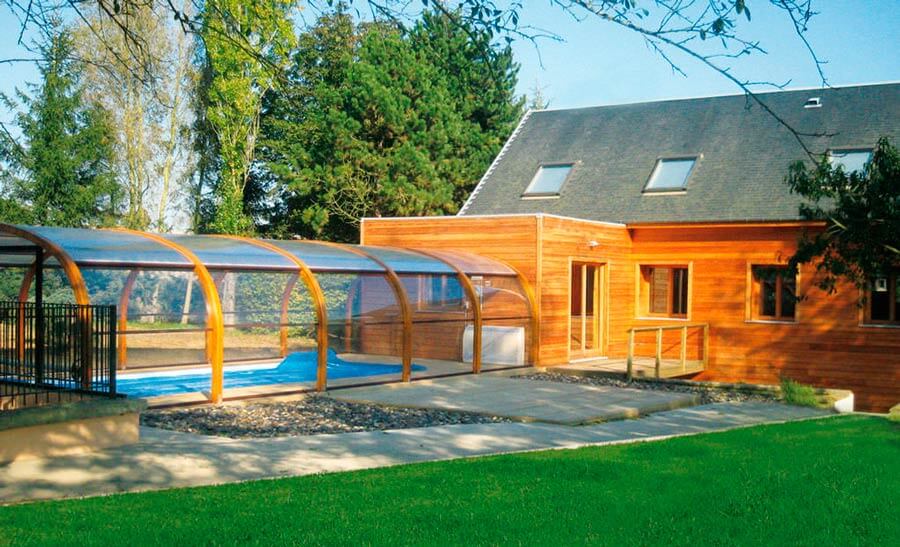 Wood commercial pool enclosure – Archi Expo
First, wood is a great water absorber. What does this mean?
Using it as a pool enclosure would expose it to water which might otherwise result in rotting.
That shouldn't worry you. Let me start by giving some few tips on how to prevent this. So keep reading.
First, you can choose to paint your wood. By so doing, you create a coating that will otherwise prevent water from being absorbed by the wood.
Secondly, making use of pressure treated posts would relieve you of future destruction and losses caused by termites which tend to consume wood.
Also it's advisable for you to make use of weather resistant wood such as redwood and cedar just so as to prolong the durability of your enclosure structure.
b) Extruded Aluminum Commercial Pool Enclosure
Another material recommended for construction of commercial pool enclosure is extruded aluminum.
Extruded aluminum is specifically suited for framing of your enclosure.
As compared to wood, extruded aluminum is durable and strong due to the chemical properties it possesses.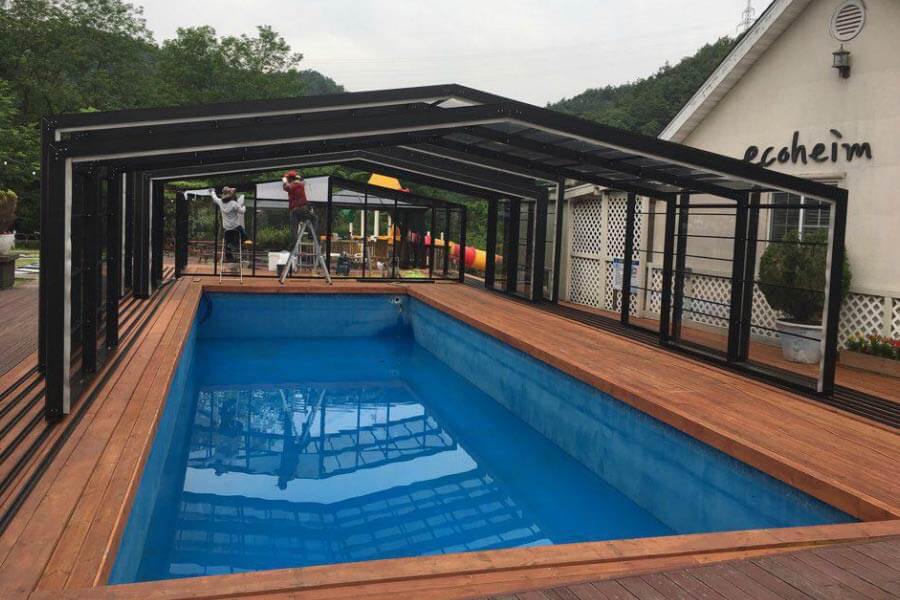 Commercial pool enclosure with aluminum profile
This makes your enclosure have the ability to tolerate heavy loads during adverse weather conditions such as heavy snow.
And that is not all, extruded aluminum commercial pool enclosures are considered to be resistant to rust as well as corrosion.
A feature that makes them easily reliable under different environments.
In addition to that, an extruded aluminum commercial pool enclosure would not pose any harmful risks to the environment in case it burns as it is considered to be non-toxic.
Last but not least, commercial pools constructed using extruded aluminum can be recycled.
By this I'm specifically referring to the frames of the pool enclosure which are made from extruded aluminum.
With this information, there's no doubt that you are in a position to make wise decisions when it comes to settling on your preferred type of enclosure depending on the material used.
Chapter 5:
Commercial Pool Enclosure Accessories
Like any other any structure in your compound, you need certain accessories for a better swimming experience.
Therefore, commercial pool enclosure is no exception.
So, what commercial pool enclosure accessories do you need?
1. Pool Enclosure Heater
A pool enclosure heater refers to an equipment used to generate heat in your swimming pool enclosure.
You might think that natural light is enough to heat your pool enclosure, but have you thought of winter seasons?
Well, this is the main reason why you need to have a pool enclosure heater for you to comfortably enjoy your swimming pool enclosure all year round.
One of the most effective equipment that you can introduce in your enclosure for the purpose of generating heat is the space heater.
Have a look at this;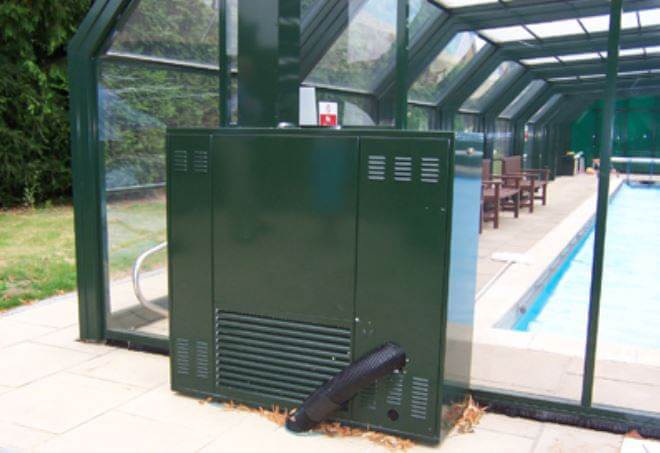 Pool enclosure space heater
Space heater
A space heater– Is used to heat a small area space making it diversely used in other small areas other than enclosures.
Radiant heating -In other words you may call it floor heating.
Radiant heating mainly aims at warming the floor surface by supplying heat straight to the floor or rather beneath the pool deck surface.
This in turn warms your feet as you walk around the enclosure.
Spot heater – Spot heater majorly focuses on heating a specific area. Such heaters won't be suitable for heating an entire enclosure.
All these are just some of the heating options that you can choose to introduce in your commercial swimming pool enclosure.
2. Commercial Pool Enclosure Gutters
Gutters are a vital part of any type of enclosure as they play an important role in ensuring proper drainage is achieved.
Gutters are fixed on the roof of the pool enclosure whereby they are able to direct or rather channel falling snow or water from the roof to the desired place away from the enclosure as well as the pool deck.
By so doing, the pool deck is kept dry and tidy limiting growth of algae which might be messy.
It is important to note that gutters are more effective in fixed pool enclosures as compared to retractable one.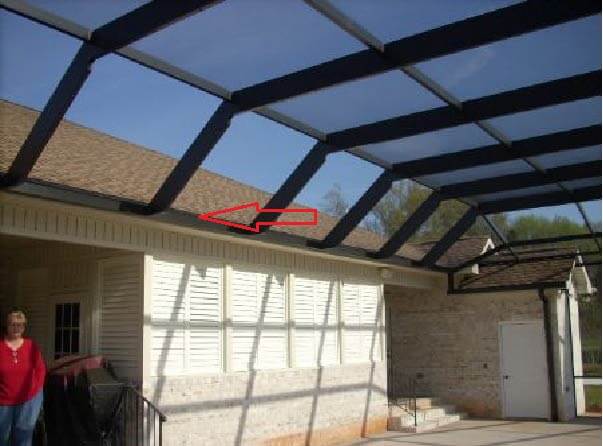 Commercial pool enclosure gutter
Why am I saying so?
Take for instance a telescopic pool enclosure. You will be required to push and pull the panels back and forth in order to open or close the enclosure.
Meaning, installing a gutter would not be the best idea.
I hope you are getting the sense out of it.
3. Commercial Pool Enclosure Door Locks
Having locks for your commercial enclosure is an important factor in ensuring safety of the pool users.
With a locking mechanism in place, you will be in a position to monitor who enters the enclosure.
As a result, accidents will be minimized to a greater extent.
There are several type of locks that would be suitable for any commercial pool enclosure.
They include;
Latch locks
Wing handles
Radial pin tumbler locks
L and T locks
Water resistant locks
Cam locks
§  Latch locks
It's important to understand that a lock is quite different from a latch.
A latch refers to a fastening equipment that works by joining two parts together in order to achieve closure.
On the other hand, a lock uses a key to fully secure the door of your pool enclosure.
This is what I mean by a latch lock;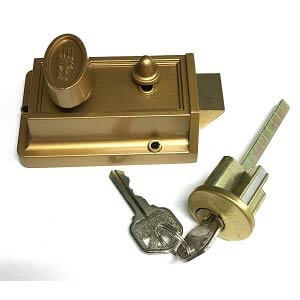 Latch lock
§  Wing handles
You might have come across a wing handle in several doors as they are quite common.
Basically, a wing handle comprises of a handgrip that enables pushing and pulling of the door.
That is not only it, underneath the handle there lies a locking system which requires you to use a key in order to maximally secure the door.
This is what I'm talking about;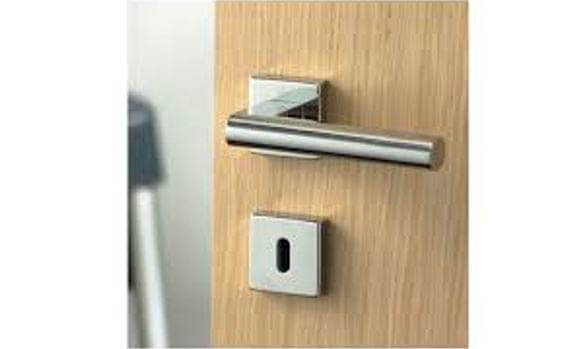 Wing handle
§  Radial pin tumbler locks
A radial pin tumbler lock is comprised of cylindrical pins arranged in a circular manner.
Theses pins prevent opening of the lock with a different key thus preventing unauthorized person from accessing the enclosure.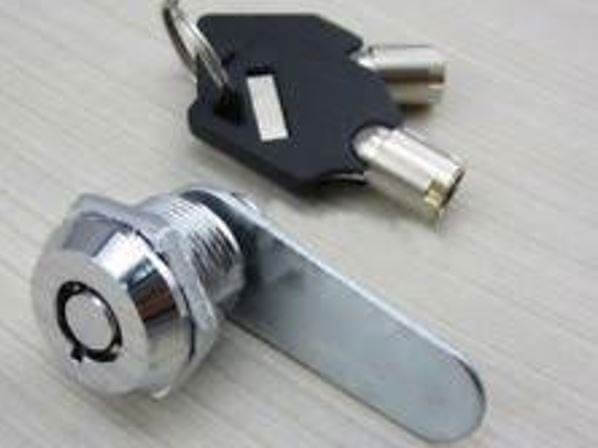 Radial pin lock
§  Land T locks
Just as the name implies, the L and T locks forms letter L and T.
Have a look at this;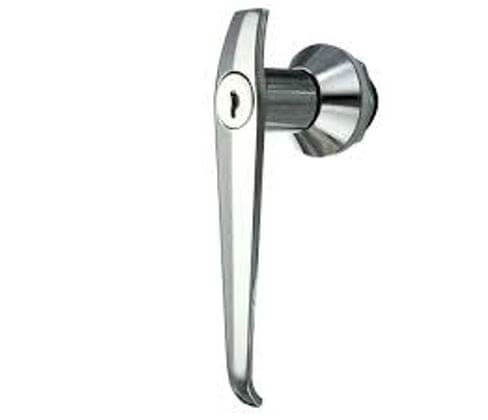 Land T lock
The handle of the lock used for pushing back and forth faces downwards as illustrated.
§  Water resistant locks
Like the name suggests, water resistant locks are resilient to water.
This makes them the best locks to use in outdoor pool enclosures as they are able to cope with the ever changing weather conditions.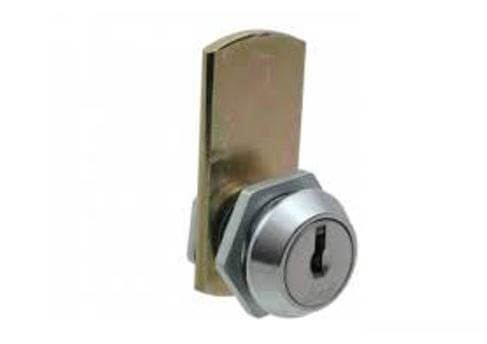 Water resistant lock
§  Cam locks
Not only can you use cam locks on pool enclosures but also in other applications such as wooden furniture, bicycle locks among several others.
Cam locks are made up of the house and barrel generally referred to as the base unit which have a cam attached to it.
As you operate the lock, the cam opens or closes the lock as a result of the movement caused.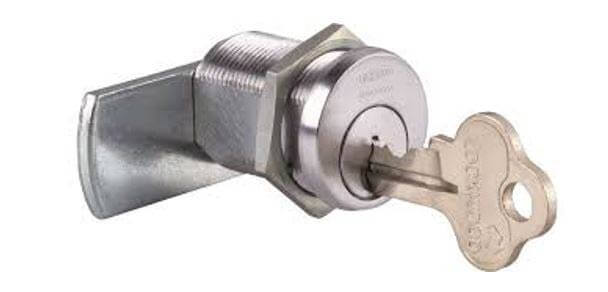 Cam locks
All these locks are best for use in any type of enclosure it's up to you to decide on which best suits your preference.
Alternatively, you can get advice from your pool enclosure designer on the best type of lock to use.
4. Pool Enclosure Cleaning Accessories
Maintaining your swimming pool enclosure will involve regular cleaning of the entire enclosure.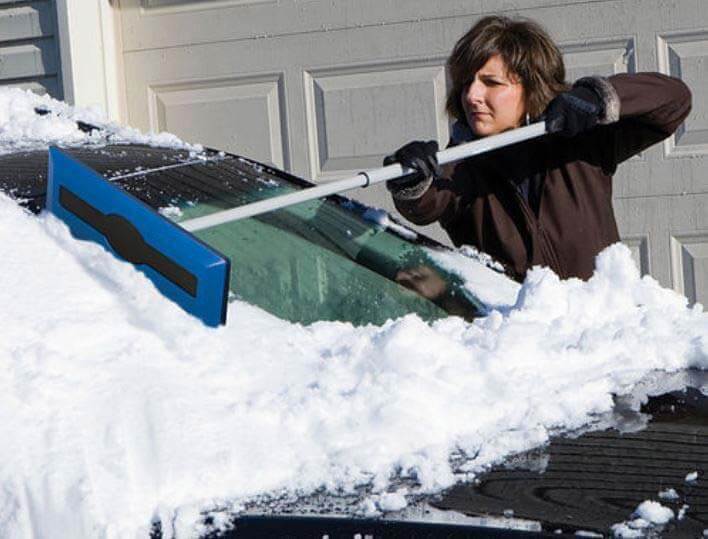 Removing snow from pool enclosure
In order to perform this process, there are a number of accessories that you will need not excluding;
Pool brush – A pool brush is meant for getting rid of accumulated loose debris that has settled at the roof of your enclosure.
Pressure washer – This equipment is used to clean the entire pool enclosure as well as the gutters. Just as the name suggests, hot water subjected to pressure is mixed with soap and sprayed over the area to be cleaned.
You have to keep in mind that the pressured water doesn't pose any risk to your enclosure.
Leaf blower – A leaf blower consists of a nozzle which propels air out in order to blow out debris that has settled on the roof of your pool enclosure. This equipment is powered by gasoline motors or electric.
Pressure washing chemical injector – In case you need to use chemicals when cleaning your enclosure, then a pressure washing chemical injector is the ideal equipment to use. You will use this in case you need to use chemicals with your pressure washer.
5. Automatic Drive Window
While some enclosures are built to operate manually, others are built to function automatically.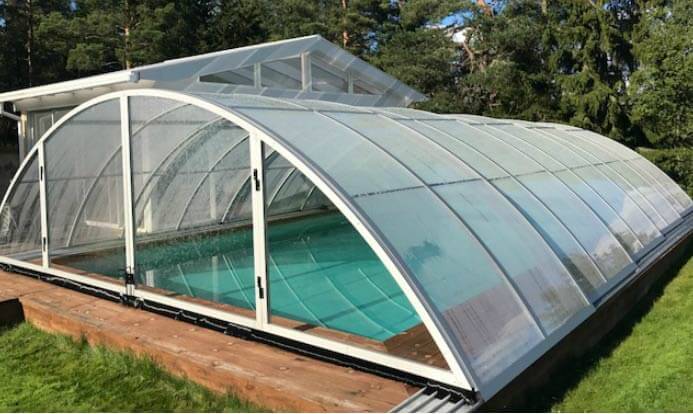 Retractable pool enclosure with an option for automation
An automatic drive window is a good example of such enclosures.
Just like a window, the automatic drive window is meant to ensure free air circulation in the enclosure. The only difference is that it operates automatically.
It works with the help of a remote which automates the opening and closing of the drive window.
6. Ventilation System
A ventilation system is a must have in every swimming pool enclosure.
Why am I insisting on this?
Well, lack of it would mean that there will be no air circulation and to add on that, the air inside your enclosure would have a chlorine odor.
This can bring discomfort to the pool users.
A ventilation system will ensure efficient air circulation inside the swimming pool enclosure.
So, what does this process entail?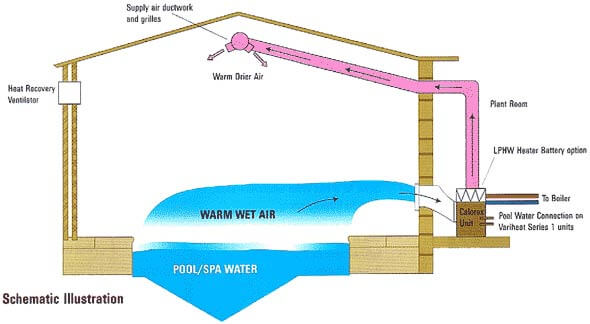 Ventlation system – Image source: Red Square Pools
There are four main types of air that are involved in the circulation not excluding;
Return air – Return air comprises of air that is expelled from the pool area. It as well includes air that needs to be recirculated and exhausted.
Outdoor air – This is the fresh untreated air that enters the enclosure. It is the actual ventilation air.
Supply air – Supply air consists of both the recirculated air and outdoor air. Basically, it is the general air flow that is let into the pool area.
Exhaust air – Exhaust air refers to air that is released from the pool area.
With that said, we can conclude that a ventilation system plays an important role in making your pool enclosure a comfy place to be.
Chapter 6:
Commercial Pool Enclosure Cost – How to Get the Best Deals
Most swimming pool owners are opting to build swimming pool enclosures owing to the many benefits it brings to the pool users.
However, some shy away from introducing enclosures to their pool space due to the mentality that enclosures are way too costly.
That's not normally the case.
In recent times, it's easier for you to own a pool enclosure as they come in different price ranges which might also favor your budget.
Did you know you can build a swimming pool enclosure from as low as $150?
Yes, for as little as $150 you can have your own pool enclosure. The cost of the pool enclosure varies due to a number of factors such as;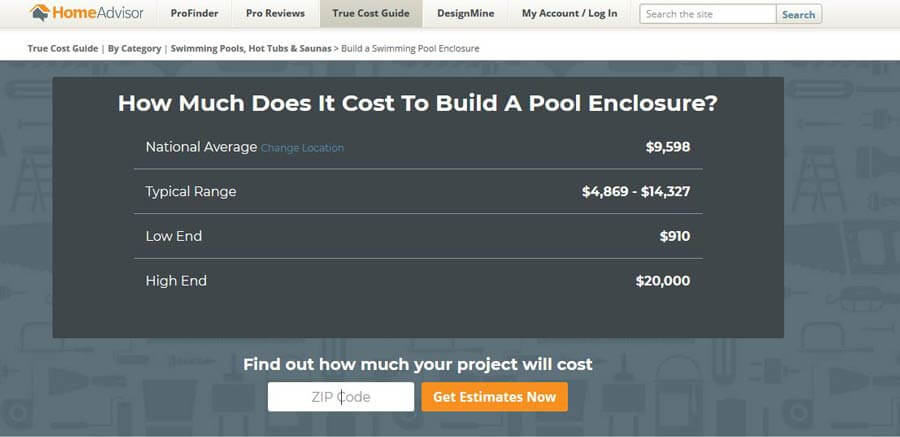 Calculate pool enclosure cost
Size of the pool
Size of the enclosure
Choices and preferences
Design of the pool enclosure
As I mentioned earlier in this guide, glass is more expensive than polycarbonate. Meaning, a glass enclosure would cost more than an enclosure made of polycarbonate sheets.
It would cost you $4300 to $15000 to purchase a swimming pool enclosure with a glass pool enclosure ranging from $8500 to $36000.
Averagely, it would cost you from $5500 to $10,000 to build a swimming pool enclosure.
However, here are some important tips to observe in order to get the best deals.
§  Purchase your enclosure during offers
In such seasons, pool enclosures are sold at very lower costs than normal.
However, most people realize this once the sale is over.
If you happen to fall under this category, the best option would be to subscribe to the manufacturers' newsletter to avoid missing such deals in the future.
§  Make your purchase when there is low demand
The low demand seasons normally fall around summer.
During this time, most people don't see the need of an enclosure due to the favorable weather.
Again, manufacturers sell their products at lower costs in order to keep the business running.
§  Buy your enclosure during holidays
Most manufacturers often lower prices during holidays.
Take for instance during black Fridays.
During this period, manufacturers sell their products at discounted prices with some having as much as 40% discount.
This would be a suitable time for you to easily purchase your pool enclosure.
§  Purchase a pool enclosure during anniversary of the manufacturer
Normally, manufacturers have great deals when celebrating their anniversaries.
As I mentioned earlier, it's better for you to sign up to their newsletter so as not be left out during such occasions.
§  Buy a pool enclosure during stock clearance
There comes a time when the manufacturer decides to get rid of products that have overstayed.
This could also be the best time for you to get a very affordable pool enclosure.
Chapter 7:
Swimming Pool Enclosure Regulations and standards
For any product to be certified, there must be regulations and standards to be met by the manufacturer or the user. So does it apply in swimming pool enclosures.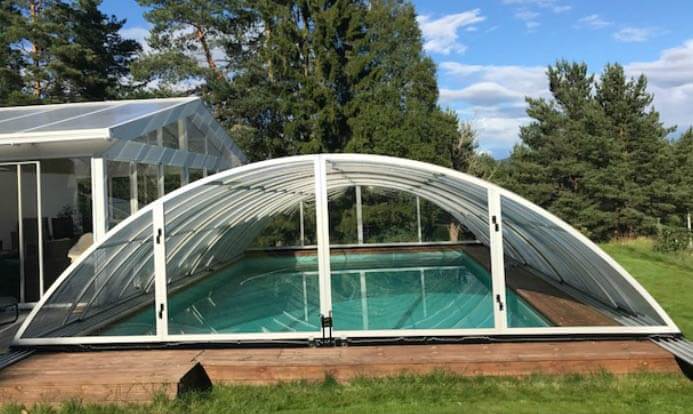 Closed pool enclosure
However, these regulations might vary from one region to the other depending on several factors.
So, which are these regulations and standards of swimming pool enclosures?
Any transmission of electric current inside the swimming pool enclosure is forbidden. This is majorly aimed at preventing any accidents such as electrocution from occurring since water is a good conductor of electricity.
It is recommended for every swimming pool enclosure to have a height of not less than 5ft.
To ensure proper security and protection, it is recommended to keep all entrances closed not unless an adult is on the lookout. This prevents kids from accessing the enclosure and swimming pool thus preventing accidents from occurring.
It is also recommended that every pool enclosure owner to acquire a permit. This also applies to repaired pool enclosures.
In case you wish to attach your enclosure with a building, then you are needed to install self-latching device on the doors which should be located at least 1.5 meters from the bottom of the door.
Chapter 8:
Best Places to Install Commercial Pool Enclosure
Now, let's have a quick overview of certain places to install your commercial pool enclosure.
I. Restaurant Extensions
Not only do restaurants with an enclosure extension look classy but also beautiful.
A commercial pool enclosure transforms the general appearance of a restaurant just as shown below.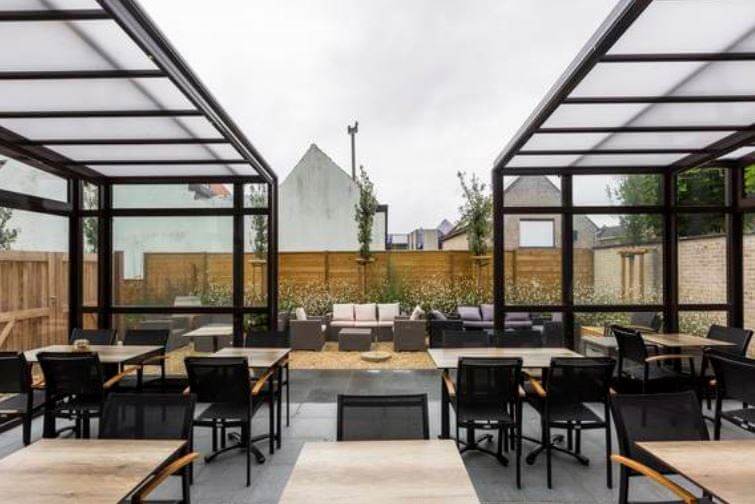 Restaurant extension
The enclosure prevents leaves and other unwanted materials being blown by wind from accessing the inside in turn creating a favorable place to hold conversations as you enjoy delicacies.
As if that's enough, the transparent nature of the enclosure leaves room for viewing the outside environment while enjoying meals or drinks.
Also, a commercial pool enclosure prevents the users from harsh weather conditions such as heavy downpour.
It's with no doubt installation of a commercial pool enclosure in your restaurant would attract more clients.
II. School or college swimming pool
Again, commercial pool enclosures can be fixed in pools of schools or colleges.
This not only protects the swimming pool users from harsh weather conditions which might destruct pool activities on certain occasions such as competitions but also improves the overall safety of the pool users.
Have a look at this;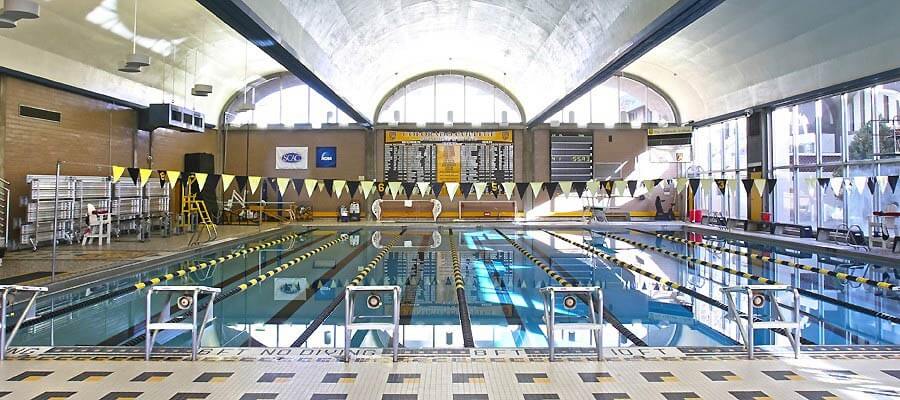 Colorado Collage Pool
It's also advisable to install polycarbonate enclosures in such places as compared to glass enclosures.
This is due to the fact that such a place serves many young people who might engage in activities that might crack or break the glass enclosure.
 III. Health clubs
Health clubs are basically facilities that offer beauty treatments as well as physical exercise. We can also refer to them as fitness clubs or health spa.
Features such as Jacuzzi, swimming pools, spas among others are provided in the health clubs. A reason why most are fitted with commercial pool enclosures.
Take a look at this;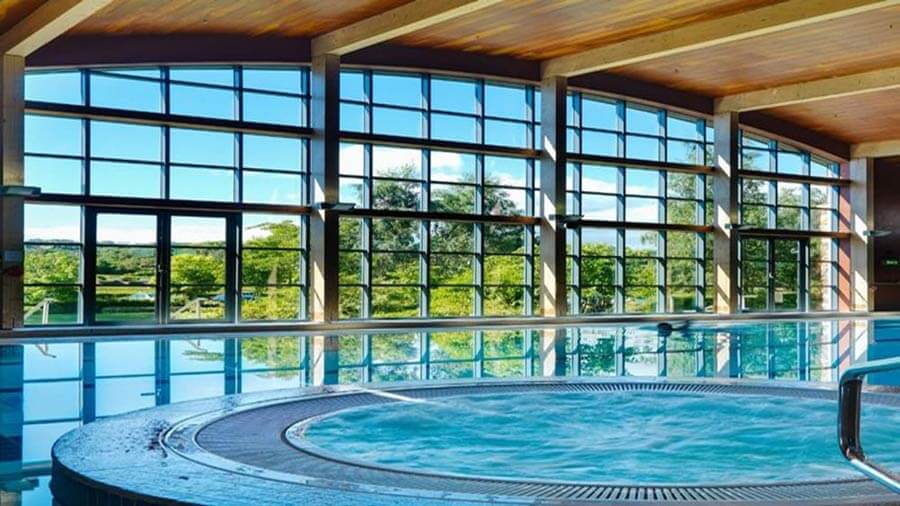 Health club pool
Not only does the enclosure offer a serene environment but also a sassy look.
 IV. Hotel swimming pools
In the recent times, most hotel owners are embracing pool enclosures due to a number of reasons.
First, pool enclosures transform the overall appearance of the hotel to a classy and stylish look.
Secondly, pool enclosures have come in handy in times of bad weather enabling hotels to reduce the losses incurred during harsh weather where people shy away from engaging in swimming activities.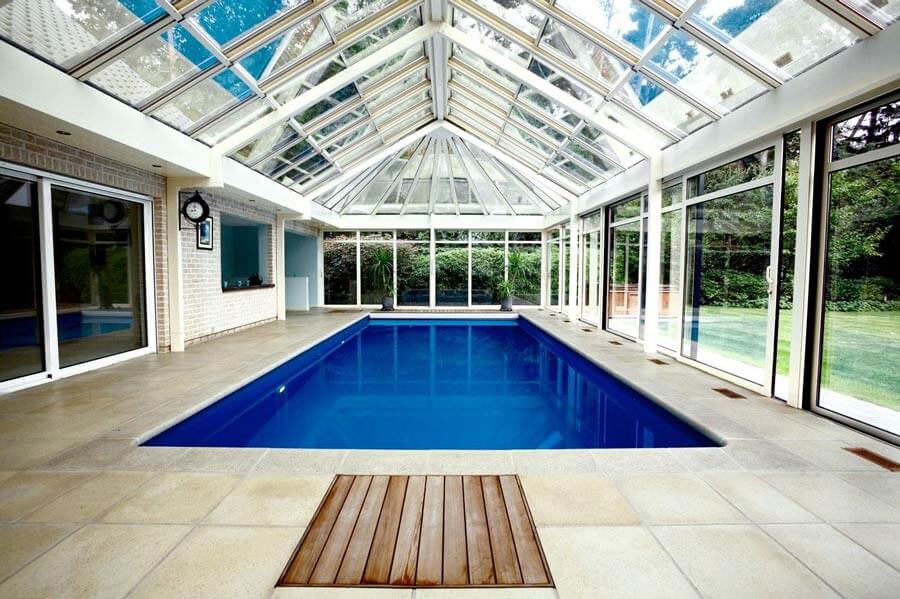 Hotel swimming pool with an enclosure
Not to mention the health benefits it brings of protecting swimmers from the harmful UV rays.
Al these are just some among many benefits that pool enclosures offer.
V. Playground swimming pools
Just like any other swimming pool, playground swimming pools can be fitted with commercial pool enclosures.
Owing to the fact that playground swimming pools are mostly filled with kids, it is advisable to avoid glass pool enclosures at all costs.
As I mentioned earlier, glass is prone to crack and breakage and this being a playground too, it can easily be subjected to such risks.
Chapter 9:
How to Install Commercial Pool Enclosure – Step-by-step Process
Many people have a mentality that installing a pool enclosure is such a difficult task. They think that only an expert can get the work done.
Well, that's not normally the case. By the end of this section, you will realize how simple it is to install a commercial pool enclosure by following the easy steps that I'm about to explain to you.
Just stay with me to learn more.
Step 1: Get the right measurements
Before anything, you have to get the right measurements of your swimming pool.
This will enable you to know the size of the pool enclosure suitable for your swimming pool.
In as much as we have irregular swimming pools, installing a pool enclosure wouldn't necessarily have to match the shape of your pool.
Actually, the pool enclosure will either takes a rectangular or a square shape. You can as well choose to have your swimming pool enclosure custom made according to the theme of your surroundings.
After settling on the right measurements, you are set to purchase and begin the process of installation.
Step 2: Assemble and study all the parts of the pool enclosure
Before commencing any form of installation, it's wise to study each and every equipment packaged by the manufacturer.
By so doing, you will orient yourself on how the different parts are supposed to be joined or fastened.
This has been made much easier as most manufacturers include manuals in their products.
Such manuals are meant to help you know which parts require to be joined as well as the fastening tools to use for each part.
This is the reason why going through your manual is of much importance.
Step 3: Prepare the workspace
Clear the ground in which your pool enclosure will be positioned. After getting done, mark all around the area in which you will be placing the poles and the pool enclosure as whole. Do this by using a marker.
Step 4: Put up the rail system
A rail system has to be present for every telescopic pool enclosure to run efficiently.
So, what exactly do we mean by a rail system?
This refers to the path through which the pool enclosure panels will be sliding back and forth in order to open or close the enclosure.
Now that you already marked the ground in which you would position the enclosure, it's time for you to start the actual installation.
Start by positioning the enclosure while following the marked area.
As you do this, make sure the edges of the enclosure are placed on the two longest opposite sides of the pool.
You might be wondering what's the logic behind this.
It's simple, to open the enclosure, you will push from the shortest side to the longest side and closing the pool enclosure would be the vice versa.
Installing your enclosure in such a manner will facilitate easy opening and closing of the enclosure.
I will explain more about this when doing the framework, just stay with me too learn more.
This is what I'm talking about;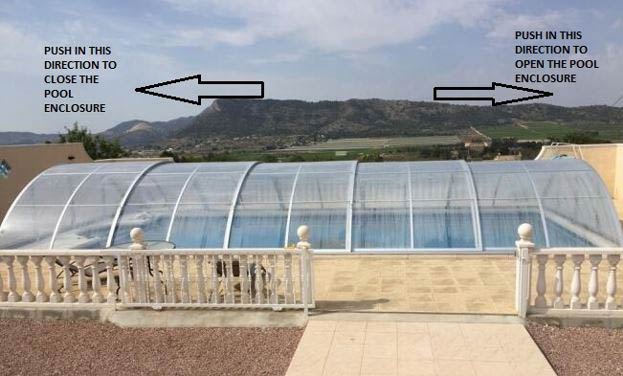 Commercial pool enclosure
From the diagram above, it's evident that the retractable pool enclosure has a sliding mechanism.
However, not all swimming pool enclosures will have such a rail system.
Some pool enclosures are fitted with wheels instead of a sliding mechanism. This is mostly present in high profile pool enclosures. As for the low to medium profile enclosures, a sliding mechanism is preferred.
Step 4: Install the framework of your pool enclosure
In this section, we shall use extruded aluminum as our framing material.
Begin by joining the different parts of the extruded aluminum making sure you follow all the instructions as stated by the manufacturer.
Why am I insisting on this?
We have high profile and low profile pool enclosures. The amount of materials used in the low profile pool enclosures will definitely be less than those required to install a high profile pool enclosure.
By following the manual, you will be able to know the correct amount to use and this will make you be more careful not to destroy any part.
As you continue fixing the parts together, you will start noticing a meaningful structure forming.
You should have something like this;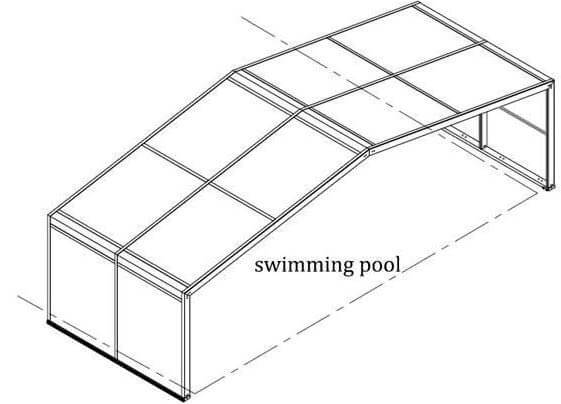 Pool enclosure frame
Alternatively, if you are installing a medium profile enclosure then you should be having a structure like the one shown below.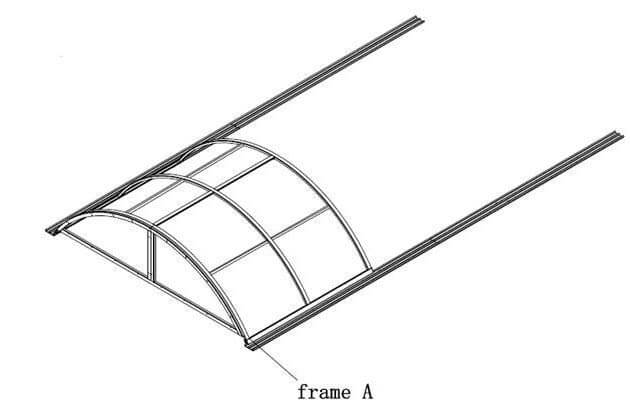 Pool enclosure frame option 2
Step 5: Install the enclosure panels
After getting done with the framework, it's now time to fix the pool enclosure panels.
This might be polycarbonate sheets or glass according to your choice and preferences.
Start by placing the smallest polycarbonate sheet or pool enclosure panel. Continue In that order all the way to the largest enclosure panel.
You have to be more careful in this process more so if you are using glass as your glazing material.
Most manufacturers don't package extra tools.
At the end of this process, a fully installed pool enclosure comes into existence.
However, we are not done yet. The last step would be to fix the door of your enclosure.
Step 6: Fix the door of your pool enclosure
A door is an important part of any type of enclosure. With it installed, the safety of pool users is improved and accidents are greatly minimized.
This remains the simplest step of them all.
Take for instance the enclosure shown below.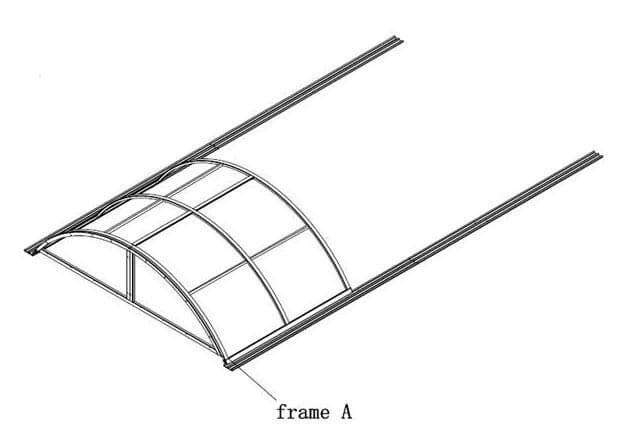 First frame for pool enclosure
In this case, you will fix the door onto the first frame, that is frame A.
You will also need to fix a locking system. There are several types of locks to use for your pool enclosure.
However, work with the one provided by your manufacturer.
The locking system of any enclosure should be positioned at least 1.5 meters from the pool deck.
The diagram below clearly shows where you should locate your door locking system.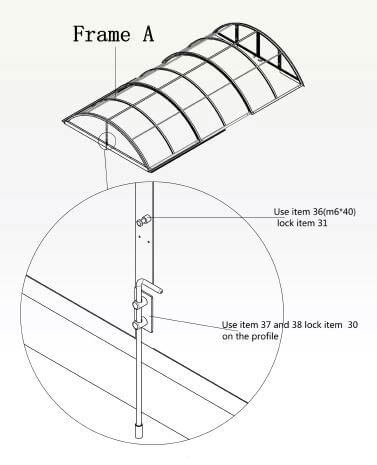 Locking system
After fixing the lock, test all the parts and make sure they are working as expected.
If so, then you are done with the entire process and your commercial pool enclosure is ready for use.
How easy!
And by the way, I have a simple guide for you here: Pool Enclosure Installation Guide.
Chapter 10:
Excelite Commercial Pool Enclosure
Having dominated the market for years, Excelite stands out to be one of the best swimming pool enclosures supplier not only in Asia but also in the European market.
There's no doubt that this has been achieved as a result of production of high quality products which go for better prices as compared to other manufacturers of the same.
Take for instance, Excelite swimming pool enclosures range from as low as $2999 to $23000.
This depends on various factors such as size of your swimming pool, your budget and the likes.
Not to mention that you are guaranteed a 15-year warranty on purchase of any pool enclosure with an additional installation package.
Sounds amazing right?
Well, all you have to do is tell us your pool and enclosure specifications and your enclosure will be delivered to you in the shortest time.
With this information, I believe you are in a better position to decide on the best materials to use as well as build a commercial pool enclosure without the help of a professional.
You have seen how simple it is to install a commercial pool enclosure.
Having gained adequate knowledge on commercial pool enclosures, nothing else can stop you from acquiring one as well.
Acquire one and live to enjoy your swimming pool activities all year round.