Pool Fence:The Ultimate Buying Guide
If you are serious about swimming pool safety and privacy, you must install a pool fence.
Why?
It prevents unauthorized access and use of your swimming pool. 
And today, I have a guide that will help you choose a perfect fence for your pool, no matter its design, size and location.
Let's dive right in: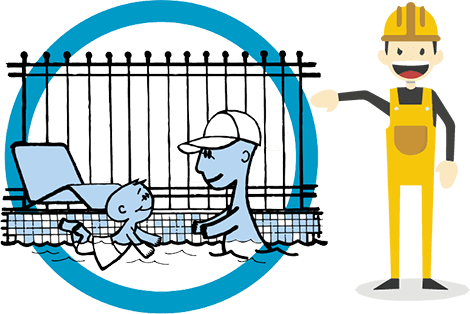 Chapter 1:
What is a Pool Fence?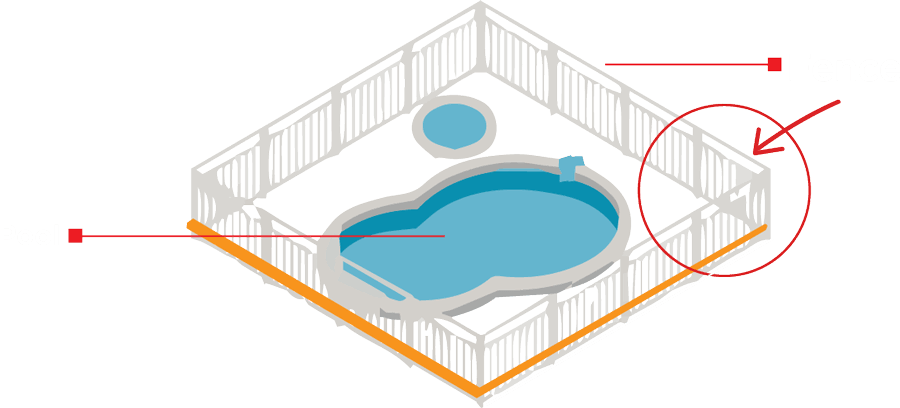 Here's the truth:
If you've never seen a swimming pool with a fence, then probably you don't know what it is, right?
Let me take you through this:
For a fact, a number of homeowners do not have appropriate pool barriers. This is because they cannot access relevant and accurate information about pool fences.
You will get all that information in this pool fence buying guide.
Honestly, pool barrier is an important swimming pool safety accessory. It prevents people from accessing the swimming pool without your permission.
Simply put, it is a barrier, just like the one you have in your garden. However, in this case, it protects the swimming pool.
You will learn more why you need it later in Chapter 2.
By the way, this is exactly what I am talking about: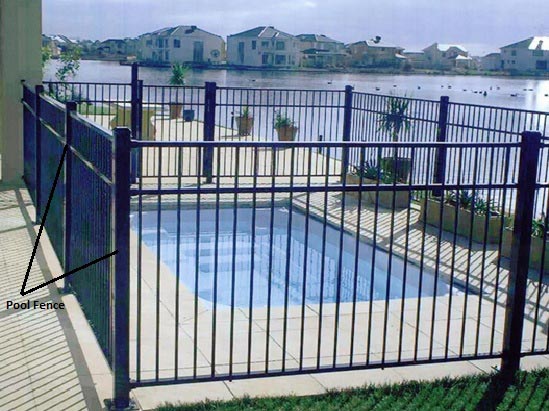 A swimming pool fence
Well, pool fences come in many designs and shapes, made from different materials. So, it is upon you to choose a pool fence depending on your specific requirements.
Don't worry, I will also take you through that in chapter 4, just keep reading.
Most probably, you live with children between the ages of 0-5 years. Well, a pool fence will prevent such kids from accessing the swimming pool area.
You can see this clearly from the above example:
Spaces between the metal rods are small, kids cannot squeeze themselves through
It is virtually impossible to climb since they cannot hold on anything
They cannot reach the top of the fence due to its high height
You can also lock the gate
Don't you see this is something you should have?
And, that's not all, there is even more a swimming pool safety fence offers. Just stay with me to learn more.
Meanwhile, I will not lie to you:
Kids are always curious, if they find a pool without a good barrier, they will obviously try to swim.
I can bet on this – they will definitely drown in the pool.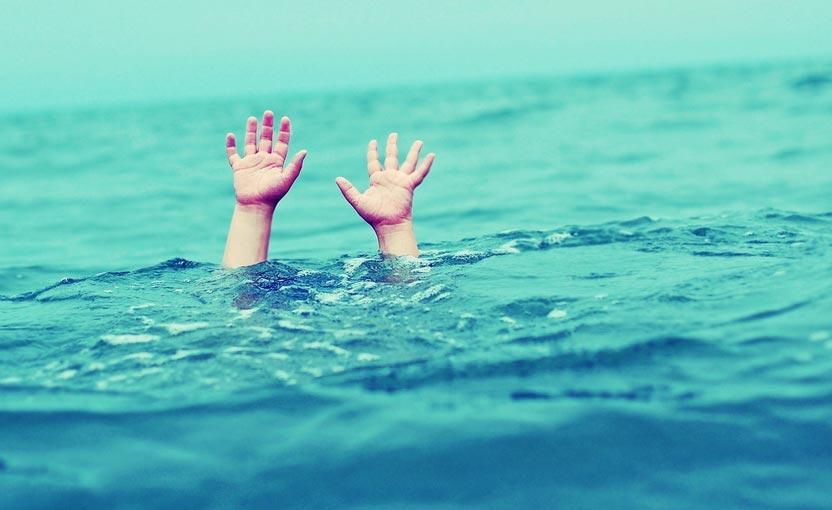 Kid drowning in a pool – Photo Credits: Invite Health Blog
So primarily, installing a fence will ensure the swimming pool, pets and all its users remain safe.
The best part:
Some laws and regulations are stipulated to oversee designing and installation of these fences. At the very least, the pool barriers need to be strong, hard-wearing and non-climbable.
Later on, I'll also look at some of the fundamental reasons why most countries have specific laws for swimming pool fencing.
You will be surprised that there's an international code that governs implementation of designing, manufacturing, and installation of these fences.
Other Resources on Pool Fence Definition:
Chapter 2:
Why You Need a Swimming Pool Fence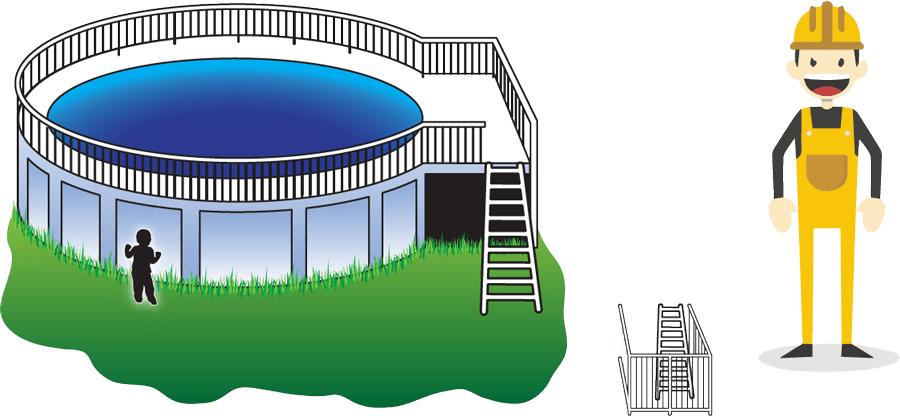 If you want to know the exact reasons why you must install a swimming pool fence then you must read this.
I know many people enjoy using the swimming pool, but ignore the risks it may come with.
Here are some of the critical reasons why fencing the pool is exceptionally important:
2.1 Preventing Children from Drowning
This is the number one reason why you should install a pool fence now.
Even if you have swimming pool attendants, they may not watch over your kids all the time. So, it is important that you take precaution by installing a pool fence.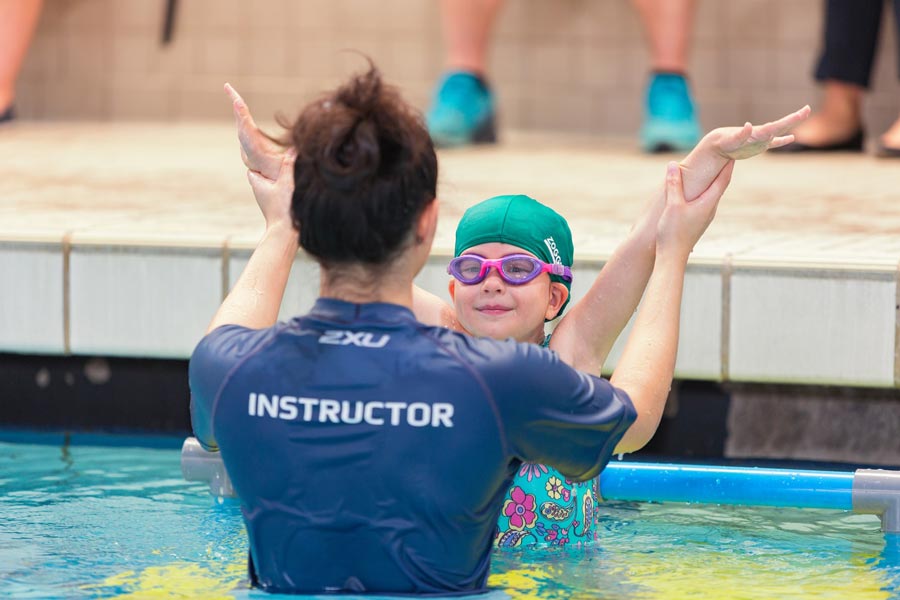 An instructor teaching kids how to swim – Photo Credits: Swim School
But let's face it:
The truth is, with a good swimming pool fence, there is nobody who will access the pool area without your permission.
As a result, it will prevent such accidents from happening.
By the way, let me show you some disturbing statistics regarding the same.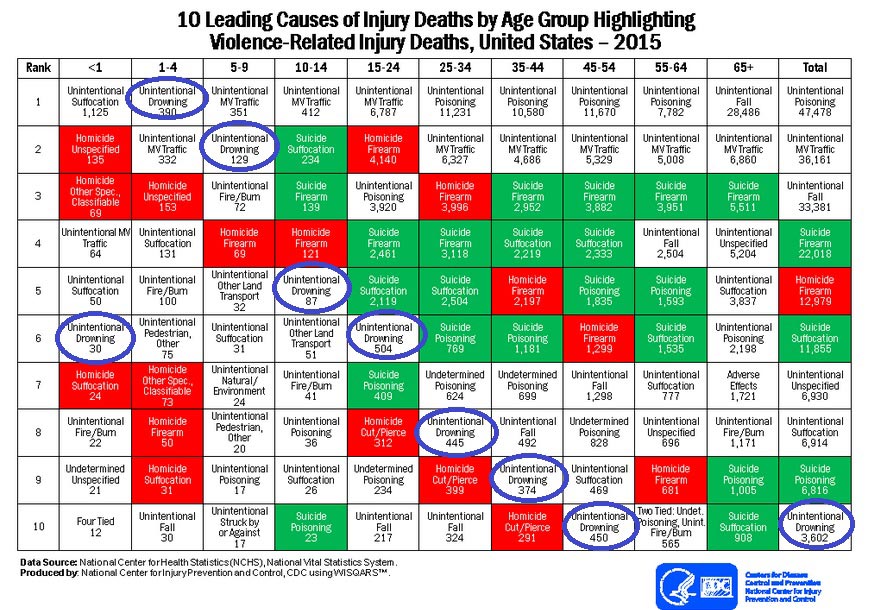 Source: The Center for Disease Control and Prevention (CDC)
Reports from Centre for Disease Control and Prevention suggest that at least 1000 young children drown and succumb annually. You can see that for yourself.
The reports indicate that in most cases, the kids often get away from their parents upon slight diverted attention. What happens next is that they're found at the bottom of the family swimming pool.
Even an insane parent can't wish this for his/her kids!
Not even pool attendants have been able to successfully prevent such fatal accidents from happening.
The report further explains that some of the main reasons for drowning include:
Risk of Drain Entrapments
In most cases, the pool drain entrapments usually happen when an open drain gasps part of the body or clothing.
As a result, the swimmer becomes helpless and eventually drowns. It is for this reason that every pool must have a drain cover.

A swimming pool drain cover
Still, there are two things you must do here:
Slippery Swimming Pool Deck
A slippery pool decks can be dangerous. Worse off, if there is nobody who can rescue the victim from falling in the pool.
Ordinarily, we all know that pools have slippery floors due to the wetness of the area. In that case, many people are likely to slip and indeed get injured.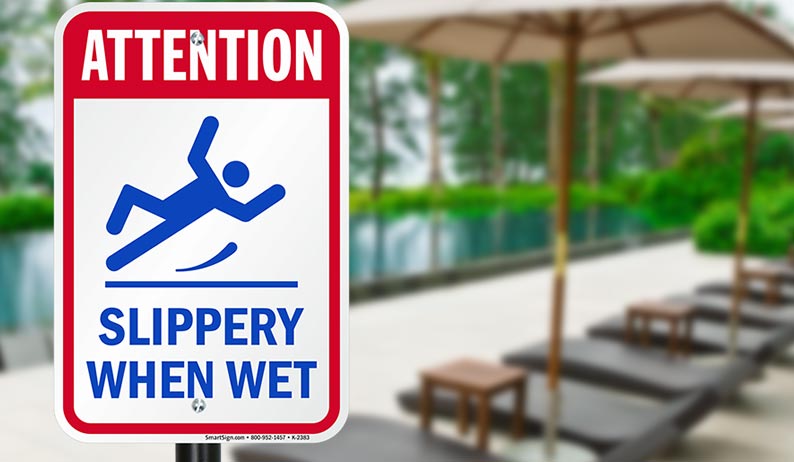 Slippery pool deck sign – Photo Credits: My Pool Signs
But then again, slipping closer to the edges of a swimming pool might lead to falling inside it. Then that would obviously result in drowning.
Those who like diving may also suffer from back and spinal injuries.
Hitting Head on Pool Floor (For Shallow Pools when Diving)
Then the worse of them all is when someone dives or accidentally slips and falls into a shallow pool. When it happens, they may accidentally hit their head on the floor of the pool.
It can be fatal I tell you!

Diving not allowed sign – Photo Credits: LEIFERLAW
In short, there are a myriad of factors that can cause drowning in swimming pools.
So to avoid such accidents from happening, simply install fence your pool. It will save you from agony and lots of stress in the long run.
The bottom line here:
Fencing swimming pool will control the number accidents or instances of drowning. This is because you will assign someone to watch over kids when in the swimming pool.
2.2 Enhancing Safety of Animals
Swimming pool fence will also prevent pets from accessing the pool area. As a result, there will be no instances of your pets falling in the pool.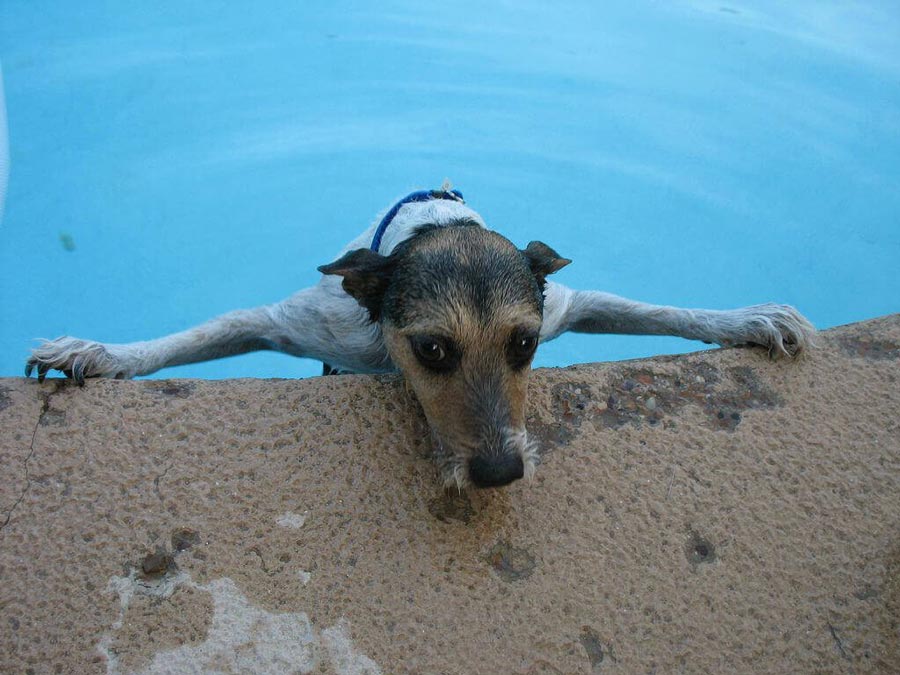 Dog drowning in swimming pool – Photo Credits: PETA
I am sure this may sound odd to you, but it happens.
When pets get close to swimming pool water, they will see a reflection of their image. In an attempt to "interact" with it, the chances of falling in water are always very high.
Unfortunately, pets don't know how to swim. As a result, they will definitely drown.
So, avoid this, simply installing a swimming pool fence.
2.3 Avoiding Penalties by the Regulatory Authorities
There are strict laws that govern the installation, use, and safety of pools.
The truth is:
Every homeowner with a swimming pool must follow all these rules and regulations.
For your information, the law enforcing agencies often carry out random inspections. They use a swimming pool safety checklist.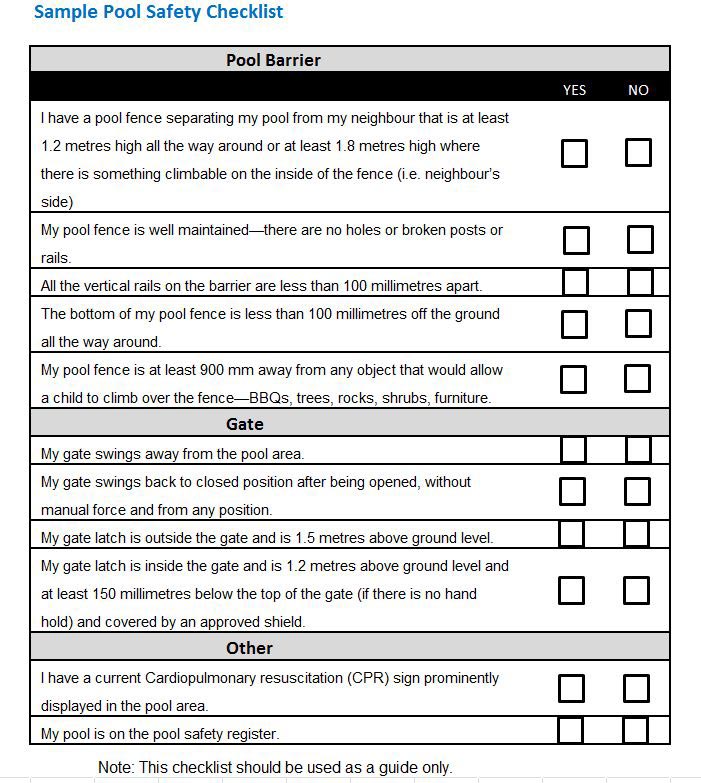 Photo credits: Local Pool Safety Inspections
The objective is to determine whether respective homeowners adhere to the enacted regulations.
In case your swimming pool fence does not meet the right standards, the authorities may:
Revoke your license for the commercial swimming pools
Charge you as the swimming pool owner in a court of a law
Demand that you pay some amount of fine
I am sure you would not wish to be in such a situation.
In a nutshell, just do the right thing – install an appropriate swimming pool fence.
2.4 Swimming Pool Fence for Privacy
Do you know swimming pool fence guarantee privacy?
Well, it does and here is how to achieve this:
Choose a solid and opaque material such as wood and nobody will see through it. Below is a good example of a pool fence that guarantees privacy.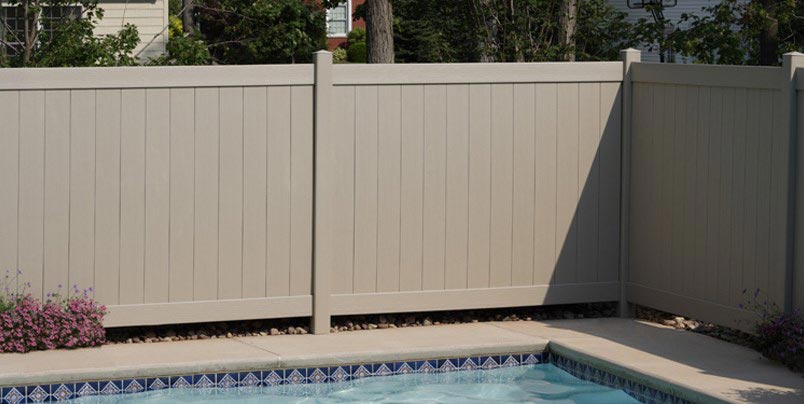 Solid pool fence guarantees the best privacy – Photo Credits: Landscaping Network
With these types of pool fence, nobody can see what's going in the swimming pool area unless they are on tall structures.
Another aspect of privacy comes in the sense that:
You will lock your swimming pool gate hence, not everybody can use it whenever they want to. This gives you the opportunity to control swimming pool users.
2.5 For Aesthetics
It refers to the visual appeal side of the pool fence. People have different preferences on what is attractive to them.
This depends on the type and design of swimming pool fence. Don't worry about this, you will learn more shortly.
Therefore, even as you focus on swimming pool safety, you must consider its aesthetic value too.
Choose a pool fence that is appealing to the eye. It is a better way to decorate your backyard.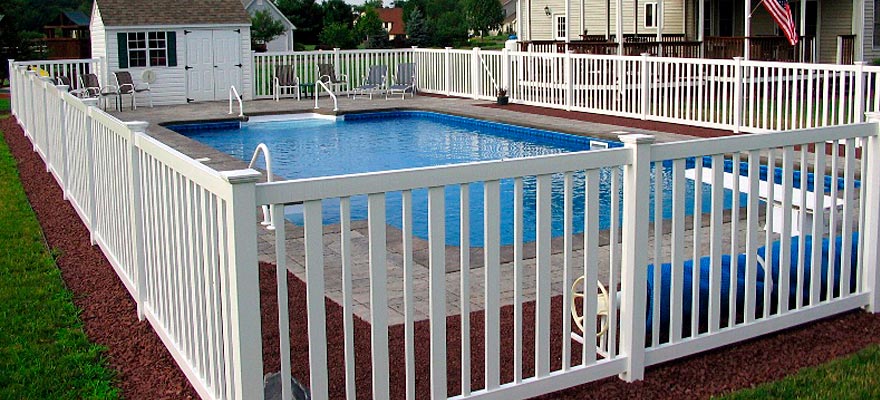 Simple and stylish pool fence – Photo Credits: Vinyl Fence Wholesaler
There are so many ways to achieve this. For example, you may consider:
Mixing different materials say wood and metal
Going for unique designs that compliment your house or home
Painting the pool fence, etc.
The point is:
Go for a pool fence that will add some aspects of beauty to your backyard besides ensuring safety.
To sum up, these are some of the main reasons why you need a pool fence in your backyard. However, safety must be the first priority at all times.
More resources on why you need a pool fence
Swimming Pool and Spa Construction
Chapter 3:
Features of a Safe Pool Fence for In-ground & Above-ground Pools

Don't just go for any swimming pool face available in the market. You must learn to evaluate these accessories to ensure you choose one with the right features.
I know one major challenge that you will face today:
There are hundreds of "safe pool fences" available in the market. But, do they have the said safety features for both in-ground and above-ground pools?
Let's find out:
3.1 Pool Fence with a Self-latching Gate
As the name suggests, it is a kind of pool fence that locks itself upon opening. In other words, whenever you are in or out of the poolside, the gate automatically closes itself.
I have a simple video that will help you understand the working principle of self-latching gate:
https://youtu.be/MnElZmXWEqE
This video is courtesy of Safety 1st Pool Fence.
With these types of pool fences, you don't have to worry about any possibility of the gate remaining open just in case you forget to lock it. They will lock automatically, ensuring high standards of safety.
Besides, you can also fit a swimming pool alarm system. So whenever someone tries to open it, you get an alert.
For sure, with these two, nobody will access your swimming pool.
Sadly, some homeowners do not necessarily prefer self-latching gate, especially during installation.
Reason:
To avoid paying extra charges – this is so bad!
Let me tell you the kind of value addition that installing self-latching pool gives you; other than safety and convenience:
Swimming Pool Self-latching Gate is Appealing to the Eye
Take a look at this:
A swimming pool is a magnificent facility in your home. As much as you need to make it safe, you should also maintain its elegance.
When you choose a self-latching gate with a good design, it will add beauty to your swimming pool. You will find the entrance complementing your whole compound and make it look cool.
The bottom line:
This feature is exceptional for safety, elegance and convenience.
Most Self-latching Gate Designs Feature a High Locking Mechanism
The position of the locking mechanism is a critical feature you must consider.
There is no way you will have the locking mechanism only at the bottom of the gate then you consider it safe.
In most cases, the locking mechanism is at the center or top of the gate. This way, your kids cannot open it easily.
With an appropriate height, the kid can't even struggle to reach the locking mechanism.
The point is:
You should consider self-latching gate due to its guaranteed aesthetic value and the strategic position of the locking mechanism.
3.2 Lockable Gates for Swimming Pool Fence
When you are buying a swimming pool fence gate, it's obvious that locks must be basic components. Or else what would be its purpose?
If the gate is not lockable, then it is merely a fence. So, it will not serve the main purpose.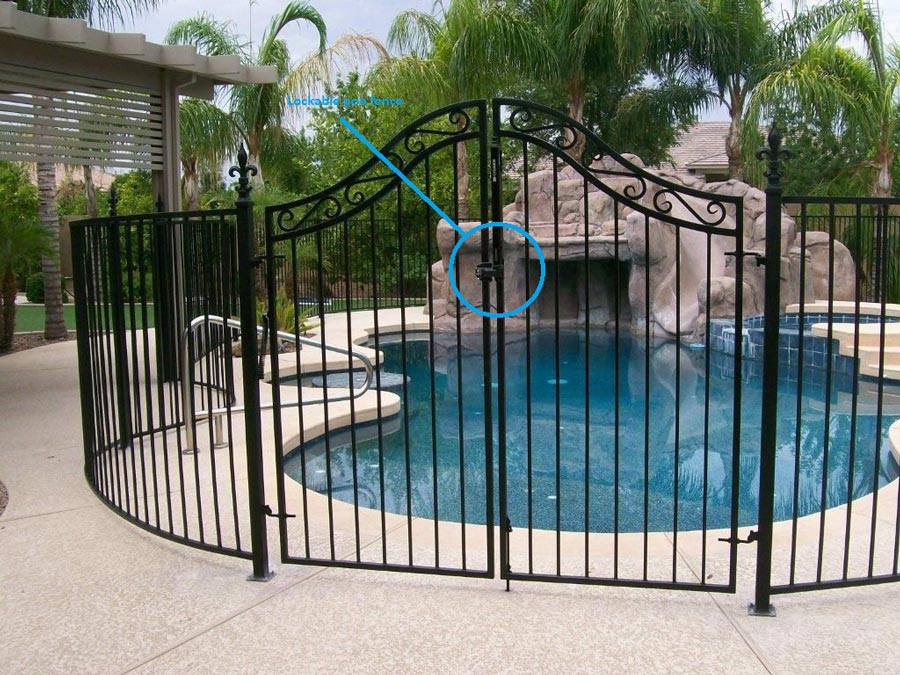 Lockable swimming pool fence – Photo Credits: DCS Pool Barrier
Lockable gates are of varied types. Some are automatic whereas others are manual.
I can recommend swimming pool fence gates with automatic locks. This is because of their self-locking design.
This does not mean, however, that the manually locked pool gates are inferior. It's only that they require great caution, since you may forget to lock the gate.
You have to ensure that you've closed it before leaving the pool.
Most of the lockable gates are made from high-quality materials. For that reason, they are highly durable.
The lockable gates are ideal for both indoor and outdoor swimming pools. Installing them assure you of peace of mind whether you're within the compound or away.
Furthermore, others are also fitted with alarms. So you get to know whenever a small child or your pet is struggling with the gate to gain entrance.
Basically, the lockable gates provide ultimate safety for your pool.
3.3 Appropriate Height for a Pool Fence
Critically, the height of the pool fence plays an integral part in enhancing safety. A pool fence must not be so low to an extent that your smallest pet can jump over it comfortably.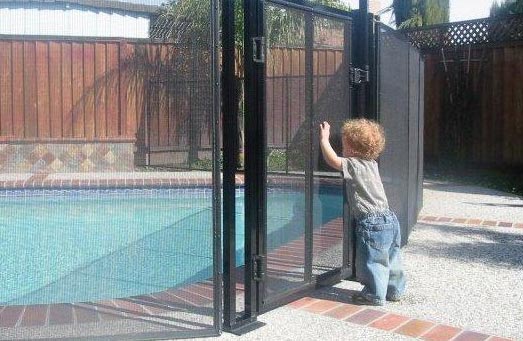 High swimming pool fence prevents kids fro accessing the pool – Photo Credits: COFTABLE
Here, you can't just avoid this:
There are rules and regulations that state the minimum height of a swimming pool fence. So, on the minimum height, you must follow the swimming pool codes and regulations.
Similarly, the manufacturers are also aware of this. So, during the swimming pool design process, they must adhere to these requirements.
In most cases, the height of the pool fence should be at least four feet.
Reason:
At minimum of 4 feet, it becomes rather difficult for a kid to jump over the fence.
The pets also find 4 feet to be relatively high to jump over. So primarily, that height provides a better barrier to getting to the swimming pool.
Then again, we have the indoor swimming pools. Most of these can be accessed from one entrance.
In such instances, the house walls automatically become the side walls for indoor pools. In such cases, you just need to get a suitable locker gate.
3.4 Non-climbable Pool Fence
It is another fundamental feature that enhances pool safety.
This feature ensures that kids cannot use or climb on other objects to access the swimming pool
We know kids can be too smart and active enough to explore all they can and access the pool.
For that reason, the law states that pool owners must create a non-climbable pool fence around the poolside.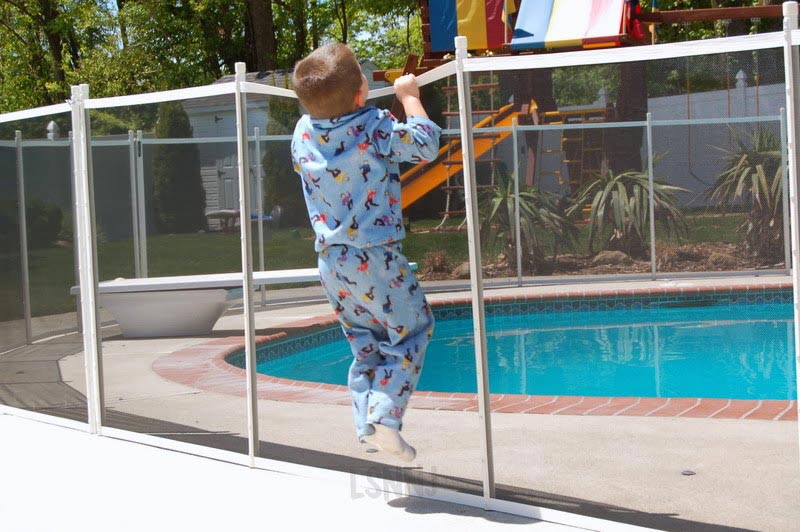 Kid trying to jump over swimming pool fence
Again, ensuring you have a non-climbable swimming pool fence is not enough.
In some areas, pool owners are even required to provide non-climbing zones around the pool fence. The intention is to bar children from getting access to the poolside without proper supervision.
Some regulations provide that a non-climbable zone should be at least 90 centimeters all-round the entire pool fence. And the non-climbable features should extend in both upward and downward directions.
Additionally, the non-climbable pool fence must no have:
A hand
Footholds
Or any object or section seen to potentially offer or encourage climbing the pool fence.
For instance, things like trees, shrubs, ladders or chairs must not be anywhere around 90-centimeter radius. The essence is to keep the children away from using such objects to climb the pool fences.
Ordinarily, you'll find the non-climbable zones of demarcated in an arc shape. The marking starts at the upper part of the pool fence arching towards the lower section of the barriers.
Here is what I am talking about: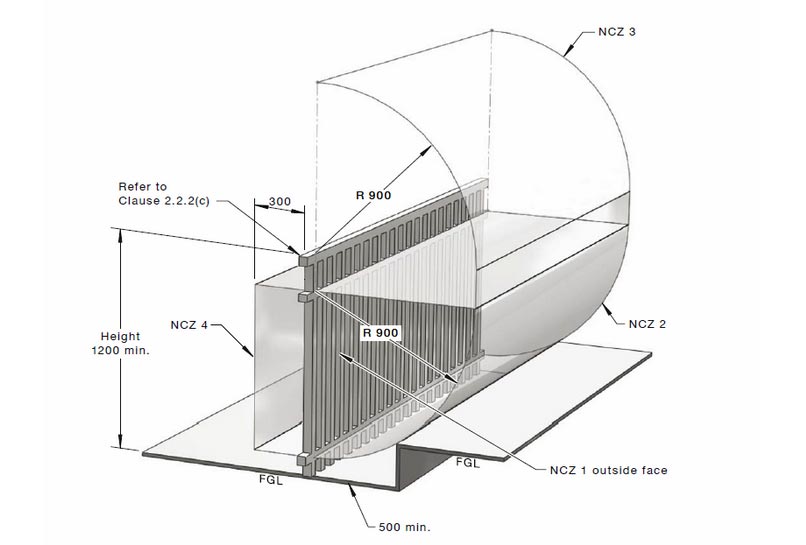 Illustrating concept of non-climbable zone around a swimming pool fence
When the pool fence is placed horizontally, it's possible for children to climb. If at all the horizontal bars require repair or replacement, consult an expert to sort it out.
In short:
No permanent structures should be anywhere around the pool fence. And any structures such as garage, boatsheds, and pergolas must not be close to the poolside.
3.5 Removable vs. Permanent Pool Safety Fences
When thinking of safety at the swimming pool, you can opt for installing either a removable or permanent barrier around it.
The two types of pool fences play a similar role – protection.
Here is what I have to say about the two designs:
3.5.1 Removable Swimming Pool Fences
Basically, the word "removable" implies the flexible nature of the pool fence.
Let me explain this:
You only install them on specific occasions or when you feel like you want them around. For instance, when you're hosting a family event in your homestead and kids will be playing all over.
So, it becomes imperative to install this kind of pool fence. Again, you may choose to fix it when you feel like.
By the way, the removable swimming pool fence allows you to change the barrier from time to time.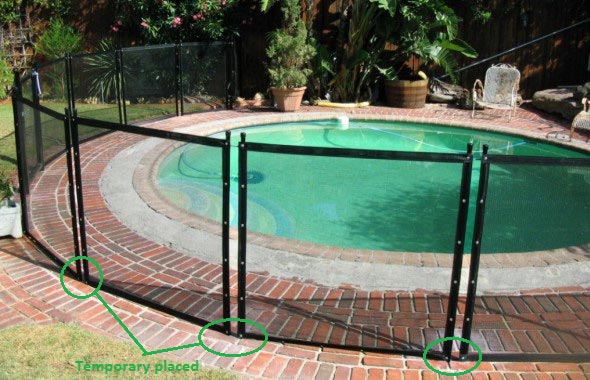 Removable swimming pool fence with parts circled green temporary placed on the pool deck– Photo Credits: Protect a Child
The good thing with removable fences is that you do not necessarily need the assistance of an expert to fix it. Most of them are simple to install and often come with appropriate measurements that are required.
It is the flexibility they offer that makes them ideal for safeguarding the poolside.
The downside of removable pool fences include:
They suitable mostly for homes with adults and no pets
Installing and removing it at times can be a bother
Do not guarantee permanent swimming pool safety
3.5.2 Permanent Swimming Pool Safety Fences
These are the most common especially in residential areas given that families have toddlers and pets that may sink into the pool anytime.
These are the ones that are permanently fixed on the poolside. They are such that, you can never detach them quickly unless you are replacing them forever.

You can see all parts circled are permanently fixed
The best part is that the relevant authorities regulate the installation process. So it becomes difficult for any pool owner to have a permanent pool fence that does not meet the required standards.
Another good thing with permanent pool fences is that you won't be worried whether or not the kids or pets are around.
Both removable and permanent pool fences are made of different materials. The particular one that you choose should ideally suit your budget, and also compliment your compound.
More resources on pool fence features
Tips on Pool Fence Safety to Reduce Liability
Pool Fence Ideas (In Pictures – Houzz)
Chapter 4:
Types of Pool Fence Ideas for Swimming Pool Safety & Privacy

It's now clear that safeguarding a swimming pool is a requirement. Different municipalities in many states enforce the safety measures for these facilities.
So, which type of swimming pool fence should you go for?
In most cases, the choice is based on personal preference and perhaps the working budget among others.
When installing such barriers, different things might inspire the design ideas.
Nevertheless, it imperative to first ask yourself why you'd wish to enclose your pool before considering the particular fence design ideal for it.
Understandably, safety should be the primary concern when installing a pool fence. But it is equally important to consider the privacy, functionality, and the aesthetic aspects of it.
Now, let go straight to the main subject of this chapter:
4.1 Wood Pool Fences
These are the types of pool fences made from timber. They often pass the safety pool regulations that have been ratified by various authorities.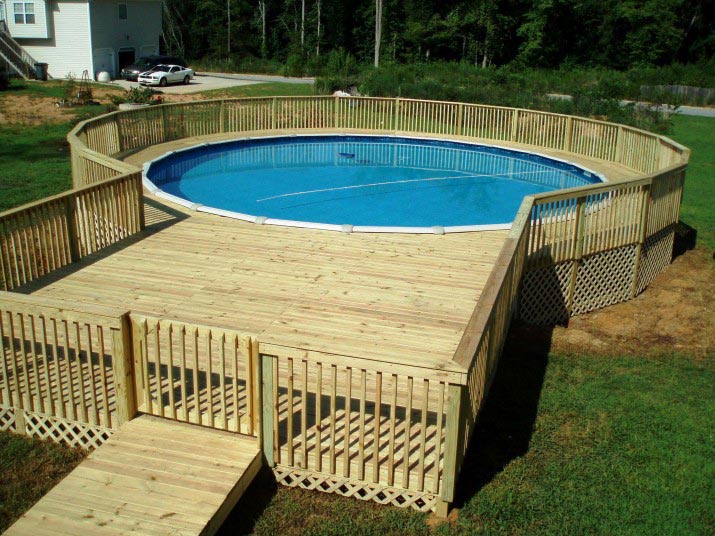 Swimming pool with both wooden deck and fence – Photo Credits: Best Pool Tiles
This material has been used since time immemorial for fencing backyard swimming pools. However, with time, its transforming and different designs emerge every day.
At times, you may also have wood and metal swimming pool fences. They look classy and elegant.
Have a look at this: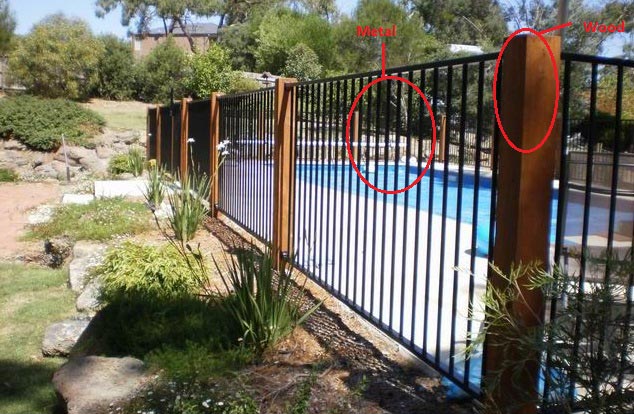 Wood and metal pool fence – Photo Credits: Big Johns Pool Fencing
Now, before you go for wood as your primary material for pool fence, I want you to consider the following:
4.1.1 Why do you Need Wood Pool Fences?
First, wood pool fencing comes in various styles. So, you can choose one that fits outdoor landscaping ideas.
Here are some of the reasons why you can consider timber for the swimming pool safety fence:
Easy to fabricate into different designs and shapes
Environmentally friendly since timber exists naturally
Wood pool fences if correctly installed and maintained offer the ultimate safety that you need. They will definitely serve you for years without being affected by moisture or damaged by insects and weather.
4.1.2 Features of Wood Pool Fences
Below are some of the main features of wood swimming pool fences you should know:
Durability
Most of these materials are typically made from hardwoods. These types of woods can last for as long as you can remember. In some cases, you might get bored with it and decide to change just for the sake of it.
Isn't that wonderful?
Naturally Appealing
Wood fences are also generally attractive. Given that they are natural, you get a pleasant taste of what the environment breeds.
In general, you create a comfort and tranquility within the poolside. It gives you peace of mind especially when swimming and relaxing after that.
You only need to get an expert who is proficient in fixing wooden pool fences. It is one thing that you can probably never regret.
iii.        Versatile Pool Fence Material
Wood is arguably the only pool fence material that can efficiently serve many purposes alongside being a barrier.
You can use it as a fence and also as a gate. So many structures within the poolside can also be constructed using the wooden material.
It thus has the edge over other forms of pool fence materials.
4.1.3 Advantages of Wood Pool Fences
When choose the right wood and treat it appropriately, it will obviously provide a proper barrier. Some of the main advantages of using wood for your pool fence are:
Wood is an Eco-friendly Material
Timber is also eco-friendly. It is rare or even utterly impossible to find wood reacting with any element in the surrounding.
Affordable (Initial Cost & Fabrication)
It is relatively affordable to use wood pool fences compared to other forms of materials available.
Durable If Properly Treated
It is worth mentioning that if properly treated, wood is durable and may last for years. You must use ecofriendly wood preservation procedures.
Since the material is sturdy, it prevents you from concerns about replacement once fixed.
Wood Adds Beauty to your Backyard
Then, the wood pool fences are also attractive hence giving your backyard a lovely look. When you choose the right fitting color, finish, and design, wood fence will remain the focal point of your backyard.
4.1.4 Disadvantages of wood pool fence
Here's the truth, wood pool fences need utmost maintenance and care if at all you want them to maintain the appealing look and durability. Apparently, this can at times be overwhelming.
Here are some of the main drawbacks of wood pool fences:
Wood Pool Fence Installation Requires an Expert
When poorly installed, you can be in trouble with the authorities. Remember once installed; modification becomes a challenge.
You, therefore, need to ensure that you involve an expert in fixing it.
Prone to Damage by Pests, Insects or Weather
This is why I insist that the wooden pool fences must be treated properly.
Furthermore, some kids and pets might find some loopholes in wooden pool fences, if not installed correctly. Or even after it has lasted for long and become somewhat weaker.
If your pool is somewhat large, just know that you'll have to spend quite a considerable amount of money to have a wood pool fence all around.
Again, you can choose from a range of woods such as western red cedar, white oak, black locust, tropical woods etc. You can learn more about different types of woods from the Wood Database.
In addition to these, there are numerous design ideas for a wooden swimming pool fence. You can choose double convex, double concave, regular point, etc.
At any given time, the spaces must conform to the set swimming pool fencing regulations. You will learn about these regulations in Chapter 6, keep reading.
That is, it must not allow anyone or animals to access the pools.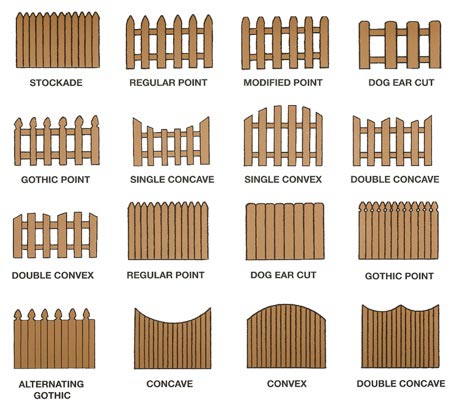 Types of wood fences – Photo Credits: FS Fence Contractors
In short, in case you want a natural swimming pool fence, then you can try the wooden designs. Simply choose the right type of wood and fence design.
4.2 Glass Safety Pool Fence
If you want class, elegance, and style in your poolside, then the best fence material to go for is glass. You'd be surprised that many people now prefer glass safety pool fence more than any other in the market.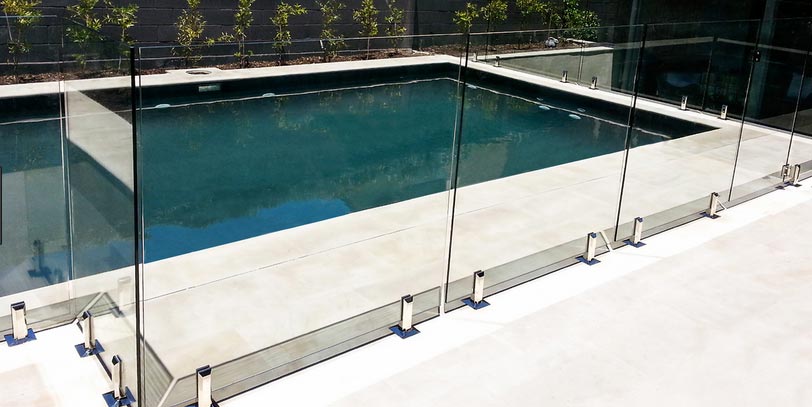 Glass swimming pool fence – Photo Credits: Aqua Glass Pool Fencing
They are excellently designed to provide the classy look and visual appeal that most people desire.
4.2.1 Why do you Need Glass Safety Pool Fence?
The ultimate safety that glass pool fence provides is the primary reason anyone would install it. You're 100% guaranteed that small kids or even animals can't go through it.
You and I know that glass surface is slippery. Therefore, it becomes difficult for anyone to climb, let alone the kids and pets.
The panels are also tightly fixed such that it becomes impossible for the children and pets to squeeze themselves through.
So mostly, you secure your poolside from unauthorized access when you use glass in entirety.
4.2.2 Features of Glass Safety Pool Fence
Here are some of the main features of glass swimming pool fences:
Glass is a Hard-wearing Material
From the look of things, you might think that glass is something that shatters easily into shards. The truth of the matter is that is a mere misconception.
Ask anyone who's had an encounter with glass for pool fence. You'll realize that this material is hardy.
You can't just break it anyhow.
Most of them are made from sturdy components and are also thick. But even in the unlikely event that the glass breaks, it will break into smaller particles with no sharp edges at all.
Glass has a Smooth Surface
This is pretty obvious. The glass surface is elegant and spotless. This feature adds a lot to its functionality as a pool fencing material.
One is that it provides the visual appeal, which is a significant aspect of using this particular type of fence material.
The other element is that the smooth surface enhances safety. As I'd mentioned earlier, it's impossible to climb over a glass surface.
So in a way, you are certain that unless you're aware of any stranger's presence in your poolside it's difficult to go through it.
iii.        Glass is known for Visual Clarity
Glass pool fence materials are clear. I mean, you can have a view of what is happening on the other side of the glass.
So basically, they enhance visibility such that it becomes easy to monitor every activity that is happening in the poolside.
4.2.3 Advantages of Glass Safety Pool Fence
Like I had mentioned before, this fencing material is made of hard-wearing components. So you can be confident that it won't break, not anytime soon after you install it.
Some can go for about 15 years without even showing signs of wearing out. Isn't that marvelous?
The other advantage worth noting is that glass pool fence offers maximum safety. You are more than 100% certain that your kid or pet is safe once they are not in the poolside because they can't go through it regardless.
The glass is so attractive. It gives your backyard a spectacular and larger appearance.  You also get an unobstructed view of the pool, so good especially when you're just chilling and sun-downing.
4.2.4 Disadvantages of Glass Safety Pool Fence
Here are some of the main disadvantages of glass for swimming pool fences you should know:
Glass is not Shatterproof
Although glass for pool fence is strong, they are not shatterproof. Hence, not as good as polycarbonate sheet (I will discuss this later).
Can Break into Small Pieces that are Dangerous
Again, when they break, it's a disaster. They break into shatters of small pieces and hence somehow challenging to clean.
Besides, they may also cause serious injuries.
Cleaning and Maintaining Can be Cumbersome
Requires intensive care and maintenance, which in some cases can be difficult to attain. In fact, making the glass that is near a pool clear all the time is not a holiday.
You have to work on it thoroughly.
Installation Requires Experts
Handling glass and fixing it requires expertise and experience. This is to avoid instances of breaking the glass, which is common in most installation processes.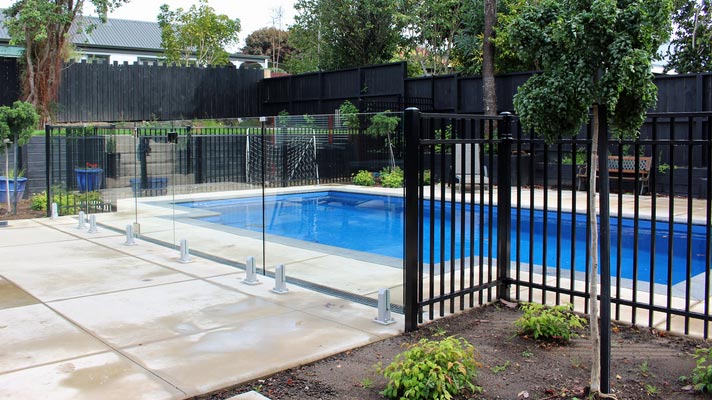 Glass and metal swimming pool fence – Photo Credits: EBOSS
In a nutshell, in case you don't like wooden swimming pool fence, you can opt for glass. Remember, wood is opaque while glass is transparent.
4.3 Polycarbonate Pool Fence
This is an interesting and unique type of pool fence option that you can as well go for. Polycarbonate is a shatterproof, dimensionally stable and impact resistant plastic.
It comes in different tints that may also vary in thickness.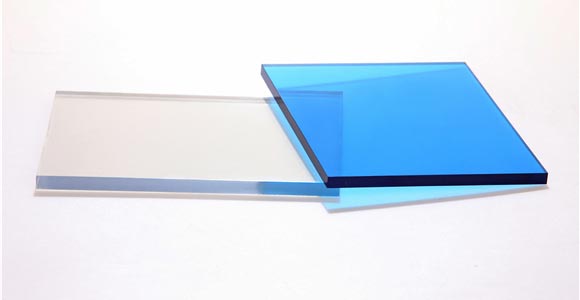 Solid polycarbonate sheet
For a fact, polycarbonate demonstrates high transparency and sturdiness making it ideal for swimming pool fencing.
Honestly, in case you want a swimming pool fence that is transparent, I will recommend polycarbonate material and not glass.
Let's explore more about polycarbonate pool fence.
4.3 .1 Why do you need a Polycarbonate Pool Fence?
Do you remember how glass swimming pool fence looks like?
Well, from a distance, you will hardly differentiate between a polycarbonate pool fence and a glass pool fence.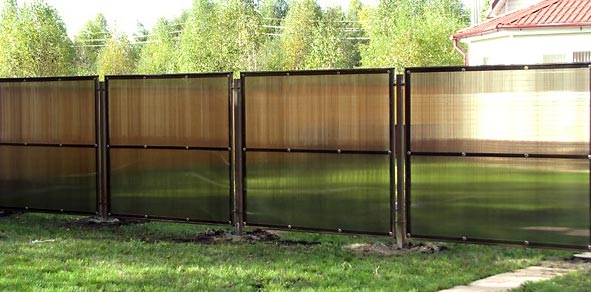 Section of polycarbonate swimming pool fence
So, why should you go for polycarbonate pool fence and not glass?
Polycarbonate is a Lightweight Material
Due to the lightweight, it is easier to install polycarbonate pool fence than glass swimming pool fences. Moreover, you don't have to reinforce the pool deck or fence structure to accommodate polycarbonate sheet.
Impact Resistant and Shatterproof
With a polycarbonate swimming pool fence, you don't have to worry about the sharp pieces of glass that can cause injury. It can withstand high impact force without breaking, which is not the case for glass.
Easier to Customize than Glass
Fabricating polycarbonate sheet is easier than glass. In fact, with polycarbonate sheets, you can design sturdy, durable and complex swimming pool fences.
I know many people shy away from polycarbonate sheet due to the high initial cost of investment.
The reality is:
You will always get value for your money.
In addition to this, let's explore other critical aspects you should know about using polycarbonate sheet as a swimming pool fence.
4.3 .2 Features of Polycarbonate Pool Fence
Unlike glass, solid polycarbonate sheet has very unique features when it comes to customizing swimming pool fence.
For instance, you have:
Unlimited Designs and Color Options
With polycarbonate sheets, you can easily design a pool fence with flawless curves in addition to the various tint finishes available.
High Resilience
Polycarbonate is a durable material, resistant to almost all weather conditions. Whether you live in very hot or cold environment, it will still serve you well.
It can last for more than 15 years without degradation due to the ultraviolet protection.
Apart from all these, don't forget the high impact resistance and shatterproof features.
4.3 .3 Advantages of Polycarbonate Pool Fence
I know this is what you have been waiting for.
Solid polycarbonate sheets for pool fences come with the following advantages:
High Impact Resistance
Polycarbonate sheet is 250 times more impact resistant than glass. With this, you are certain nothing can break into the pool.
Resistant to Most Weather Conditions
Whether it's a fluctuating temperature, alkalinity or acidity, polycarbonate pool fences will maintain their chemical and physical properties.
Other advantages I had mentioned earlier include ease of fabrication, shatterproof, lightweight and unlimited options when it comes to customization.
4.3.4 Disadvantages of Polycarbonate Pool Fence
When you opt for polycarbonate pool fence, there are certain factors that you will have to compromise or deal with. These include:
Polycarbonate Sheet is Easier to Scratch
Polycarbonate sheet is not scratch resistant. Therefore, it must have anti-scratch coating.
High Initial Cost of Investment
Polycarbonate sheet is somehow expensive than glass. However, once you invest in a high quality polycarbonate pool fence, it will give you a piece of mind.
Recently, I have come across acrylic pool fences.
This is yet another option you can consider.
Generally, acrylic sheet share many physical and chemical properties with polycarbonate sheets. In fact, in case you cannot afford a polycarbonate sheet, then I can recommend acrylic pool fences.
Let's have a quick overview of its advantages:
High impact resistance than glass (about 17 times higher)
Cheaper than polycarbonate sheet
Easier to fabricate than polycarbonate sheet
On the other hand, it has the following disadvantages:
Easier to scratch but not as polycarbonate thus, requires anti-scratch coating.
More rigid than polycarbonate but not as glass hence easily cracks more so when drilling
Below, I have an example of acrylic pool fence. I hope you can see it resembles polycarbonate and glass pool fences.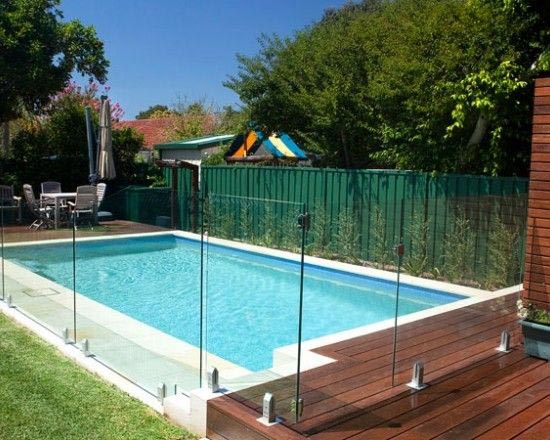 Acrylic residential swimming pool fence – Photo Credits: Houzz
With all these, I believe you can make an informed decision when choosing glass, polycarbonate or acrylic pool fence.
4.4 Mesh Pool Fences
Arguably, mesh pool fences are the most popular among the pool owners community. Simple and easy to install, it is easy to spot them in various residential homes.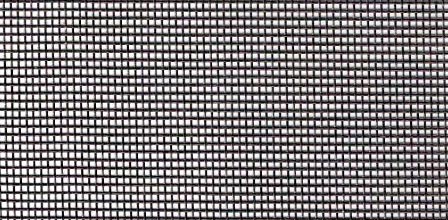 Fabric for making mesh pool cover – Photo Credits: KATCHAKID
The mesh is transparent thus enhancing visibility, and the protection it offers is also top notch.
4.4 .1 Why do you need Mesh Pool Fences?
If you're that kind of person who prefers the removable type of pool fence, this is the best choice to go for.
As you can see, this pool fence is a woven mesh with very tiny holes. In fact, from a distance, it looks like a plastic panel.
Its unique design adds beauty while ensuring safety and guaranteeing safety.
4.4.2 Features of Mesh Pool Fences
Mesh pool fences come in numerous designs and shapes. However, some of the main features include:
Lightweight
These fences are light, and hence you can easily carry them to and from your store whenever you feel like using them.
This feature also allows you to comfortably install and remove them whenever you feel like. You do not necessarily need assistance from another person.
Climb-resistant
The surface is somewhat difficult to climb. That alone assures you of safety given that no one can go over it.
It is also relatively tall with a minimum of 4 feet. This alone inhibits kids and dogs to even jump over it to get access to the pool.
iii.        Transparent
Most of the mesh pool fences come in different shades. However, you need to realize that they are commonly clear.
In essence, it becomes easy for you or anyone else to view all the activities that happen on the other side of the poolside. Therefore, you can monitor the young children even from a distance.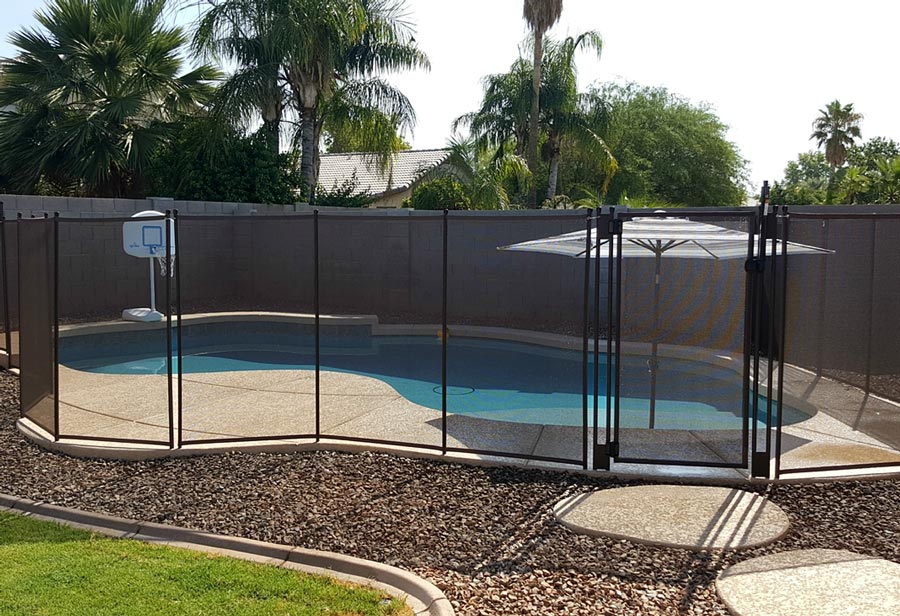 Mesh pool fence – Photo Credits: KATCHAKID
4.4 .3 Advantages of Pool Mesh Fences
Do you why at times I recommend pool mesh fences?
Well, these are some of the main reasons:
Mesh pool fences are affordable
Apparently, this fencing material is affordable. You therefore not need to worry about the size of your pool since it's possible that you can afford it.
Ease of Installation
Another thing is that these fences are easy to install. Remember I told you earlier.
You don't require help from someone else to fix them.
Highly portable accessories
Then, these fences are highly portable. No wonder in most cases they are used as removable pool fences.
4.4 .4 Disadvantages of Mesh Pool Fences
Let's review the downside of mesh pool fences. These include:
Not as durable as wood, glass or polycarbonate pool fences
The truth of the matter is that they don't seem durable. The material is ordinarily soft, and when subjected to unfavorable conditions, it tends to wear out quickly.
Most are not designed as permanent pool fences
Installing and removing a pool fence can be a hectic and boring process. Besides, it may also compromise the safety of your pool.
Animals such as rodents can easily destroy mesh pool fence
Rodents can easily destroy the mesh. This again subjects you to replacement since the spaces can be too large to allow children and pets to pass through.
Depending on your unique circumstances, you can also consider a mesh pool fence as a temporary safety measure.
4.5 Metal Swimming Pool Fences
These are regarded as the ultimate options in regards to durability. Let me tell you, pool fencing is an investment, and so you have to make the right choice.
When it comes to metals, you'll realize that we have quite a number in the market. Sometimes it can be a challenge to decide which one to pick.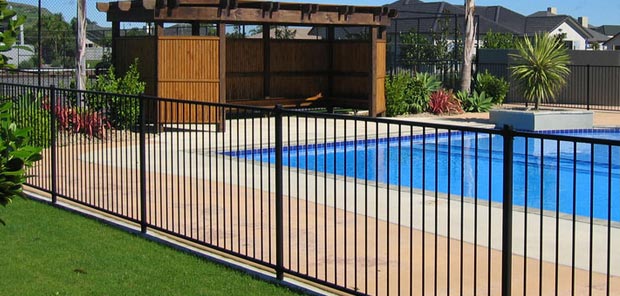 Section of metal swimming pool fence
But before I give you the options, let's look at some crucial aspects surrounding metal swimming pool fences.
4.5 .1 Why do you Metal Pool Fences
Just like any other option described above, the ultimate reason for obtaining and installing metal pool fence is to safeguard kids, pets and other unauthorized persons from accessing the pool.
But again, you also need something that is relatively durable, or in some instances, permanent solution to the problem.
Metal pool fences solve probably all your pool security needs. The trick is to get them installed properly and according to the guiding principles governing swimming.
4.5.2 Types of Metal Swimming Pool Fences
We have quite a variety in the market. But in the long run, your choice depends on several factors that we'll discuss later on in this article.
Moving on, some of the notable metal pool fences include;
Steel
Aluminum
Wrought iron
Let's look at them in details, shall we?
4.5.2.1 Steel swimming Pool Fences
It is one of the favorite choices amongst many pool owners. It provides strongest and durable pool fencing than you can ever imagine.
Steel pool fence is in most cases installed permanently. It is rare to find a removable type of steel pool fence given that they are welded to the ground.
One of its notable features, which is quite apparent is durability. This is somehow a lifetime investment when picking it.
You can be sure that it'll possibly last forever provided that ideal care and maintenance is given to it.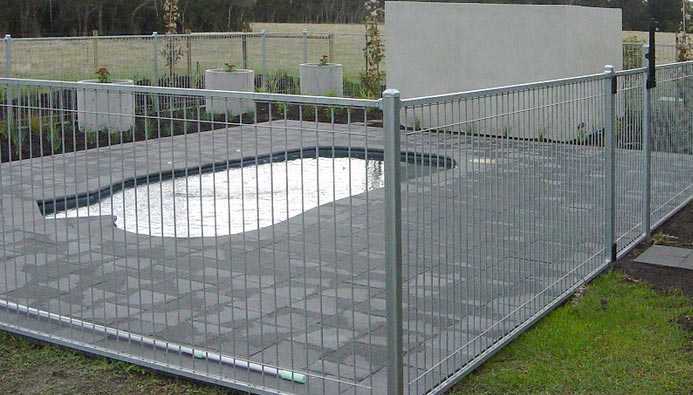 Steel Pool Fence – Photo Credits: Dolphin Fencing
The other feature is that it is lightweight. It is essential since it allows for easy installation.
However, it is arguably one of the most expensive metal pool fence options that you can ever go for. It is also comparatively expensive. But still, it provides the aesthetics, privacy, and functionality.
It is thus a worthy option to go for it at all you can afford it.
4.5.2.2 Aluminum Swimming Pool Fences
In most cases, pool owners opt for aluminum material as a substitute for steel. When you install them as pool fences, your backyard then becomes a safe playground for the kids rather than danger zone.
An aluminum pool fence is also installed permanently as fences. You don't need to bother with removing and fixing them all the time.
They are also very durable. Once installed, you only need proper maintenance is required.
It can serve as many generations as possible.
Some of the exciting features of aluminum are that they come in various sizes, colors, and designs. What that means is that you have the flexibility to choose something that suits you entirely.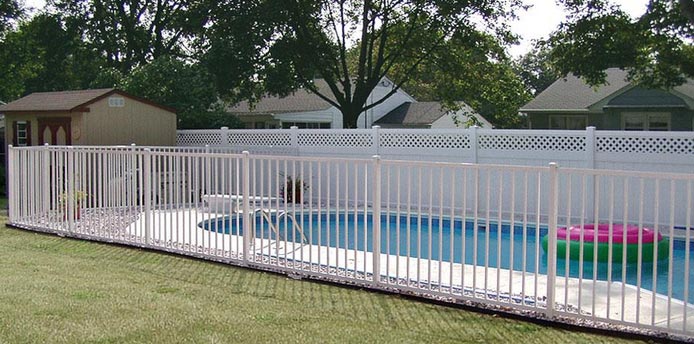 Aluminum pool fence – Photo Credits: A Pilots Journey
Aluminum is ordinarily lightweight. This places it in a better position to use it as an ideal pool fencing material which shouldn't preferably be heavy material.
One significant advantage of this fencing material is that it easy to install. This is probably due to the lightweight.
If you understand how fencing is done, you can comfortably fix it. However, it is also essential if you consider the services of an expert to guide you in some aspects.
Again, it is also economical. If you're someone working with a relatively low budget, this is the best pool fencing metallic material to go for.
Incidentally, it is affordable, but the quality is epic! It does not corrode quickly and is resistant to rust.
4.5.2.3 Wrought Iron Pool Fences
This pool fence option is durable, decorative and kind of expensive but worth the price.
Of course, you will need to spend a considerable amount of money if you have to get wrought iron type of fence.
Nevertheless, the latest innovations in craftsmanship have provided other economical options. So you do not necessarily need to worry about the budget that much.
The other thing also is that you have to take good care of it accordingly. Otherwise, it will corrode or rust.
That is something I'm sure you wouldn't want considering the amount you use to install it.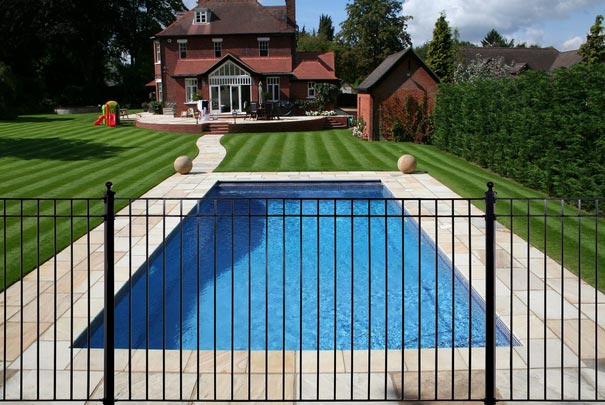 Wrought iron pol fence – Photo Credits: Pools for Home
Generally, wrought iron provides customized the stylish look. It will guarantee a beautiful backyard.
When you fence your pool using this metal, be sure of getting a uniformed barrier. They are identical on both sides.
Wrought Iron is rugged and beautiful. So if you can, never hesitate to add it to your backyard. You will have safety, elegance, and privacy, all in one.
4.5.3 Advantages of Metal Swimming pool Fences
Justifiably, all the metals pool fences mentioned above have different pros. But in general, these are some of the advantages:
Metal pool fences are durable
Experts will tell you that metal pool fences offer permanence. Provided that you take care of them appropriately, they can last for as long as possible.
Easy to fabricate hence compatible with most accessories
With the right tools, you can easily fabricate metal to any shape and design.
They are compatible with several types of locks, lashes, and gates. You can install different types these items and still get the quality that you need.
Metal fences mostly conform to the swimming pool regulatory requirements
In most cases, metal pool fences are accepted by many authorities. If you research carefully, you will realize that authorities never disturb pool owners with these types of pool barriers compared to others.
4.5.4 Disadvantages of Metal Swimming Fences
Like other materials for making swimming pool safety fences, metals too have disadvantages. Some of the most common issue you will deal with includes:
Some treatments on metal have adverse effects on the environment
Some of the metals often react with other environmental components. So to some extent, they aren't eco-friendly.
Corrosion is an issue with some metals
For metal pool fences to serve you better, you must adopt a reasonable cleaning and maintenance procedure. Trust me, if you neglect them upon installation, they will quickly corrode and rust.
They are expensive compared to other types of pool fences. Thus, you must ensure that you have a sustainable budget, especially if your pool is a bit large.
Critically, you must be observant and acquainted with the particular type of metal pool fence material you're buying. In some cases, you may find counterfeits, which are of poor quality and eventually cost you.
More resources on types of pool fences
15 Transparent Glass Swimming Pool Safety Fences
30 Pool Fence Ideas (Design Pictures)
Wrought Iron Pool Fencing Ideas (Houzz)
16 Pool Fence Ideas For Your Backyard
Chapter 5:
Step-by-step Guide on How to Install a Swimming Pool Fence

Apparently, this is the most critical part of your swimming pool fence.
Listen!
If you get it right, you are lucky.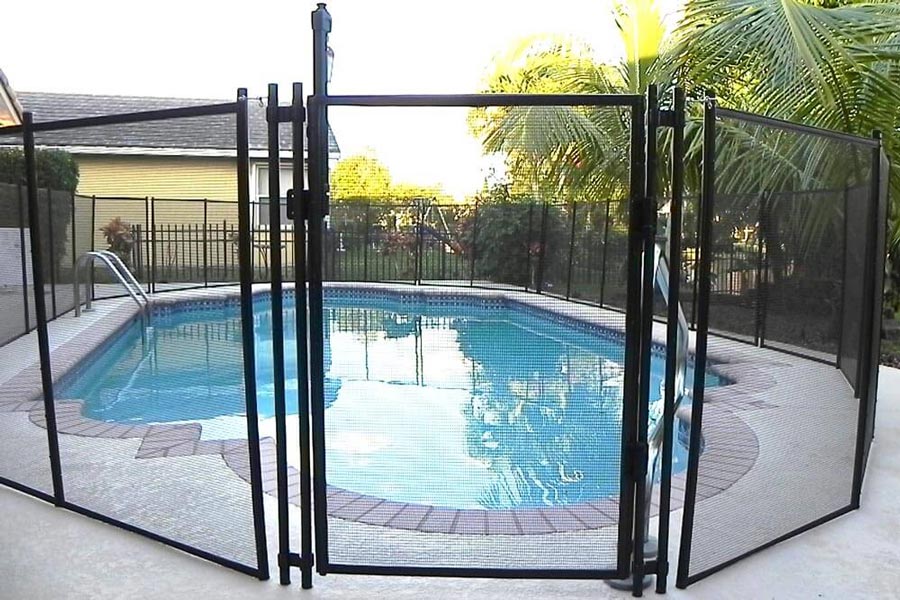 Swimming Pool Fence – Photo Credits: Baby Guard Pool Fence
Unfortunately, if you get it wrong, you're screwed!
And probably you'll never have peace until you resolve it.
I know the latter sounds like a threat, but it is not. The thing is, it will probably be useless if you install your pool fence wrongly.
For instance, you may end up compromising one or all of the three fundamental components of the fence:
Apart from that, the law enforcers will also be on your neck from time to time. And in some instances, the authorities will not allow you to use the swimming pool.
What I'm trying to stress here is simple. Just get it right and have that peace of mind.
You don't necessarily have to do it yourself, especially if you are not an expert in this sector. Experts are all over, just a phone call or an e-mail away.
Now let's get straight to the point.
You have made your choice of material ultimately, shipped them home and now the day for fixing it is here.
Where and how do you start from?
Let's first learn some basic but fundamental rules;
Installation procedures vary depending on the type of pool fence you are using. Primarily, you can't install let's say a polycarbonate fence material in the same way you'd do to glass pool fence.
I still emphasize on this; understand the laws governing the installation of swimming pools in your region. You and I know that ignorance is no defense.
Don't "under-purchase or over-purchase" the pool fencing materials. Just know the right quotations of all the things you need.
Get the assistance of a professional. At the very least, they understand some of the basics needed when installing pool fences.
The cost for installing a swimming pool fence varies from one to another, and many other factors. Don't be swindled.
Now that you presumably have all the right tools, materials and supplies, let's go the swimming pool fence installation process:
Step 1: Mark the Are for Installation
You will need a stable and pegs to demarcate the specific points you'll be installing the fence. Excavate the holes for respective posts that you'll use.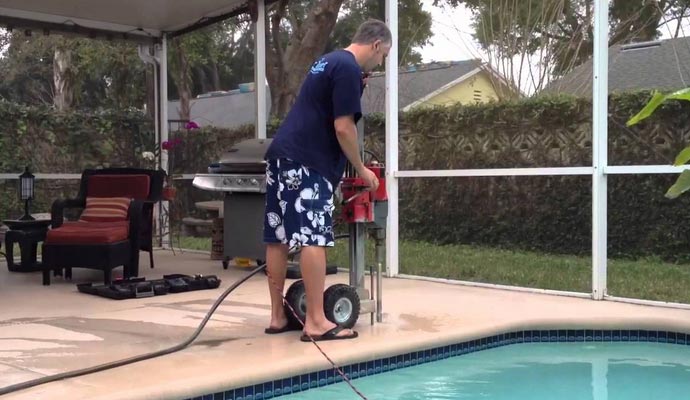 Drilling holes from swimming pool fence – Photo Credits: HamiltonsUpdate
Step 2: Get the Measurement between Posts
You need to know the distance between one post and the other. You should ensure that the distances are equal.
It helps in uniformity and enhancing the strength of the fence.
Step 3: Set the Next Post
Remember you're doing this on one post after the other basis. So after setting the first one, get the other one, finish working on it and move to the next one until you're done.
Step 4: Set the Fence between the Posts
Now, erect the two pillars then place the fence, which presumably, comes already set. Do these after constructing every other post.
Step 5: Fix the Fence to the Post
Depending on the type of fence you're installing, use the appropriate materials to attach it to the poles you've erected. Ensure you connect them tightly.
Step 6: Fix Hinges at the Gate
Also, don't forget to attach the hinges on the gate. They'll be helpful when it comes to supporting the gate later on when fixing it.
Step 7: Attach the Gate
This is an important part.
Install the gate appropriately to prevent compromising the functionality of the fence as a whole. Just ensure that you use the right tools and material when doing so.
Step 8: Set another Post
Repeat precisely what you did in step 3 and step 4. Make sure you do it with all the post around the pool until you're left with one fencing panel to fix.
Step 9: Set the last Panel's Measurement
When you get here, find the distance of the gap between the post and last panel. In any case, you need enough space for the bracket between the pole and upper side of the bracket.
Step 10: Fix the Gate Lock
Ensure that you place the lock on the inner side of gate post. The latch should also lie slightly above the fence line.
If you are hesitant, confirm from instructions on how to install the lock.
Step 11: Fix the Latches
Follow the instruction in regards to this aspect. Latches are equally vital components of a pool fence any mishap could lead to potential risk.
Step 12: Fix the Gate's Catch
Most of these come with a guide, and so it shouldn't be a problem. But always ascertain that it is functional before leaving the poolside.
Step 13: Confirm Functionality
Most importantly, confirm that every feature of the fence is functional. Just take a look at the entire work you've done to assess if all is well.
During that process, you can make necessary adjustments.
The installation process is not intensive, as long as you have all the right tools and skills. Probably, you'll need some help just for the sake of making the procedure rather fast.
So after all is done, you can frequently check out if everything is okay by evaluating your work maybe for about two days.
If everything is okay, carry on with the usual finishing. Of course, this will depend on the type of material that you used for fencing.
NOTE: This is a general overview on how to install a pool fence. Please refer to your product manual to learn each step as indicated by the manufacturer.
More resources on swimming pool fence installation
In ground Pool Safety Fence Installation
Chapter 6:
Pool Fencing Laws and Regulations: Must-Know Key Pool Fence Requirements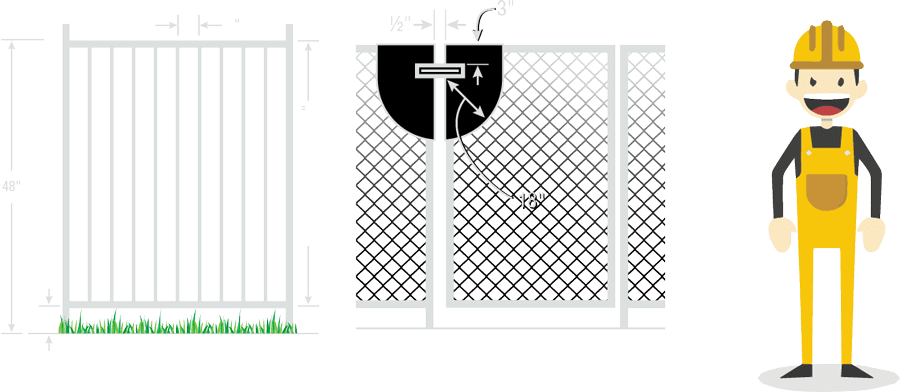 Perhaps this is unquestionably a vital aspect regarding pool fencing that you have to comply with.
Throughout this post, I've talked about it in several instances. It just shows you how fundamental it is. In fact, you cannot ignore it because the law sooner or later shall catch up with you.
So to be on the safe side, find out all the laws and regulations that govern swimming pool fencing in your municipality or region.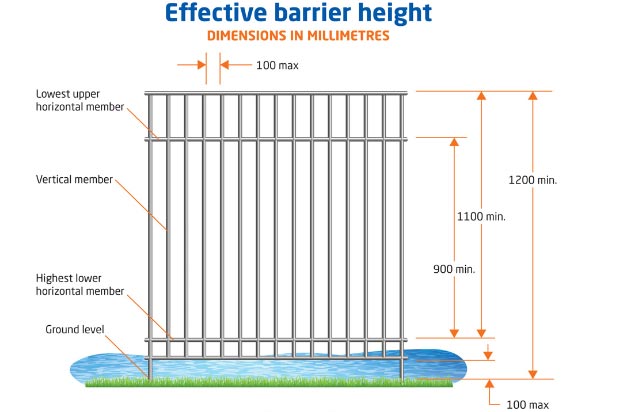 Swimming pool fence laws and regulations on height – Photo Credits: Govt. of Western Australia
As a matter of interest, it's noteworthy to realize that every city, town or region has specific laws for pool fencing. Nonetheless, some of these rules are somehow universal or somewhat practiced in a wide range of areas across the world.
Herein, we can't explore into all the specific laws given that they vary from one region to the other. However, we'll look at the most fundamental or the basic pool fence requirements;
The minimum height for a pool fence should be at least 48 inches, irrespective of the material used. There should be no possible climbing aids anywhere around the pool.
The swimming pool gates must be self-closing, self-latching and self-locking.
The pool gates must open in the outward direction. They should also close from all directions in their arc.
The overall pool fencing must be in good condition always. You have to maintain and take good care of it. In that course, repair any worn out sections of the fence.
If you have an above the ground swimming pool, you don't necessarily require a fence as long as you ensure that the ladder is detachable.
The pool fence material should be durable. The essence here is to prevent frequent repairs, replacements and perhaps a gap that would create an entrance.
Remember all these sets of rules and regulations are for your own good. They aim to ensure the swimming pool has an effective barrier that guarantees safety.
More resources on pool fencing laws & regulations
State-by-State Guide to Pool Signage and Fencing Requirements
Chapter 7:
Top 30 Pool Fence Suppliers in 2018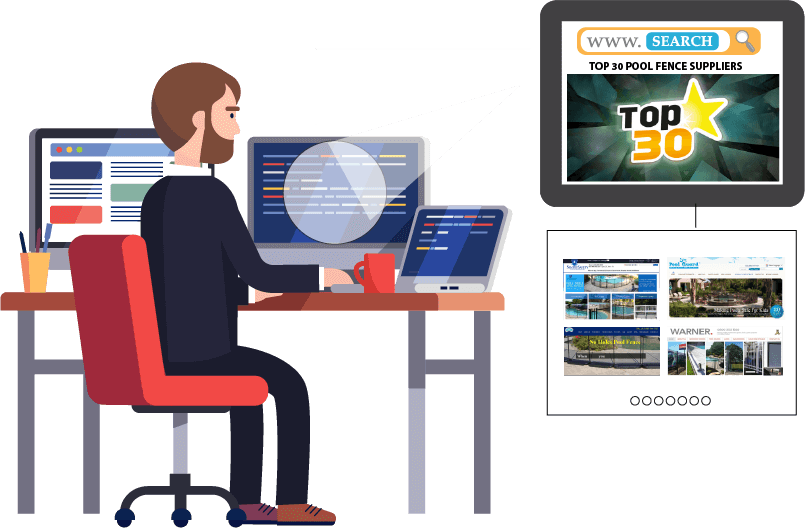 Are you planning to buy swimming pool fences in 2018?
Well, I have a list of top 30 pool fence suppliers you can consider. With these suppliers, I am sure you will get a swimming pool safety fence to your unique specifications.
Here is the list:
This is a UK-based supplier that deals with a wide range of pool fence materials with significant markets in Europe and America.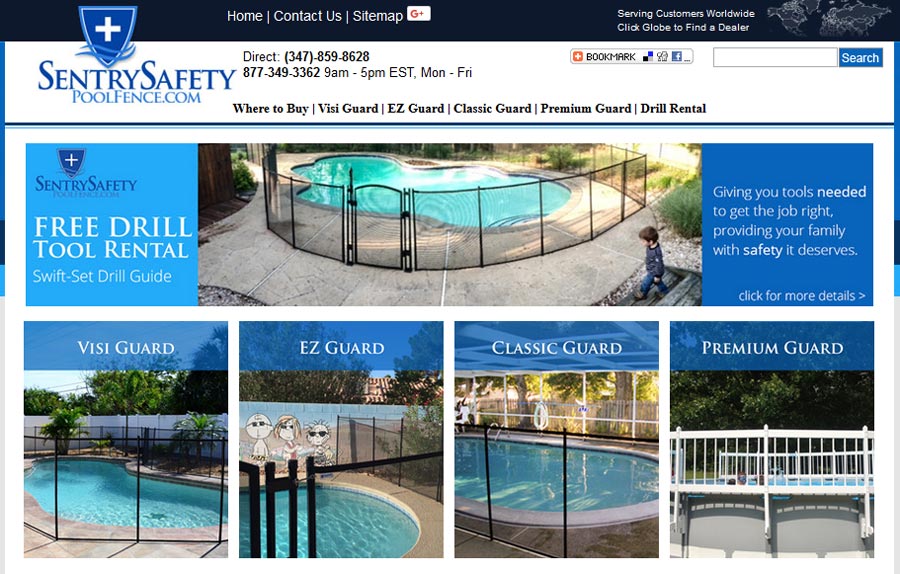 Sentry Safety Pool Fence
It is a Florida, US-based pool fence supplier. It deals with all sorts of pool fencing materials, installations, repair and maintenance across different regions in America.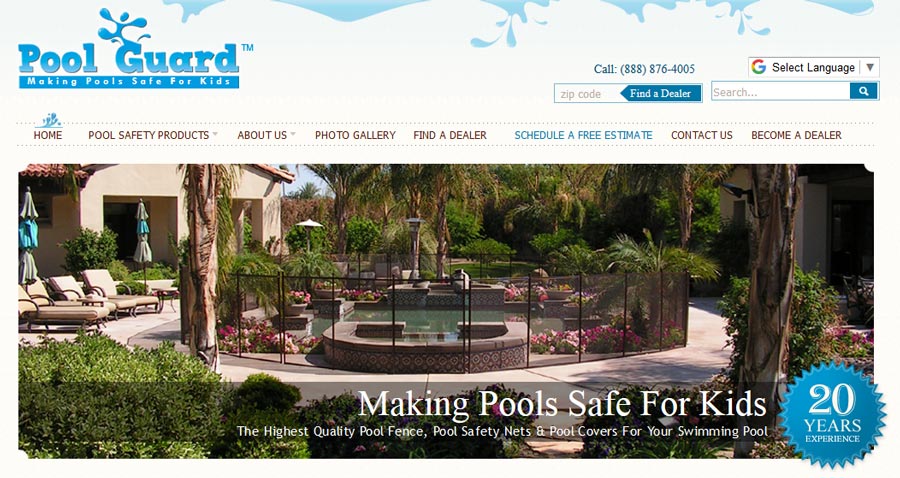 Pool Guard
Guardian Pool Fence is a manufacturer and supplier of reliable and safe removable mesh pool fence. They also manufacture self-latching and self-closing gates. It is a family business based in the US.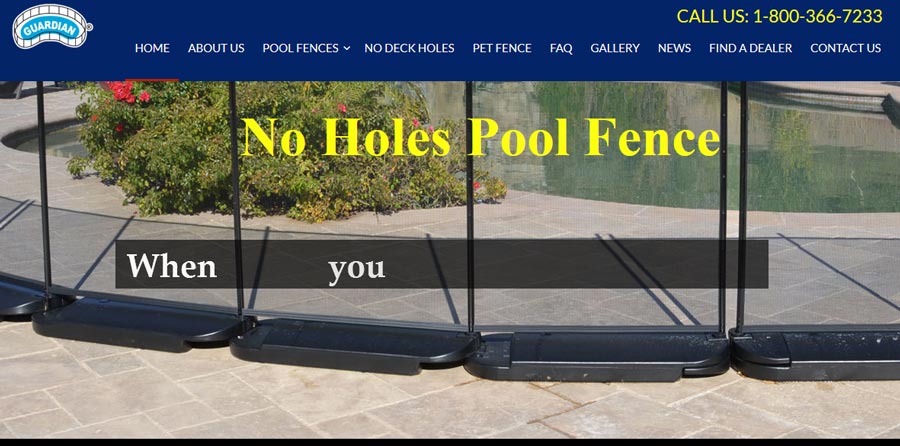 Guardian Pool Fence
Warner is a New Zealand-based swimming pool fence manufacturer and supplier. Its main products include glass pool fences and traditional tubular pool fences.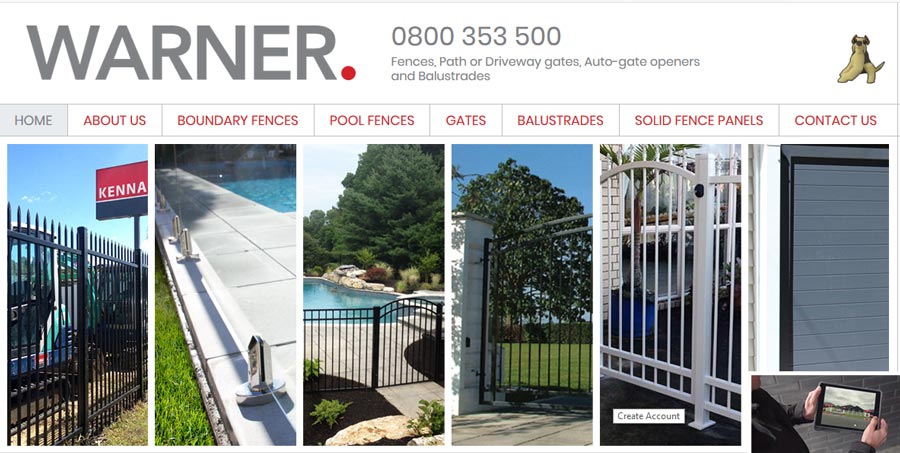 Warner
Katchakid designs and supplies a range of swimming designs alongside various fittings. Also available are the fixed or removable swimming pool fences.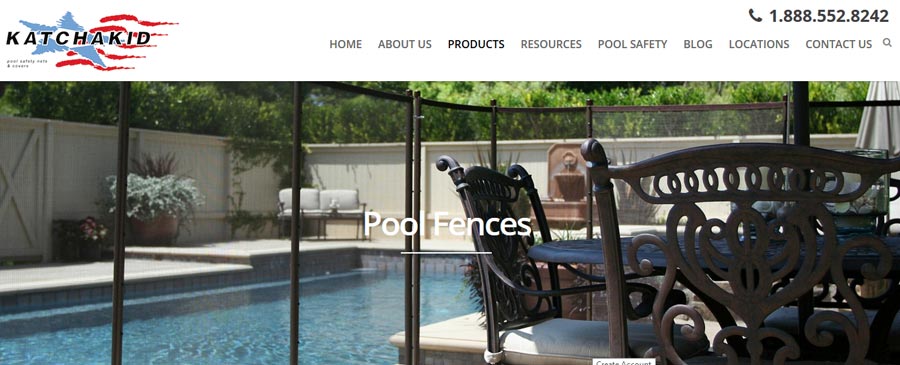 Katchakid
Bruhl is a German-based company that designs, supplies and installs steel pool fences. It has a more significant market share across various European countries.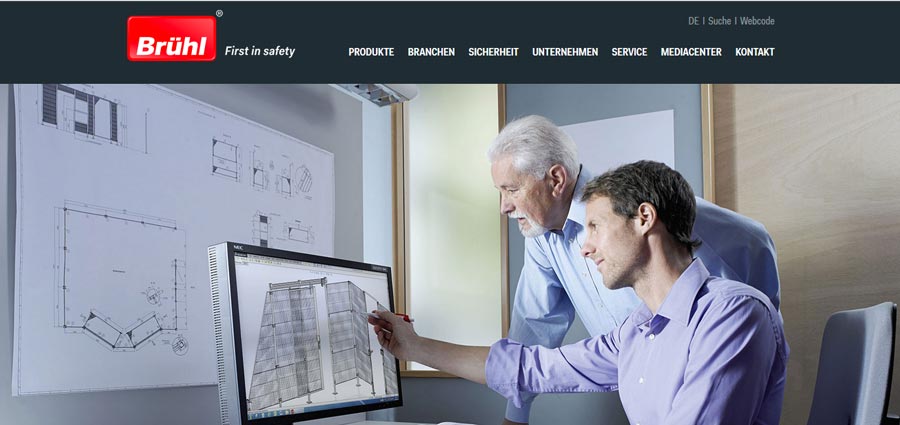 Bruhl
Baby Secure is United Arabs Emirates based company. It designs and installs removable swimming pool fence and glass pool fence installer.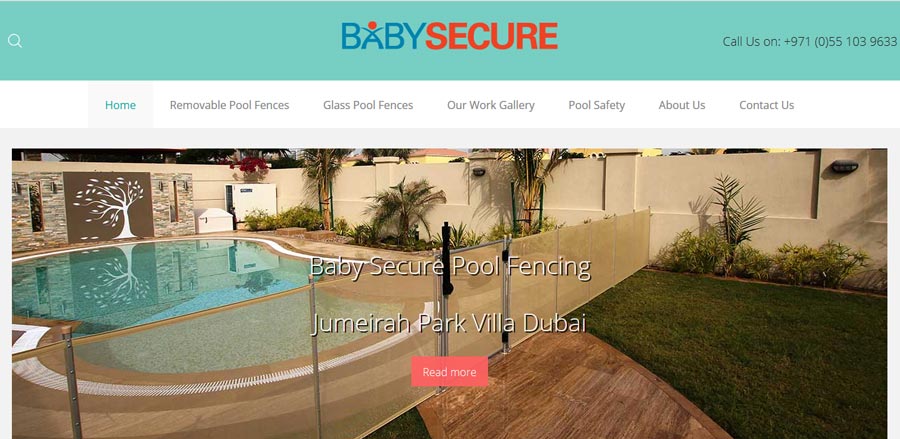 Baby Secure
Life Saver Pool Fence Systems Inc. is a renowned supplier and installers of pool fencers in the larger America and other parts of Europe.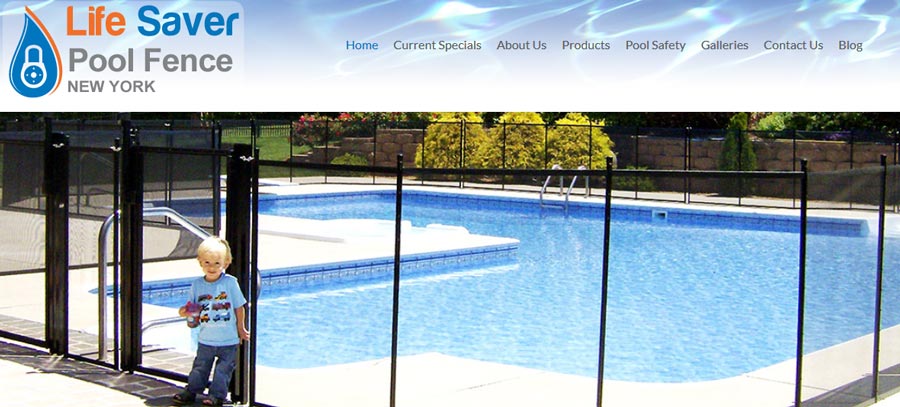 Life Saver Pool Fence System
Bowers fencing & swimming pools is one of the leading suppliers of wood pool fences and metal pool fences. It supplies a variety of high-quality fences mostly for DIY processes.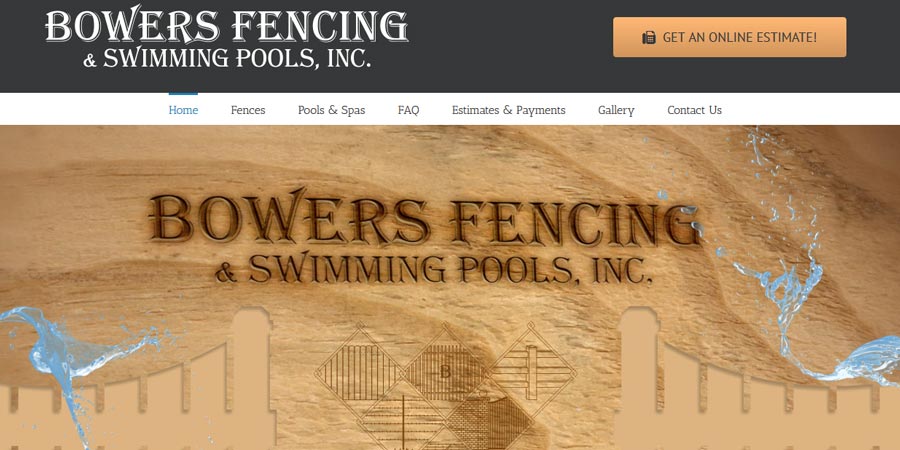 Bowers Fencing & Swimming Pools
The company majors in designing, manufacturing and supplying swimming pool removable fences of high quality.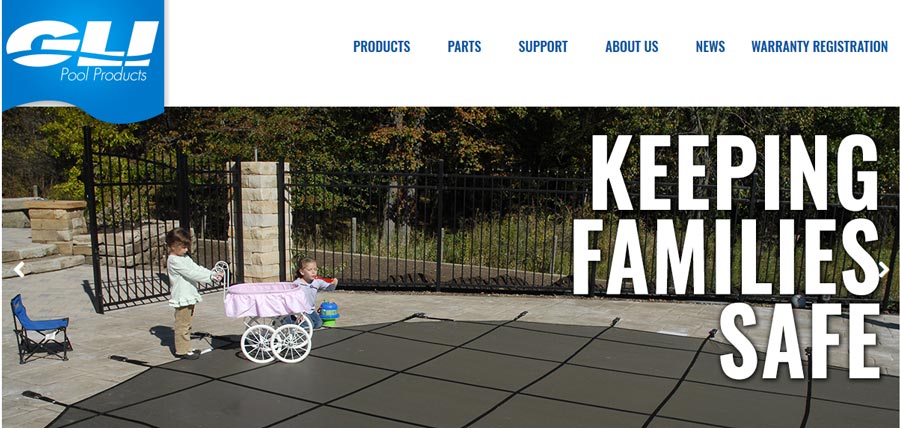 GLI Pool Products
Kinder Guard Pool Fences supplies numerous swimming pool fences, with self –locking gates. It is one of the few companies that champions for kids safety.

Kinder Guard Pool Fences
12.  Fence Town
Fence Town is one of the leading suppliers of aluminum swimming pool fences. The company is known for its ornamental, railing and dog fence aluminum pool covers, amongst others.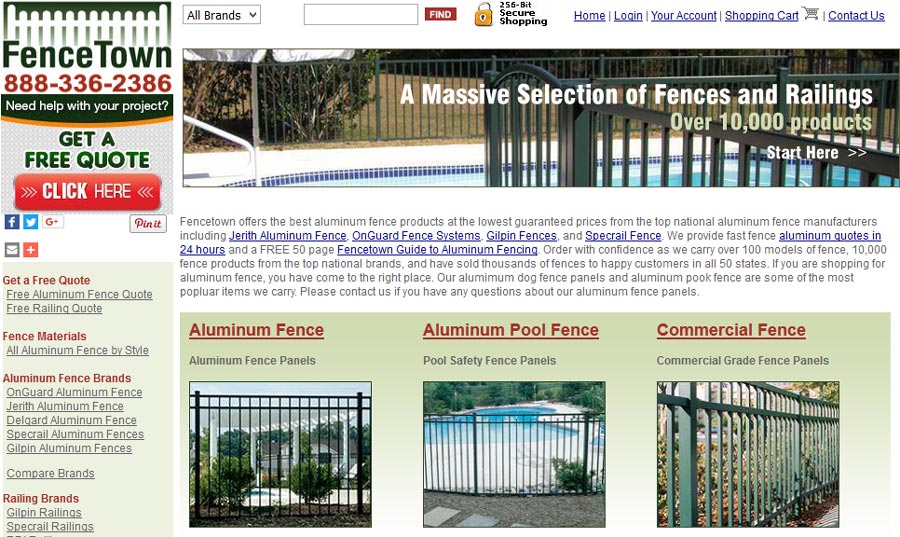 Fence Town
This company specializes in the installation of pool fences mostly in Canada. It is Canadian-based Company and has been in operation for over 25 years.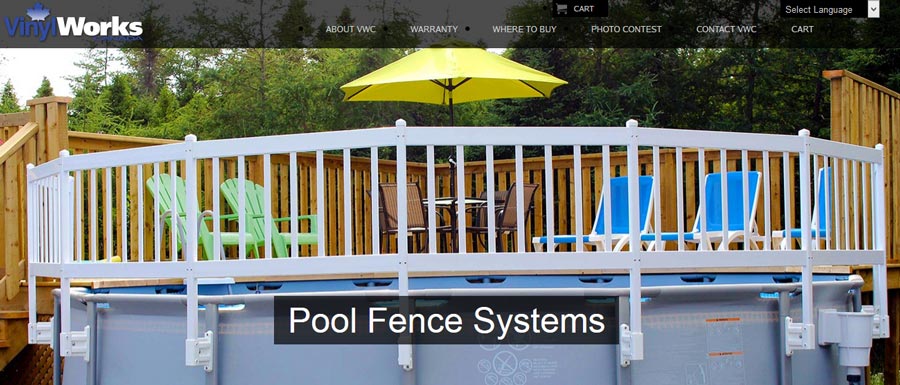 Vinyl Works
Child Safe Fence is one of the leading Canadian companies that supplies swimming pool fences with magnetic self-latching gates. It is also another company that focuses on child safety protection.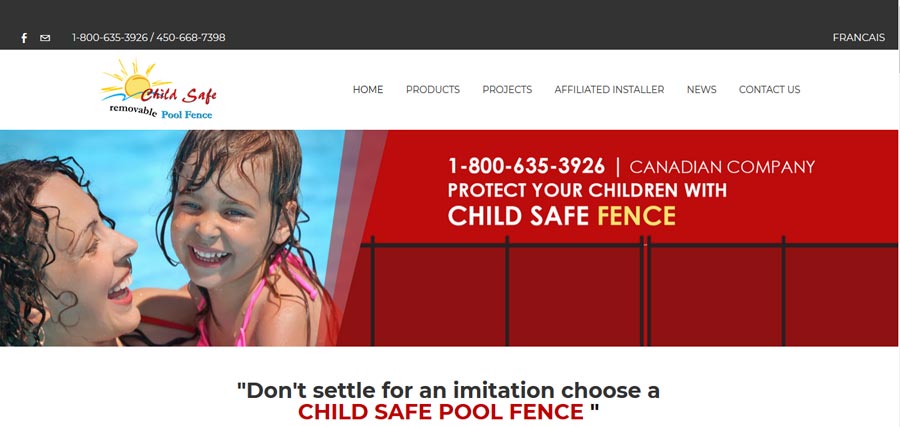 Child Safe Fence
15. Elite Fence Products, Inc.
It is a US-based company that manufactures numerous aluminum swimming pool fences with different sizes and designs. Elite Fence Products Inc. is popular for its ZipTrack® aluminum cantilever gates.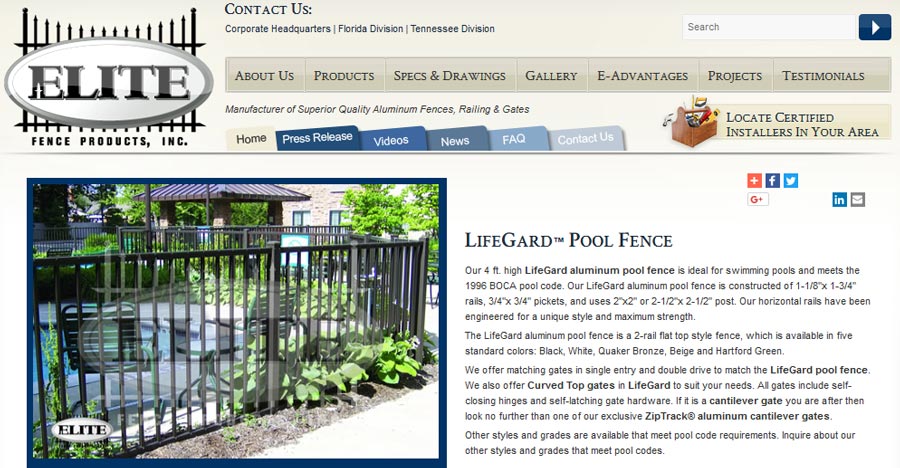 Elite Fence Products Inc.
Zaun Ltd. is a leading manufacturer and supplier of metal swimming pool fence. The pool fences feature child proof lock gates.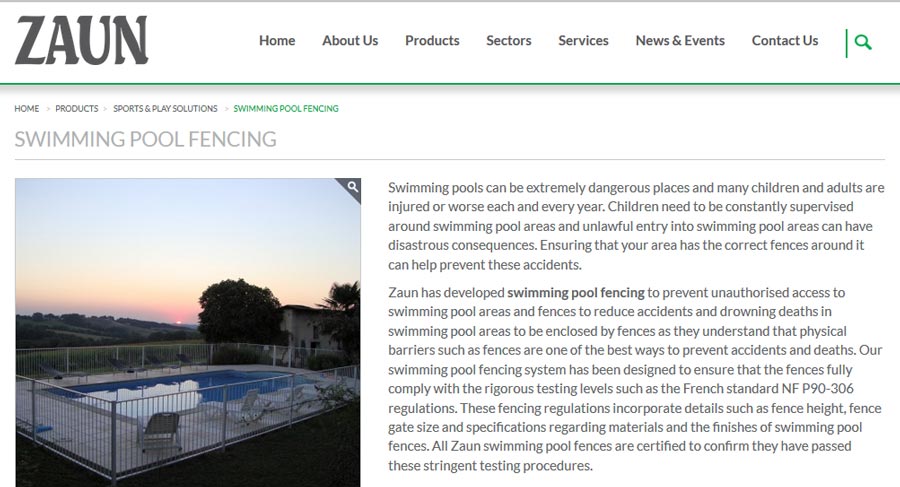 Zaun Ltd.
This is a U.K.-based pool and spa fence company. They deal with different sorts of pool fencing materials including steel, aluminum and wrought iron among others.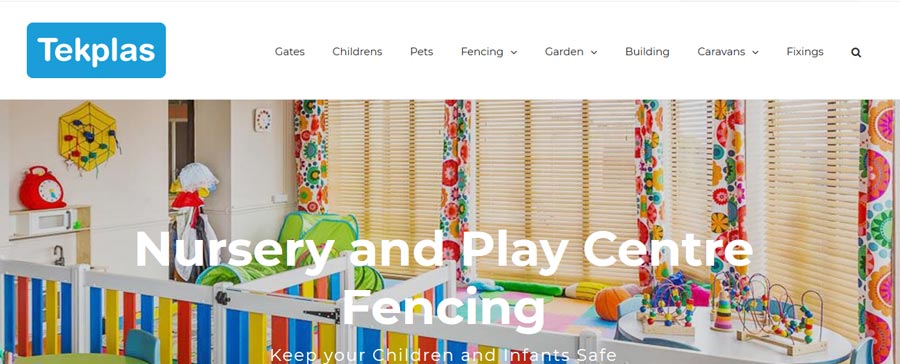 Tekplas
Clear Glass Solutions is a family-owned Australian-based enterprise that specializes in supplying and fitting glass pool fencing within Australia.

Clear Glass Solution
It is a New Zealand-based company that deals in supplying, installing and servicing a wide range of quality steel fencing for over 40 years now.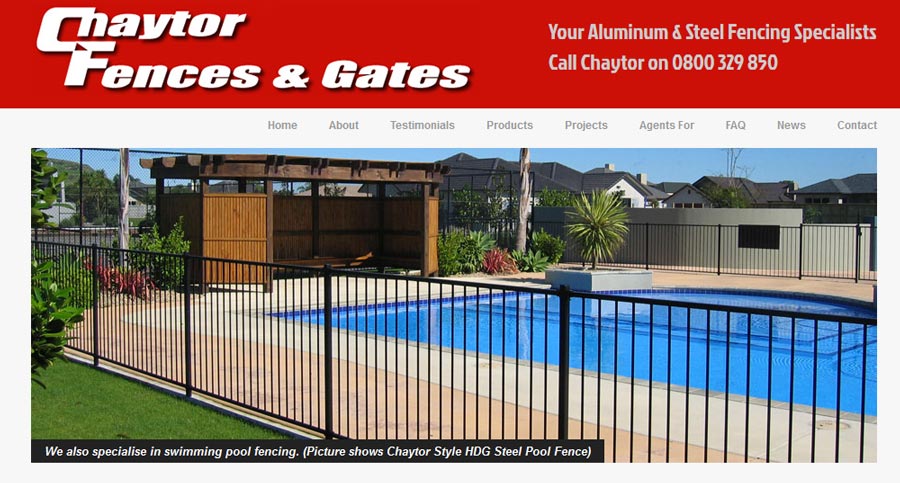 Chaytor Fences & Gates
Aqua Glass Pool Fencing has over 20 years' experience in manufacturing, installation, and servicing of different frameless glass swimming pool fencing products. It is based in Sydney, Australia.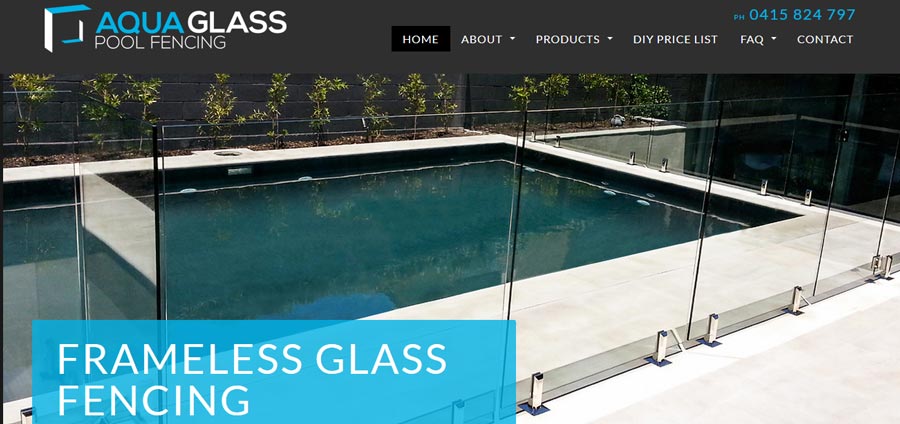 Aqua Glass Pool Fencing
Pooraka Fencing Supplies is one of the oldest companies in the industry. It has been in the business for over 40 years now.
This is an Australia-based company that deals in various types of pool and general fencing materials.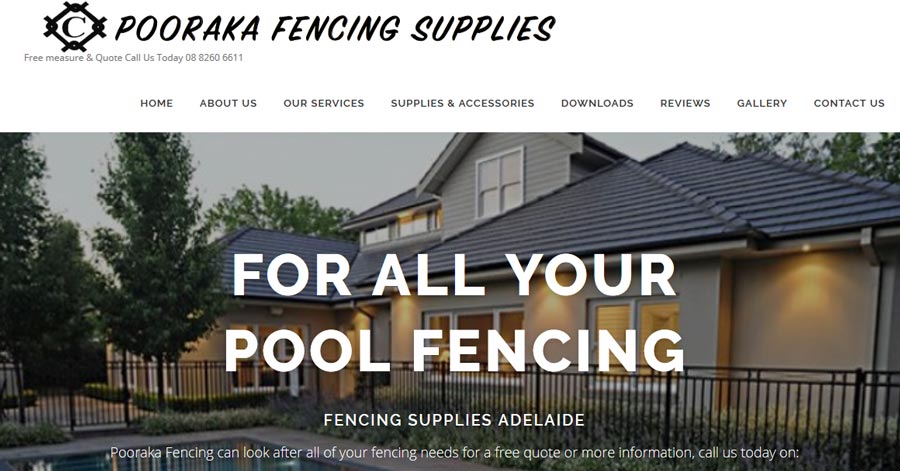 Pooraka Fencing Supplies
This is a professional pool fence supplier based in Atlanta, US. It supplies and delivers various pool fencing materials across the US.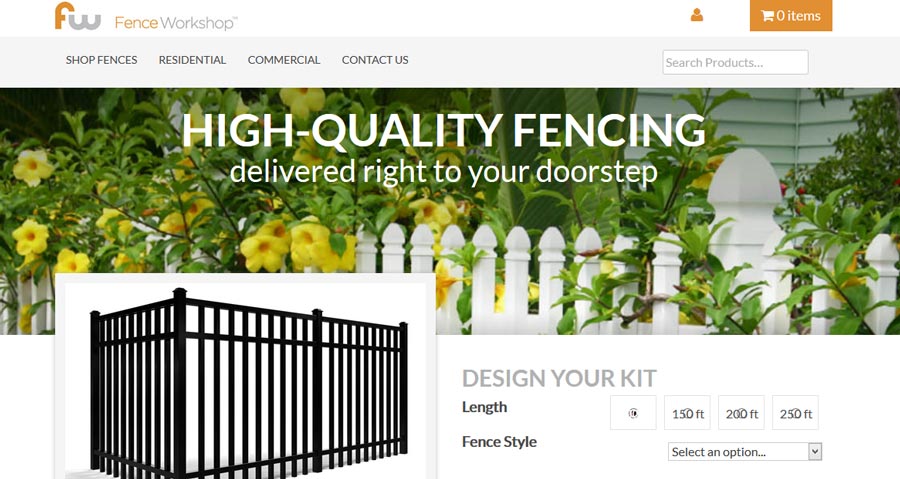 Fence Workshop
This is an Australian-based fencing company that produces quality fencing materials that range from stainless steel, galvanized and aluminum metals.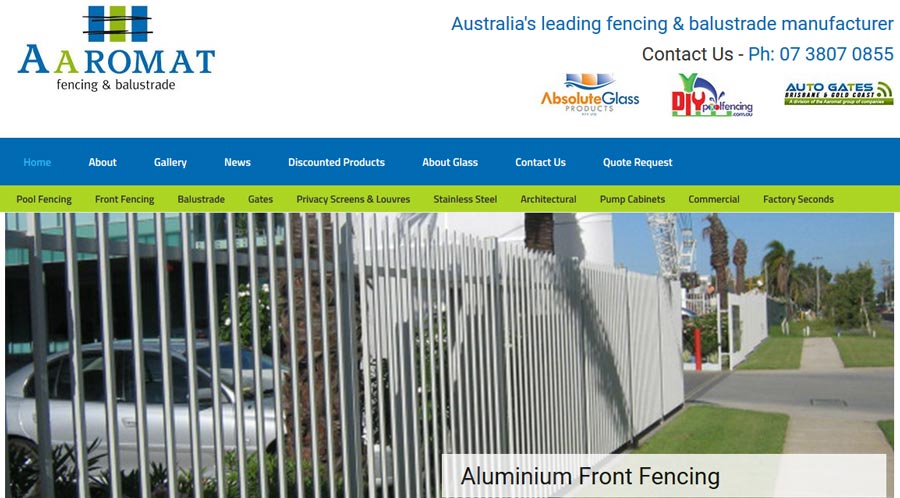 Aaromat Fencing & Balustrade
Stratco is one of the largest producers and marketers of various home improvement wares. It is an Australian company and supplies most of its products across the entire country.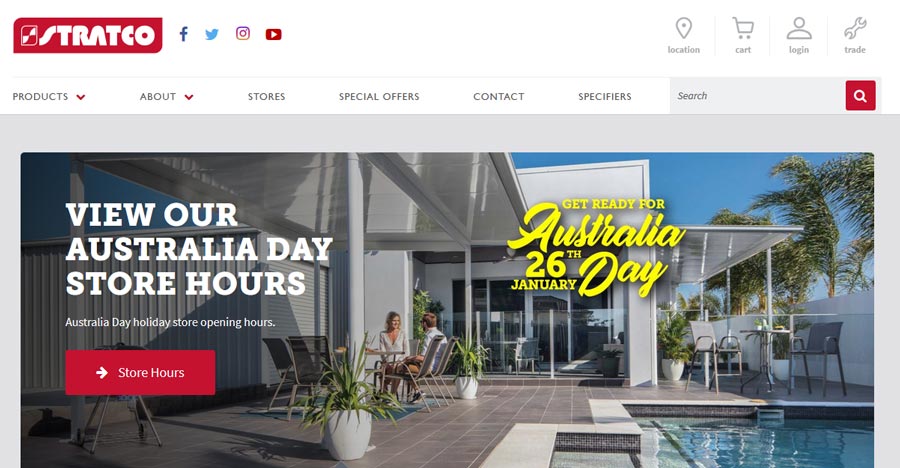 Stratco
This is an American-based pool fence producing and marketing company. It specializes in selling, installing and servicing various types of pool and spa fences across the USA.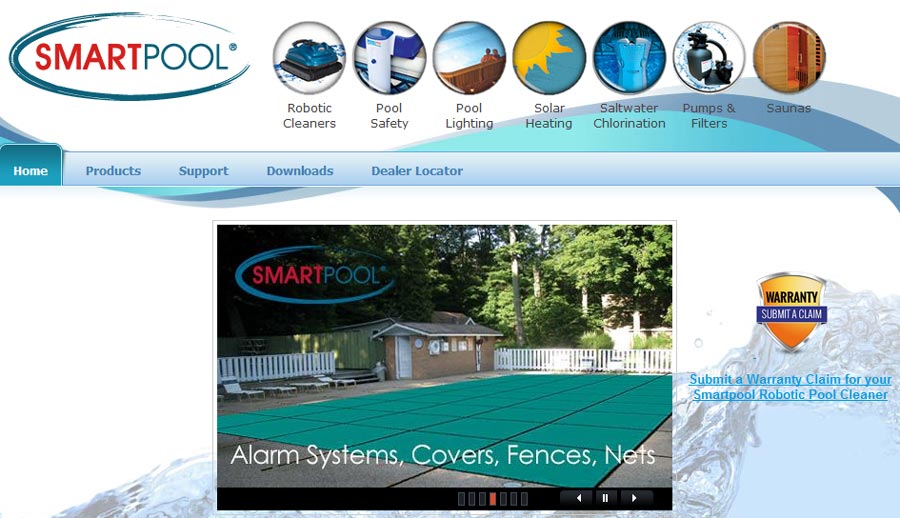 Smart Pool
Zippity Outdoor manufactures relatively small and semi-permanent outdoor fencing products. It is based in North Carolina, USA.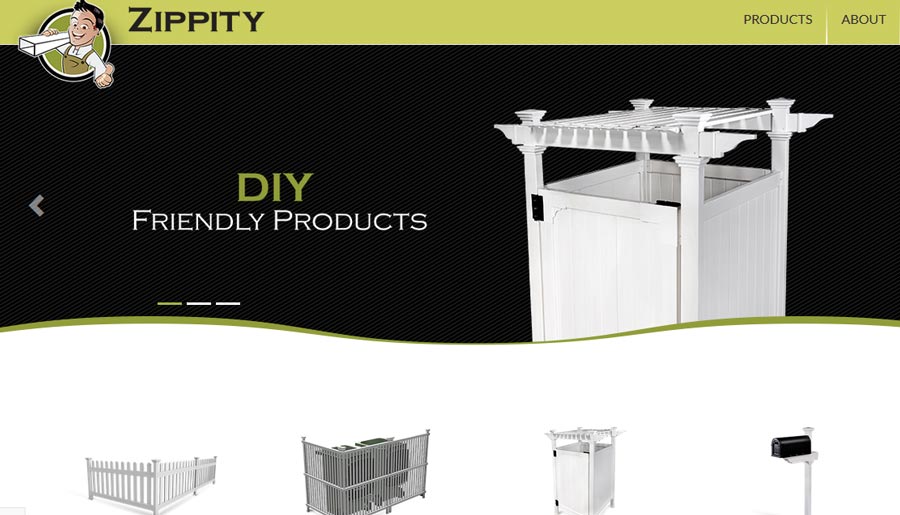 Zippity Outdoor
Fence Depot supplies aluminum pool fence, wrought iron pool fence, steel pool fence and privacy pool fence.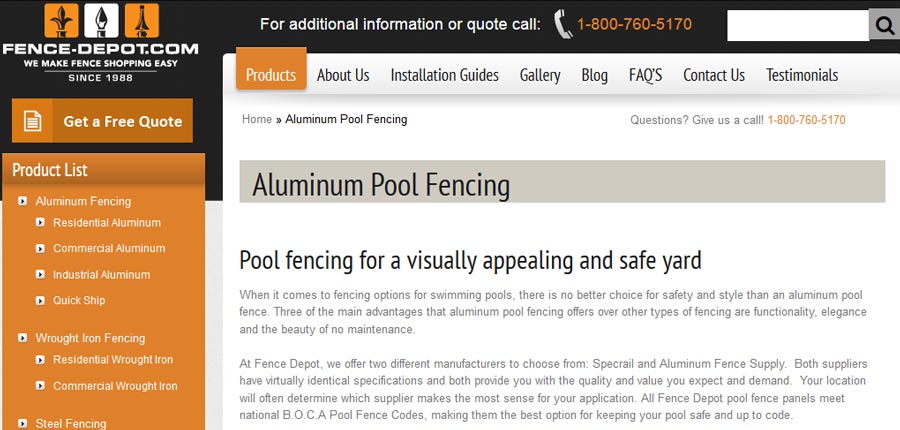 Fence Depot
This is among the relatively popular pool fence companies within the US. It produces, markets and supplies various types of pool fencing materials ranging from small to large sizes.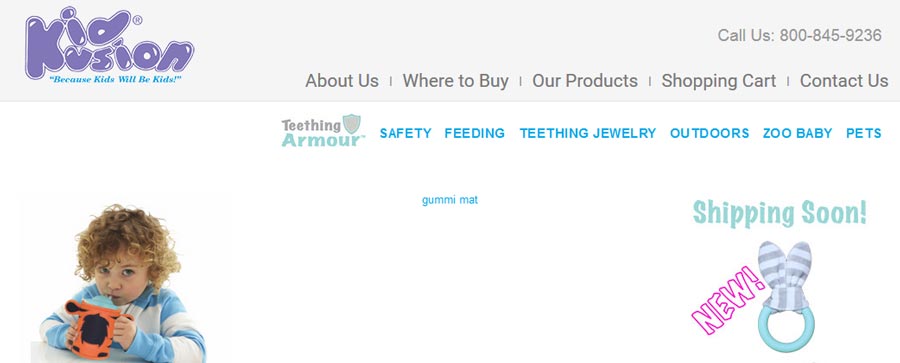 KidKushion
Water Warden Company specializes in manufacturing pool safety wares that prevent unauthorized persons from accessing the poolside.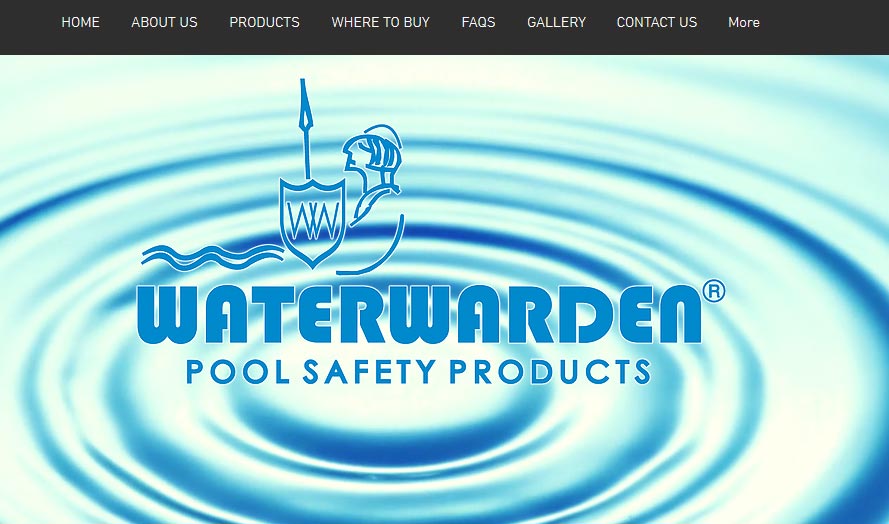 Water Warden
Glass Vice supplies and delivers pool fence materials. It provides both removable and permanent swimming pool fencing materials that suit your specific needs.
The company is known for its frameless glass pool fencing.

Glass Vice
In short, there are very many swimming pool fence suppliers in the market today. As a rule of thumb, you should buy pool fences from reliable and reputable pool fence suppliers.
I can recommend that you contact pool fence suppliers near you (within your state or country).
Chapter 8:
Optional Products that can Replace Pool Fences

As you know, there is always an alternative to everything. Not everyone would be interested in pool fences.  People have different preferences.
In this case, let's discuss some alternative products that you can go for in case you're not comfortable with pool fences:
8.1 Pool Enclosures
If you live in one of those countries that are often hard hit by winter, you know too well how gross it can be. At times snow covers literally everywhere.
On the other hand, during summer, the sun could just be too hot to let you enjoy swimming. Thus, you'll need something that covers you from direct sunlight.
This is where a pool enclosure becomes handy.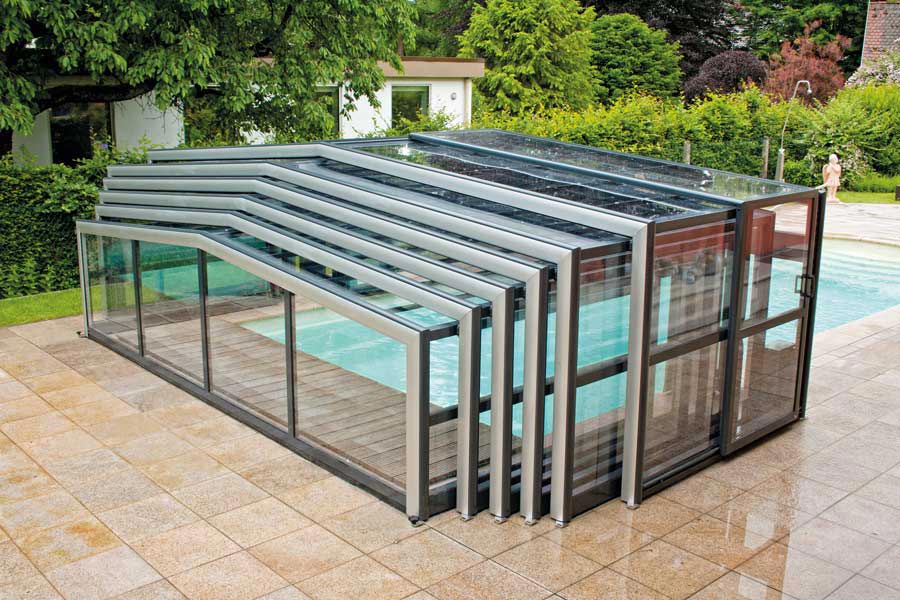 Polycarbonate swimming pool enclosure
Swimming pool enclosure protects the pool from harsh weather conditions. These may include acid rain, snow, UV rays, dirt etc.
As you can see from the image above, a pool enclosure is shelter-like structure. It is made from extruded aluminum and solid polycarbonate sheet.
Unlike the pool fence that forms a barrier around the pool, swimming pool enclosure covers all sections (around and above the pool).
Depending on the swimming pool enclosure design, you can comfortably swim after closing the cover.
Swimming pool enclosure basically helps to extend the swimming season.
So, what's the bottom line here?
Swimming pool enclosures also make the pool area look more or less like a conservatory. You can always get them in many options such as:
Low or high profile swimming pool enclosures
Fixed or retractable swimming pool enclosures
Wall mounted swimming pool enclosures, etc.
The classification criteria also depend on the type of roofing design.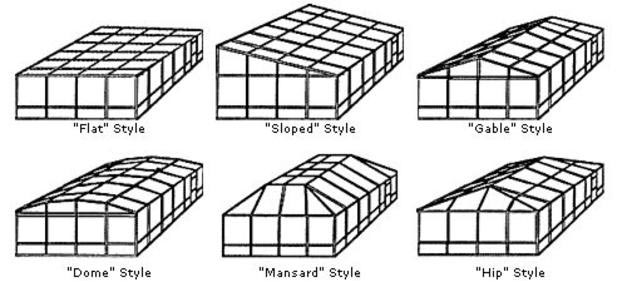 Swimming pool enclosure roofing design
In short, swimming pool enclosures provide a comfortable swimming environment, guarantees privacy and safety.
For sure, pool enclosure can be an alternative accessory, besides providing more benefits than the pool fence.
8.2 Pool Covers
This is the second alternative you can also seek when you need something that can replace the pool fence.
Pool covers are primarily designed to:
Protect the pool from pets, dirt and other foreign material
Ensure swimming pool safety and that of users
Protect pool from bad weather such as heavy snow, torrential rain or UV radiation
Stops evaporation of swimming pool water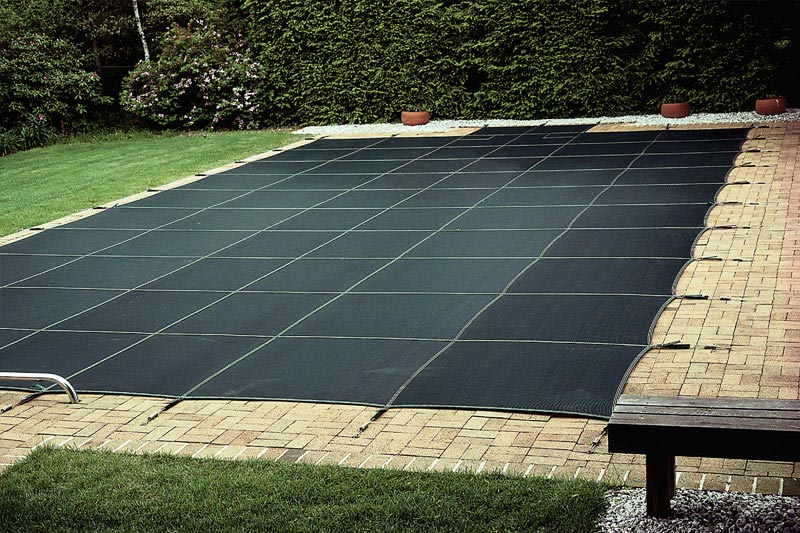 Winter swimming pool cover
Unlike the pool fence, installing a pool cover is slightly different.
It is tightly tied on the edges of the pool to provide what would look like a blanket. So that it becomes difficult for anything to get in the water.
Like the pool enclosure and pool fence, pool covers come in many shapes and designs. These many include:
Solar pool covers
Mesh pool covers
Roller automatic pool covers
Thermal pool
Swimming pool net
Sliding deck pool cover
Even as you plan to use a pool cover to replace the swimming pool fence, after its installation, you cannot use the swimming pool. It does not give allowance for swimming.
The good news is:
You can use both a pool cover and pool fence at the same time. In such situations, the pool cover will protect the upper section of the pool.
In a nutshell, in case you can't find a pool fence, you can use these two as alternatives.
They all ensure swimming pool safety thou pool enclosures have more benefits such as the extending swimming season.
With these in mind, now let's discuss yet another critical aspect about safety pool fences.
More resources on optional pool safety products
Swimming Pool Fence VS Polycarbonate Pool Enclosure
Swimming Pool Covers: Ultimate Guide to Choosing the Best Safety Cover for Your Outdoor Pool
Chapter 9:
Factors Determining the Cost of Swimming Pool Fence

Apparently, we've touched on various elements that you need to look into when buying pool fence.
Basically, I have given you an in-depth insight of what you should expect in the swimming pool fence market.
Now here top 3 factors that determine the cost of swimming pool fence:
9.1 Type of Material
In chapter 4, I did cover various types of swimming pool fence materials. So, I will not go into that detail here.
Though, I will make it simple for you to understand.
Material is a key aspect that determines the cost of a swimming pool fence. For example, glass pool fence, wood pool fence or metal pool fence of the same size will have different prices.
9.2 Degree of Customizability
Anytime you want to customize a swimming pool fence to suit your personal preference, it is important to know the cost of the entire process.
I want you to compare these two metal swimming pool fences: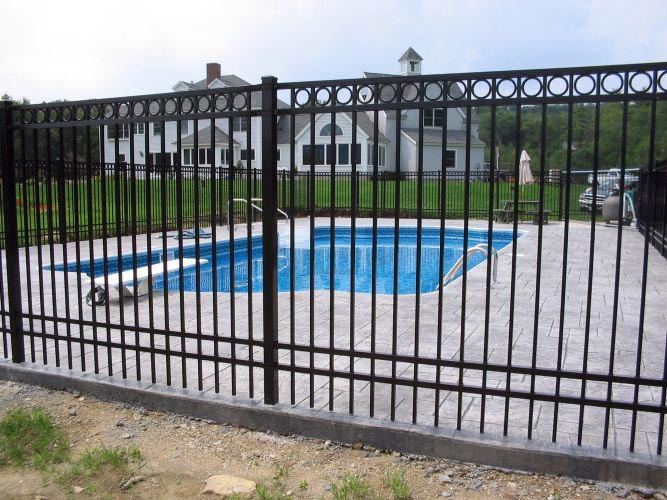 Aluminum pool fence type A
Vs.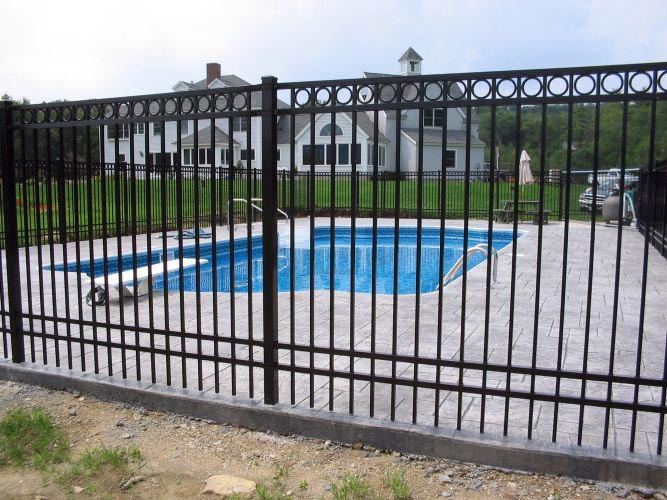 Aluminum pool fence type B
Obviously, these two metal pool fences by Art Metal Workshop vary in designs and so are the prices.
Normally, swimming pool fences with complex designs will cost more that the simple ones.
9.3 Size of the Swimming Pool
The size of the swimming pool will obviously determine that of the pool fence. Again, the bigger the pool fence the higher the price and vice versa.
I hope that is straightforward.
Ideally, these are the main factors that will determine the cost of swimming pool fence. Others will include the pool fence supplier, installation, maintenance, etc.
Always strive to get the best pool fence prices without compromising on quality.
Here is what I want you to remember always:
It is your responsibility to install high quality and reliable swimming pool fence.
Throughout this article, we've discussed quite a good number of essential elements that revolve around swimming pool fencing.
And, I am confident now you can evaluate and buy a high quality swimming pool fence.
Now, let me turn it over to you:
Do you still find it difficult to choose a good safety pool fence?
Or, is there anything you would like me to explain further?
Let me know by leaving a comment below.