How much do you spend every year on your pool cleaning and maintenance? If not outsourced, normally, the cost of maintaining and repairing a small swimming pool is about 3–5 thousand per year, which may not be a big expense for some families ( of course, in high evaporation in places like Las Vegas, Nevada, and Texas, it absolutely will cost much more). The big pain point is the hard work it takes to maintain a swimming pool. With a retractable pool enclosure, you can maintain your pool easily and can use it year-round.
When summer came, you opened the tarpaulin and what you saw was a pool of green water like below.
Of course, this water is not swimmable and needs to be cleaned up. You can imagine how hard it is.
First, pour a few large buckets of bleach into the swimming pool.
The next day, when the water in the pool is clear, you need to use a long brush to brush the edge of the pool again to remove the moss.
Then start the water pump to remove the dirt that settles at the bottom of the pool until the water in this pool is crystal clear enough to swim in.
After that, you still need to start the pump frequently to filter the pool water to keep it clean. You also need to replenish water constantly considering it evaporates.
It's too much trouble to maintain. That's why some people see swimming pools as a burden when selling a house with a swimming pool. Some homeowners may use pool covers, which are better to maintain the pool and keep the pool water clean. Of course, it will also depend on which style of pool enclosures you use. There are many kinds of pool enclosures like the traditional roller style, or bubble blanket like below,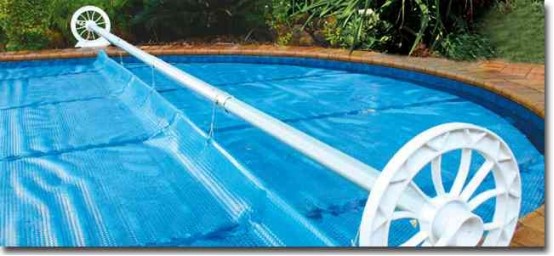 This kind of pool enclosure is cheap, but only about 2-3 years lifespan, and can not 100% maintain your swimming pool. You can not swim under some weather conditions like rain, hot strong sunshine, cold water etc. 
You will probably want to extend the swimming pool season and even use the swimming pool all year round, as the pool is really a major investment. You can achieve this by owning a retractable pool enclosure. What's a retractable pool enclosure? Have you ever heard of it? You have to admit that the retractable pool enclosure idea is truly amazing and unique design with more than 15 years of lifespan.
You can also call it a swimming pool room, but it is retractable. You can open or close the pool enclosure at any time as you like. A retractable pool enclosure consists of several sections. Each section runs on rails which are mounted on the ground. You can open each section towards either end of your swimming pool. There are end doors and a side sliding door to enter through.
Normally, the retractable pool cover frame is 6063 T5 aluminum. The panel material is polycarbonate sheet, which is really a wonderful application as the pool enclosures screen. because of its typical properties like high transparency , toughness, and heat resistance.
You can also stack all the sections to be at one end of your swimming pool, making the pool enclosure be away from your swimming pool water like below.
There are many styles of retractable pool enclosure, the low-profile type pool enclosures, middle pool enclosures, high-profile pool enclosures etc, also with many different designs. See below what we gathered and find your favorite.
Low Profile Retractable Pool Enclosure
A hard screen pool enclosure which will not block your beautiful background scenery, with a side sliding door to enter.
Mid Level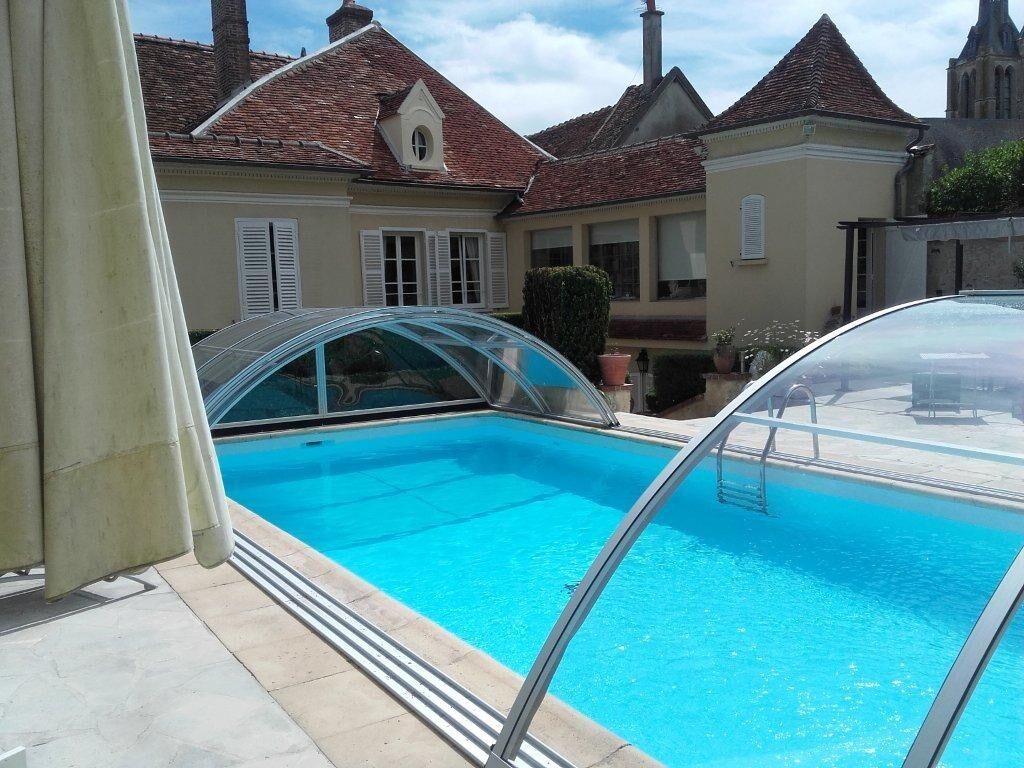 A dome roofing style pool enclosure has more space inside, which is also popular in the market. It is very beautiful.
High Profile Pool Enclosure
This pool enclosure is just like a house or sunroom in which you can free stand or walk. You can put some chairs and other furniture in.
 We have the retractable pool enclosures idea aiming to improve the utilization of your swimming pool. You can swim all year round without worrying about the terrible maintenance work. You can swim at any time, no matter the rainy days, hot days, windy or snowy days.
Excelite pool enclosures are all designed to withstand snow loads (900kg/per 1.5 m radius) and high wind speeds ( 150km/h).
Below are some benefits of retractable pool enclosures. You must need to know that if you are having trouble maintaining your swimming pool.
1.Year-round maintenance of your swimming pool.
The aluminum pool enclosure is made of polycarbonate and an aluminum frame that is high impact, hail resistant, snow and wind pressure resistant, and will protect your pool in any weather.
2. Shield the skin from damaging UV rays.
All Excelite pool cover polycarbonate panels have an anti-UV coating, which protects your skin from harmful rays and reduces the risk of skin cancer.
3. Protect small children from the swimming pool.
Excelite pool enclosure is equipped with a lock system on each section and door. When you close the pool, you can lock it well from the outside.
4.You can easily open and close the enclosure at any time.
The pool enclosure is designed to be retractable, so you can open or close it whenever you want.
5.Save money on pool heating and cleaning by extending the swimming season.
The polycarbonate is good insulation and will keep pool water warm for a long time, even if it is at night or winter.
6.Extend your pool usage for more than 25 years!
A combination of extruded aluminum and polycarbonate sheets guarantee a longer service life – over 25 years! All Excelite polycarbonate sheets come with a 10 years plus warranty. This guarantees that these enclosures will not disappoint you in any way. All you need is to follow the recommended care and maintenance process.
7. Creating a year-round outdoor space
A swimming pool enclosure is also a kind of patio and greenhouse, especially the high-profile style pool enclosures, where you can free stand or walk inside and put some tables and chairs to get a multi-function outdoor space.
8. Time-saving — you don't need to clean the water before swimming.
By installing a retractable pool enclosure, all dirt, grass, animal waste, or tree leaves will not get into the swimming pool. This will definitely save you a lot of time when cleaning the pool.