Swimming pool construction is very important for every family who needs a pool.
So choosing the right swimming pool company also becomes the key factor in your perfect pool.
And in today's guide, you have will 100 good pool companies to choose in America.
Quick Note:  This is an exclusive list. All the winners were selected based on a certain number of factors and it can't be modified.
1.Blue Haven Pools and Spas

Blue Haven Pools & Spas is one of the most trusted names in backyard swimming pool.
It's an affordable custom in-ground swimming pool that has an extraordinary value and will let you enjoy complete peace of mind.
It is backed by rock-solid warranties by the recognized industry leaders and tens of thousands of U.S homeowners have relied on its name.
2. Juliano's Pools

Juliano's Pools has the status of Legacy Edition Certified Pool Builder. Brian Juliano is owner/founder of Juliano's Pools.
His careful attention to details and his total commitment to excellence push him to join the elite class of pool builders. Juliano Pools has over 60 employees, including the General Manager, Store Manager, Sales Consultant and Marketing Manager.
Brian is licensed in all three states including Connecticut, Massachusetts and Rhode Island. Thousands of satisfied customers within this States have recommended Juliano Pools.
3. Banks Blue Valley Pool and Spa

Offering state of the art technology for in-ground swimming pools and spas, Banks Pool & Spa has installed and serviced pools in the Kansas City metropolitan area for more than 50 years and they have built over 1000 high-end residential pools.
With the latest products, a dependable team, and multi-faceted services they can guarantee customer satisfaction. Banks Pool & Spa is a member of the United Aqua Group.
4. Olympia Swimming Pool Company
In 1982 J. Rudolph Ake founded Olympia Swimming Pool Company (originally named Olympic Swimming Pool Company).
With over 24 years of history, they are highly sought after for their expertise in design and construction of not just swimming pools, but all types of unique aquatic structures; automated and interactive systems and fountains; and the complete restoration of aging and historical aquatic structures.
The business quickly outgrew its original location in Springfield, Virginia and in 1987 moved to its current 28,000 sq. ft. facility in Forestville, Maryland.
5. Swan Pools
Swan Pools was incorporated in the year 1954. Since then it provided one of the longest and most dependable track records in the pool and spa industry. Not many companies can claim to have built 50,000 pools in California.
Not only does it provide immeasurable confidence to their customers in the construction process but it also solidifies their ongoing future relationship that exists as long as they own their pool.
6. Mr. Pool

MR. POOL has been building new swimming pools throughout Alabama and worked hard to earn the reputation as the "Coolest, Cleanest, Pools in Town!"
They specialize in custom-built swimming pools. They are also your pool professional for liner replacements, cleaning service, supplies, equipment and repairs.
If you are just starting your very first pool or you have a pool that needs maintenance, MR. POOL is the right one for you.
7. Master Pools of Wilmington.

Keith Bishton opened Greenville Pool & Supply Company in 1978 with the goal to provide state of the art swimming pools to Greenville, NC and the surrounding community.
At the year 2003, Todd Bishton who is the son of Keith Bishton decided to follow in his father's footsteps. Todd decided that the area of Wilmington, NC was the perfect place to expand the family business and he also took this chance to sharpen his skills as a pool builder.
After moving to Wilmington with his family in 2003, Todd Bishton opened Master Pools of Wilmington.
8. Signature Pools, Inc.

In 1987 Mike and Jennifer Malagian founded Signature Pools, Inc. in Orlando, Florida. Since then their family owned and operated the corporation.
Signature Pools provides full service pool design, swimming pool construction, pool renovation, pool remodeling, pool maintenance.
They are also a pool repair swimming pool company which serves homeowners and home builders in Orlando and throughout the entire Central Florida area.
9. Aquienta

Aquienta was founded by Derek Jacobs and it is both residentially and commercially licensed. It is also bonded and insured with the primary objective of providing total customer satisfaction.
Since 1995, Aquienta has refined the process of building, remodeling and servicing in the swimming pool and landscaping industry to a level not readily found anywhere.
They obtained these accomplishments by first developing a system of management and supervision that addresses each phase of the process daily, then followed by making any necessary adjustments and finally continuing on towards the completion of the project.
10. GOHLKE POOLS

Gene Gohlke built one of the first residential swimming pools in Denton in 1958. Since then, the name Gohlke became synonymous with swimming pools.
In an effort to continue this rich legacy, they strive to be a complete service pool company by offering not only new pool construction, but also a full Service Department (weekly pool cleaning & repair service), a Renovation Department, and a Retail Store (including Jacuzzi Hot Tubs).
11. Aiken Swimming Pool Company
Ronnie Hines founded Aiken Swimming Pool Company in the year 1972 and since then they have been serving our fine customers in the CSRA.
They are Aiken's oldest and most established pool company which provides custom designed gunite, vinyl lined, and trilogy fiberglass pools.
Throughout the entire pool design and construction process, the dedicated team at Aiken Swimming Pool Company has the interests and satisfaction of each customer in mind.
12. Memphis Pool
Widely known as the Mid-South's leading swimming pool builder, MEMPHIS POOL has been operating successfully since 1952. MEMPHIS POOL has continuously been under the same family ownership and management.
They specialize in custom construction, renovation, and design for outdoor living and they have been acknowledged as an award-winning gunite pool builder. They offer custom luxury pool design, pool remodeling, and maintenance services.
13. Shasta Pools & Spas
The Master Pools Guild is composed of meticulously chosen builders with innovative design style, professionalism, superior construction quality, scrupulous attention to detail and their ability to foster great relationships with customers, contractors and vendors.
Members of Master Pools Guild are dedicated to build and design the world's finest pools with the highest industry construction standards. Master Pools Guild has served thousands of clients and successfully earned their trust and confidence.
14. American Pool Service Inc.
American Pool Service Inc.Since 1983, American Pool Service Inc. has provided worry-free pool services to both residential and commercial clients.
They offer Pool services, New Pool Construction, Pool Renovation and maintain high quality gunite swimming pools. They've been serving the North Shore Massachusetts and Southern New Hampshire.
15. Medallion Pool Co.
Medallion Pool Co. is one of WNC's premier luxury pool builder for more than 35 years. They specialize in the engineering, design and construction of outdoor living environments including pools, spas and water features; outdoor kitchen and entertainment areas.
As a member of the Master Pools Guild they can be assure top quality craftsmanship in each projects. They also offer nationwide consulting for commercial, residential, and institutional properties.
16. Pete Alewine Pool & Spa
Pete Alewine Pool & Spa is known as the best pool builder in the greater Evans & Aiken areas which also offers custom pool and hot tub construction, supplies and more. With a history of more than 35 years, this family-owned business operated and produced rich experience in the swimming pool building industry.
They provided the CSRA, Aiken, Columbia, Lexington and the surrounding areas with a company they could trust and rely on. Part of their services is to provide all of the pool service needs of their clients— from initial swimming pool design and construction to long after the swimming pools were completed.
Their primary goal is to provide a premium level of product and customer service. For that reason, they exert their maximum effort to ensure the construction, service and outdoor upgrade experience to be as stress free as possible.
17. The Swimming Pool Store
Founded in 1969, Joseph Ashner started the Swimming Pool Store business.
For more than forty years in business, this full service swimming pool company has provided many services such as pool service/maintenance, new pool construction/renovation as well as a large swimming pool retail store.
As acknowledgement to their top quality services, they have never had any complaints against their licenses nor have they ever had any lawsuits against their company.
18. LOTHORIAN POOLS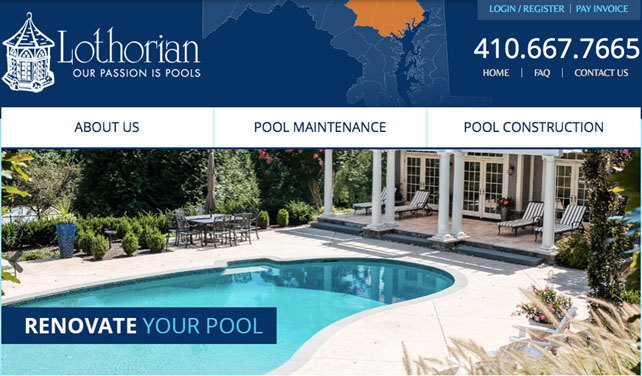 Founded by Matthew and Bob Thompson, LOTHORIAN POOLS is a Family Owned Pool Construction & Maintenance Company which provides top quality services which includes pool cleaning, maintenance, new construction and other swimming pool services.
They treat every customer with the intense desire to exceed their expectations and deliver the most exceptional for pool owners in the Baltimore, Carroll and Harford County region.
Their professional team of pool builders will ensure that you can receive a luxurious and perfectly constructed swimming pool that will stand the test of time.
19. Aquacade Swimming Pool Service
Aquacade Swimming Pool Service has operated and has been serving commercial and residential clients since 1965. They are one of the oldest pool building companies in Long Island, N.Y.
They are a family-owned business which specializes in the design and construction of pools, spas, custom-cascade waterfalls and brick & stone patios. Other than that, they also provide renovation services, liner replacements and marble dusting.
20. Monster Pool Company
William (Billy) Parr founded Monster Pool Company and built it in Goodyear, Arizona. They specialize in various pool building and services such as designing and building new swimming pools, remodeling, repairs and they also provides weekly pool maintenance.
Other than that they also sell pool parts, chemicals and supplies at their retail store located in Goodyear. Fifteen years later since the company was founded, Monster Pool Company has become one of the top pool builders across the valley as well as in the state of Arizona.
Their main goal has been to grow this company slowly at first while at the same time focusing on quality and customer satisfaction. Since then they have been continuing to achieve those goals on a daily basis thanks to the patronage of their various costumers.
21. Southernwind Pools

John Versfelt founded Southernwind Pools in 1983 and it was built in Dallas Texas. After many years of providing high quality and high value swimming pools, Southern wind Pools has gained a great reputation with homeowners and homebuilders alike.
It was praised for its spectacular designs, low maintenance, energy efficiency and top quality services. Now it is located in an elegant showroom in McKinney Texas and at the same time it is still providing swimming pool repair services in most of the communities in and around North Dallas and North Texas. Other than that they also provide swimming pool designs and construction services.
22. Surfside Pool Company.

For 45 years Surfside Pool Company has been providing full pool sales and installation services which are widely recognized for its unrivaled quality. Surfside also sells in-ground pools, pool supplies, above ground pools, and even pool maintenance services.
They also sell Saratoga spas and hot tubs. Completing the backyard of your dreams will be a reality with the help of their line of quality Outdoor Furniture from Telescope Casual.
They have six convenient locations in Massachusetts and Southern New Hampshire and they are ready to meet your swimming pool and spa/hot tub needs.
23. Pool Stop Online

Pool Stop Online is widely known as Rockwall's premier custom pool builder, Pool Supply and Pool Service provider. Founded by Harvey Rippy, Pool Stop has years of quality work experience building and they have been providing different services such as designing custom swimming pools, pool supplies and pool repairs.
Combining with the most knowledgeable and experienced team in Rockwall, they always strive for perfection and pay close attention to the details.
Their primary goal is to build one of a kind swimming pools and at the same time to achieve customer satisfaction.
24. The Pool Guys

The history of Edmiston Pools, Inc. started back in 1978 when the owner, Eddie Edmiston with his small 2-man-crew construction company installed in-ground swimming pools. Since then it grew and became the only full-service swimming pool company in the St. Louis area.
With more than 30 years of experience, they can guarantee that they will take care of all your swimming pool and spa/hot tub needs. With a staff consisting of 3 knowledgeable teams: Construction, Service & Retail. , it has been setting the industry standard for performance and innovation in swimming pool construction.
The Pool Guys have built their solid reputation by providing the highest quality work and utmost customer services both on the construction site and inside the store.
25. Northern Pool & Spa

Peter Paul started installing swimming pools in 1976 and since then he has been dedicated in providing the highest quality product and services to his costumers. Now his company, known as Northern Pool & Spa is located in Somersworth, NH, where he met his future wife Anita. Together they grew their home-based business into one of the largest swimming pool companies in New England.
For nearly 25 years they have built more than 2,000 swimming pools in both residential and commercial settings. Peter along with his professional and talented sales staff at Northern Pool & Spa, offers expert swimming pool designs and innovative construction techniques for a long-lasting, quality swimming pool or spa.
26. The Pool Boss
The Pool Boss has been providing quality services in pool construction and maintenance for more than twenty-years. Aside from having vast experience, they are also certified through the Association of Pool and Spa Professionals (APSP) and the Northeast Spa & Pool Association (NESPA). Since then they have been striving to provide their clients access to more affordable designs and equipment options than ever before.
Their company also tries their best to ensure the highest standards of quality by using the best in pool construction and maintenance products, and provide strength and durability through their steel-frame constructions.
27. J&M Pool Services

J&M Pool Services is a licensed and insured full service swimming pool company which is based out of Newnan Ga serving Fayette and Coweta Counties.
This company specializes in pool construction, swimming pool plumbing and electrical service & repair, weekly maintenance, pool openings & closings, vinyl liner and safety cover installation, replasters, heater installation & repair, salt system conversions, equipment upgrades, decorative concrete, full renovations, outdoor lighting, and automation. With their certified and professional staff, quality services will be guaranteed.
They will take care of all your swimming pool needs. With their top quality standards, they will surely exceed your expectations.
28. Geremia Pools

The Geremia Pools in Sacramento, CA has been building swimming pools and designing different landscapes since 1922. The in ground swimming pool that they have built has become a central part of outdoor living. They provide various services which ranges from swimming pool and landscape designs to constructions.
The Geremia Family is committed in building quality pools and providing better services in order to achieve costumer's satisfaction.
29. Pamlico Pool Company

In 1983 Pamlico Pool Company was established at Milledgeville, Georgia and was co-owned by Curtis Cox and Jody Harper. They are known as the leading pool designer and pool builder in middle Georgia.
The Pamlico name originated from the beautiful Pamlico Sound in North Carolina which is actually the largest lagoon along the east coast. Using the name as their trademark, Pamlico is thought to be such an exquisite body of water which proves that its name reputation is well deserved.
30. Premier Pool Enterprises

Originating from Atlanta, Premier Pool Enterprises has been providing different pool management services, pool supplies, pool remodeling, pool resurfacing and new pool construction for residents, organizations and corporations in Gwinnett, Cherokee, Forsyth, Cobb, and Paulding Counties.
The company was founded in 2001 and it started as Premier Pool Service, Inc. It was built around the premise of safety, reliability and dependability. Since then, with their top quality services and satisfied customers, they have continued to steadily grow throughout the area of Metro Atlanta.
31. Fronheiser Pools

In the summer of 1965, Fronheiser Pools began as a part time business run by their founder Kenneth Fronheiser. The company was known to specialize in swimming pool construction services and pool maintenance.
Over the years Fronheiser Pools has employed numerous talented and professionally trained technicians for pool maintenance and repair any issues that may arise during the lifetime of their swimming pool.
They usually reserve service requests for those swimming pools constructed by Fronheiser Pools in order to provide the most timely and efficient services to their customers.
32. ATLANTIS POOLS & SPAS, LLC.

Atlantis Pools & Spas, LLC specializes in different services such as swimming pool construction and custom designing, pool lighting installation, maintenance and renovation. They work to understand their costumer's hopes, dreams, needs and passion. Not only that they also design and build practical swimming pools while maintaining its elegance.
Atlantis Pools and Spas also offers weekly full service maintenance for pools in the area of greater Metro Atlanta. Their renovation services include but are not limited to the following: Replacing Coping, Replacing Equipment, Replacing Tile, Replacing existing Plaster with Stone scapes, Pebble Plaster and so on.
33. Pleasure Aquatech Pools
Widely known as the largest locally owned pool company in the greater New Orleans area, Pleasure Aquatech Pools has been designing and building pools since the year 1994. In order to provide better services to their customers, they started to work on each side of Lake Pontchartrain. They have an office in Mandeville which is located just off Highway 59 less than one mile from 1-12 which is a modern state of the art facility.
Their team consists of three highly trained pool designers who use 3-D technology on two 50″ HD monitors in designing swimming pools. They also have other facilities such as the metro area's only pool showroom which features two fully functional pools to provide their clients with the opportunity to make a more informed purchase decision. With such skilled and talented staff combined with their state of the art facilities, no one is more qualified to design and build your pool than Charles Elfert and Pleasure Pools.
34. Keith Zars Pools.

With their location at Texas, Keith Zars Pools has been committed in designing and building excellent swimming pools. They also offer after-sale services such as repair and maintenance. They strive to produce quality swimming pools and customer satisfaction is their primary objective.
They pride themselves in delivering great customer services specially in communicating with their clients from the beginning and even beyond. They always have it in their mind that they must provide their customers with the highest quality and best built swimming pools in the whole industry.
35. Fountain Blue Pools, INC.

As a fully licensed and insured company, Fountain Blue Pools, INC. has the reputation in providing high quality pool services since the year 1996.
As members of the National Spa and Pool Institute, they are steadily and continually building up their expert pool services. Other than that they are also members of the Trade Association of Pool & Spa Professionals and they are working closely with some of the best companies and brands in the industry.
Their company is composed of skilled, fully trained and professional employees.
36. Browning Pools & Spas

The history of Browning Pools & Spas started in the year 1942 when Charles "Hanford" Browning founded the company. At first Charles owned and operated an excavating business from his home in Damascus, Maryland. Later on it developed and soon their family business became a company that specializes in swimming pool & spa construction, renovation service and so on.
37. Barrington Pools

With more than 40 years' experience in the swimming pool industry and after installing more than 6,000 pools in the Chicago area, Barrington Pools has been reputed to provide satisfaction in all their residential and commercial customers, including those located in North West Indiana, Southern Wisconsin, Northern Illinois, and Eastern Iowa. With their sophisticated designs and construction processes, the clients can experience outdoor living possibilities which is customized to clients' needs.
For homeowners that are looking for the best quality and technology in swimming pools, spas, patios, and landscapes, Barrington Pools offers turn-key designs and construction services that are supported after installation by maintenance plans.
38. Cody Pools Corporate

For 5 years in a row, Cody Pools Corporate has become the #1 pool builder in the nation. They are well known and reputed as a premier pool builder & contractor with vast experience, uncompromising quality, award winning designs and leadership. The company was first established in year 1994 and since then they've become a proven swimming pool builder who has built over 10,000 residential and commercial swimming pools in Texas including Austin, San Antonio, Houston, Georgetown, Killeen/Temple, Waco and other surrounding areas.
They also specialize in building custom pools and not the "cookie cutter" ones that large national franchise based pool companies are only interested in selling. With their solid financial strength and industry leading warranty, they have long set themselves apart from local and small pool builders.
39. Sunrise Premiere Pool Builders, LLC

Sunrise Premiere Pool Builders, LLC started building pools in Maryland since the year 1999. This company is a family owned and operated business. Since the year it was built, the company has been providing different services including the designs and building of new pools.
They also offer a full line of pool and spa services, which includes pool renovations. Because of their skilled staff, they can take your existing pool and transform it into an amazing backyard oasis!
With decades of knowledge and experience, the designers are very adept in designing and renovating pools. At the same time their primary target is to provide customer satisfaction by building their dream pools.
40. Rin Robyn Pools

Rin Robyn Pools is a a family business which served the northwest New Jersey since the year 1958. This is a full line swimming pool company which offers different services such as designing/building swimming pools, providing pool chemicals, parts and supplies, renovations, outdoor living accessories, pond design, construction and maintenance.
41. Artesian Pools

Artesian Pools has been bringing top-notch workmanship of their experienced craftsmen to the pool construction industry since the year 1976. As a member of Central Florida's Largest and Oldest in-ground custom pool and spa builders, Artesian Pools has been well known to provide top quality services to their clients.
Over the years they have built over 16,000 pools in the area and gained dependability of 40 years in business under the same management and in the same location. This helped the company to amass vast knowledge and experience in the industry.
Their pride cannot be hidden because of the glory and excellent reputation that they have garnered. Despite their achievements, they continued to vow and assure their clients of their pledge to provide professional and reliable service.
42. COLORADO POOLS UNLIMITED

Colorado Pools Unlimited has been designing and constructing world class swimming pools and built-in spas for more than 30 years. Because of their undeniable reputation, clients of Denver's premiere landscape architecture and design firms would always call Colorado Pools Unlimited when they want a pool to be built.
43. All Seasons Pools. Inc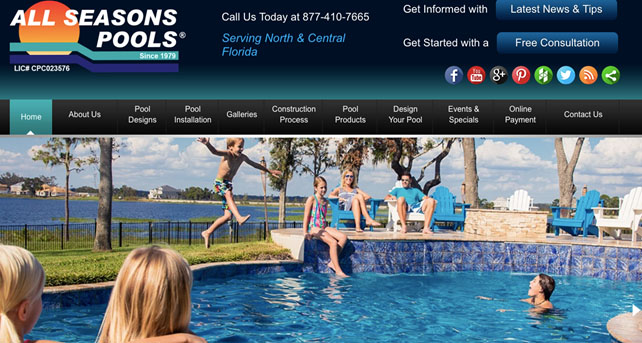 John and Diane Watts opened All Seasons Pools in the year 1979 with the goal of creating backyard retreats for different families to enjoy and proudly show off to friends and neighbors.
Their team has worked very hard for 38 years to fulfill the motto of the company which is to "leave every customer with a smile." Because of their skills and diligence, they never once missed a deadline for project completion!
They establish a solid reputation because of the commitment to excellence and service that they have shown. This lead to them becoming a well reputed and trusted pool design and construction experts in different areas such as Lakeland, Winter Haven, Orlando, Jacksonville, St. Augustine, The Villages and other Atlantic coast communities.
44. Paradise Pool & Spa.

Since the year it was built, Paradise Pool & Spa has made it their main goal to provide their customers and all potential customers with the most professional sales and services in the swimming pool industry.
They have been in business in the Northport/Tuscaloosa area since 1995. They have gained vast knowledge and experience in every aspect related the swimming pool business over the many years that they have been working in the industry. Equipped with this knowledge and experiences, they were able to maintain their solid reputation when it comes to quality services and they have maintained this for more than a decade now.
45. Aqua Bello Designs

Celebrating their 32 years in the pool industry, Aqua Bello Designs has enjoyed the reputation of being the leading Design/Build Swimming pool company with the most state of the art concepts and construction in the region.
They have built their reputation by partnering with the most superior and skilled craftsmen. With Aqua Bello Designs, you can be assured of the attention to detail when it comes to designing, the necessary experience of the designers in engineering/ planning and the highest quality building available there is.
46. Thunderbird Pools and Spas

As an award-winning Phoenix pool builder, Thunderbird Pools & Spas has been known as a contractor in building and creating gorgeous pools and spas for families in areas such as in Phoenix, Buckeye, Anthem, Peoria, Goodyear, Glendale, Scottsdale, and Litchfield Park.
Thunderbird Pools & Spas is a well known family owned and operated company with plenty of services ranging from building customized pools, spas and pool renovations.
47. Endless Summer Pools

Endless Summer Pools was built in El Centro at the year 2008. It is known as a family owned and operated swimming pool company which specializes in custom pool designs and construction and it also provides courteous swimming pool services including: Start-ups, weekly pool maintenance, chlorine baths, acid washes, equipment upgrades, chemical service, Automation, automatic pool cleaners, and many more.
Starting from the personalized and custom designs to excellent customer services, Endless Summer Pools is sure to be with you every step of the way.
48. White's Pools, Inc.

White's Pools, Inc. has become the favorite choice of thousands of people in the Atlanta area when they are looking for a reliable and trusted swimming pool construction company. As a third generation swimming pool builder, White's Pools, Inc. specializes in constructing top notch swimming pools and spas in Atlanta, Georgia.
Aside from their quality services, they also use the best equipments and latest technologies to design swimming pools and spas for homes, hotels and clubs. Ranging from backyard pools to indoor, lagoon, infinity, lap or rock pools, they have the skills and experience enough to meet your custom pool requirements.
They undertake various services such as: installation job of swimming pools, service and maintenance work, landscaping projects for outdoors and recreational environments and many more.
49. Easton Pool & Spa

Easton Pool & Spa is one of the largest in ground pool companies in the area. As a family-owned business with over three decades of rich experience, they've grown into what they are today. Their team uses the latest and best technologies in pool construction, thereby giving their customers the satisfaction and best product possible.
As a full-service company, Easton Pool & Spa manages its pool project through each and every phase: pool design, permitting, site work, electrical, plumbing, fencing and decking and even landscaping.
They pay great attention to details and they always make sure each step is done right the first time by doing and overseeing the project themselves.
50. Sequoyah Swimming Pools

Sequoyah Swimming Pools is a family owned and operated local business which has been building high-quality gunite swimming pools in Knoxville, Tennessee, and the surrounding areas for more than 35 years. As a well reputed company in the swimming pool business, they have dedicated themselves in serving and improving their community through their work.
Other than custom gunite swimming pool and spa construction, they also specialize in the installation of community pools, public pools and other commercial swimming facilities.
51. Downes Swimming Pool Company

Downes Swimming Pool Company was started by Lou Downes in 1970 as a means to pay for his college education after serving as an army lieutenant. In 1974, he earned his degree and pools become his profession.
Downes Pools is a trusted and respected name in the area of pool maintenance, design, and construction.
They have expanded to 90+ employees with a fleet over 40+ trucks. With 45 years of experience, Mike Downes continues to drive the family business into the 21st century with the same focus and attention to detail that is largely built on style, quality and reliable customer service.
52. CARLTON POOLS.

Carlton Pools is a family owned and operated since 1973. By conducting quality renovations and installing the latest innovations in the swimming pool industry, it prides itself on staying ahead of competing pool companies throughout Bucks County and Montgomery County, PA.
Carlton Pools is the leading swimming pool company that stands out amongst its competitors with the experience you can't find elsewhere. They have 85% of in house pool construction and a team of builders that have been with them for many years, and they have professional contractors and in-house construction crew that make them one of the topnotch pool companies that performs renovations designed to transform your yard into a relaxing utopia.
53. Puraqua Pool Service Inc.
Puraqua Pool Service was founded in 1968 and based in Waltham MA and continues to serve the New England area. It is a commercial and residential in ground swimming pool sales and service company.
With 40 employees consisting of professional technicians and construction personnel, they operate year round providing professional workmanship and craftsmanship. Delighted and satisfied customers have recommended Puraqua Pool Service.
54. Madison Swimming Pool, LLC.

Madison Swimming Pools LLC was founded by James Wikes on 1996. They began as a small store front office at 596 Old Hickory BLVD in Madison Tennessee with 0 employees and one pickup truck.
Over the years, Madison Swimming Pools LLC has grown and became Nashville's largest pool company, building custom luxury pools. They are dedicated to deliver high quality pool services with highest priority for customer satisfaction.
55. Parry Pools Inc.

Parry Pools is located in Jacksonville, Florida and for 35 years it has been a leader in residential and commercial swimming pool new construction and swimming pool repair and maintenance. With their cutting edge technology and advanced design programs, they are able to turn any green space into a tropical paradise.
They can also transform old and outdated pool, equipment and deck into a more energy efficient and modernized version of the pool you originally fell in love with. Parry Pools is trusted and recommended by thousands of delighted and satisfied customers.
56. Prestige Pools

Prestige Pools is the leading Minneapolis pool builders that have been operating business for over 30 years. Keeping budget and function in mind, their experienced team creates the most beautiful residential pools in Minnesota. At Prestige Pools they set the standard for Minneapolis swimming pool builders and St. Paul pool builders.
57. Chas Pools


Chas Pools opened in 2000 in Middletown Delaware. With more than a decade of experience, they have offered superior service with pool construction and maintenance and repairs on it.
They also offer free estimates on in ground swimming pools and provide complete pool services from supplies to installation.
Their other services includes liner replacement, complete line of ProTeam® and Sustain pool/spa chemicals, and computerized water testing in the Middletown area.
58. KS Pools and Patios

KS Pools and Patios was founded by Eric Konyyes which started KS Pools and Patios with a truck and some equipment. For over 20 years, their professional designers and installers have been serving homeowners with excellent customer service.
They specialized in pool design and building. They always provide the very best landscaping, hardscaping and pool installations.
59. Dolphin Pools & Spa.

Dolphin Pool was started by Ted Ludlow to Don Ludlow and now Jeff Ludlow. For three generations and for over 55 years dolphin has become the premier pool builder by constructing the finest most trouble-free pools possible and will continue into the future.
They have built over 1000 pools and 2000 spas in Salt Lake UT and throughout Wasatch County. They provide pools and spas of the highest quality that meets the unique needs of Utah residents. Satisfaction of customers is their highest priority.
60. Shoreline Construction

Shoreline Pools has been operating for more than 40 years already and they are the largest pool construction and pool service company in the Northeast.
Their pool design, pool construction and pool servicing teams are comprised of experienced professionals who focused on the delivery of exceptional customer service and craftsmanship.
They specialize in bringing the newest, safest, high-tech luxury pool solutions to your backyard.
61. Arapahoe Pool & Equipment Company, LLC

Arapahoe Pool is a full service professional swimming pool company. For 25 years, they have built and cared pools, spas and water features in Colorado and they are dedicated to excellence and customer satisfaction.
They are the superior Colorado pool builder who service what they sell and of course your trusted pool and spa experts.
62. Bell Pool and Patio

Bell Pool and Patio have satisfied its customers for many decades already. Ever since it was founded in 1990 on the principles of hard work, exceptional customer service and focused attitude, they have built many pools in the area and have list of references available upon request.
They always strive to maintain their excellent reputation for quality by maintaining a friendly relationship with their customers and making their customers feel comfortable with the construction process.
Contact them today and they will welcome any of your questions, inquiries and concerns and make your dream swimming pool become reality.
63. Central Pools & Spas

Central Pools and Spas have been providing quality products, expert advice and prompt, professional service ever since 1966. They specialized in pool construction and remodeling. Contact them for more information and details.
64. Merillat Pools & Aqua Maintenance

Merillat Pools and Aqua Maintenance started since 1976 and was founded by Stephen and Darla Merillat. Their Location in in Owings, MD wher they have been located for over 35 years.
They have over four decades of experience in providing pool service in their community and they have beautifully constructed a lot of quality gunite pools for their customers, as well as the products and services required to properly maintain them.
65. SALVO POOLS

Salvo Pool and Spa was founded on 1991 in Tallahasse, Florida and is located at 2769 Manufacturer Ct., Tallahasse, Florida.
John Salvo, with 42 years experience in the swimming pool industry, designing, manufacturing and constructing swimming pools, is the vice-president and a Florida State Certified Pool Contractor (CPC 052537). He had served on the Leon County Construction Industry Licensing Board for over 15 years.
Salvo Pool and Spa is operated by John, his wife and his two sons. Their Design and construction methods have become the industry standard for the swimming pool industry in their area. They have built the finest swimming pools, spa and water features in their area. They also offer and introduced the best products, materials and techniques in swimming pool construction to this market.
66. Hutch Pools

Hutch Pools is a family owned and operated for more than 40 years. They offer services like Swimming Pool Repair and Maintenance, Swimming Pool Design and Installation, and Pool Supply Store Locations.
They have serve thousands of customers in Middle Tennessee and Southern Middle Kentucky. Hutch Pool has successfully provided quality and affordable swimming pool to each customer and enjoys their clean, safe and pleasant pool seasons.
67. Treasure Pools and Service, Inc.

Treasure Pools and Services Inc. has 20 years of service and experience in building superior swimming pools, waterfalls and water features in South Florida area.
With high quality service and affordable prices, thousands of delighted customers have recommended Treasure Pools and Services who only deliver best finished product in Florida.
68. JB POOLS.

JB Pools is a full service pool company. They will help you every step of the way starting from obtaining your permit until the completion of the project which includes construction and renovation of your pool. They also offer after sale maintenance and repair services. They provide high quality and affordable swimming pools with customer satisfaction guaranteed.
JB Pools will enhance your life and turns your backyard into your own oasis while enjoying quality family time, increase home's value, beat the summer heat and makes lasting memories.
69. Beattie Pools.

Beattie Pools was founded on year 1959 by Aaron and his wife Beattie. They are a proud member of Master Pools Guild and they specialized in custom pools designing, construction and full service.
They offer free home design consultations and provide the best in ground pool design to suit each individual's needs. Making your dreams become reality is what their best at.
70. Armond Aquatech Pools.

Armond Pools has expertise and specialization in luxury residential and commercial swimming pool construction, renovation/remodeling and swimming pool service and maintenance. Because of this, they have been the leading Delaware Valley custom gunite swimming pool construction and service company that cater a high quality installation along with a high level of personal service.
What distinguish them from other builders is that they set the industry standard for excellence. Simply put, they excel.
71. Claffey Pools

Claffey Pools has been serving North Texas since 1987. They offer services like pool/spa designing and construction, renovation and many other services. Claffey Pools is consists of professional staff including Lanscape Architects, Home Builders and Structural Designers.
Each project they build, they use the latest technology available in the industry. Claffrey Strive to serve every customer with a good, old fashioned. "Thanks for the business" mentality.
72. Atlas Pools

Atlas Pools supervised by founder Bruce Wemple. Atlas Pools has been providing design and construction consulting and complete swimming pool construction for over 40 years for all homeowners who want their pools to look magnificent.
Atlas Pool staff and professionals will help you design and build a perfect and beautiful custom swimming pool base on your specification and budget. Atlas Pool has unlimited designs and shapes you can choose from to create your own private backyard resort.
73. Aqua Dynamics Swimming Pools

Aqua Dynamics Swimming Pools is a family owned local business that builds beautiful custom pools in the Hampton Roads area of Virginia Beach, Norfolk and Chesapeake for over 20 years.
They specialize in designing and building beautiful custom swimming pools and in ground pool liner replacement. If you need advice and design renovation for your swimming pool project, contact Aqua Dynamics Swimming Pools. They can provide all your swimming pool needs.
74. MONARCH POOLS & SPAS

Monarch Pools and Spas started building in-ground pools since 1974 and its founder is Malcolm White. All these years, they have successfully built over 14,000 high quality and affordable in ground swimming pools.
They also feature several isles of retail Pool and Spa products including chemicals, toys and games, floats and rafts and accessories. Monarch pools became the destination for its thousands of customers.
75. Caribbean Pools.

Caribbean Pools is one of the top Swimming Pool Companies in Atlanta for installation, sales and custom swimming designs.
With 30 years experience of Atlanta pool construction and design, they can create a backyard paradise from simply beautiful to visually stunning by using the backyard as the design/build palette and merging the artistic features such as pools, spas, waterfalls, fireplaces, stone barbeques, retaining wall and landscaping. Caribbean Pools will make your backyard the oasis of your dreams.
76. Premier Pools & Spas

Premier Pools and Spas have built more than 60,000 custom pools and help their customers to design and construct the swimming pool of their dreams.
Their professionals will help you build your swimming pools with consideration to size of your yard, materials needed, budget and time frame to meet your needs and surpass your expectation. Thousands of satisfied customers have recommended Premier Pools and Spas.
77. Morgan Family Pools.

Morgan Family Pools was established in 2000 and specializes in building, remodeling and repairing swimming pools.
These are the following communities where they currently offer their services: Carlsbad, Vista, San Marcos, Encinitas, Del Mar, Oceanside, Black Mountain Ranch, Bonsall, Cardiff-by-the-Sea, Carmel Valley, Del Mar Heights, Escondido, Fairbanks Ranch, Fallbrook, Guajome, La Costa, La Jolla, Leucadia, Morro Hills, Rancho Santa Fe, San Elijo, San Elijo Hills, Solana Beach and Valley Center.
Contact them for more information and details.
78. Suntan Pools & Service, Inc.

Since 1992, Suntan Pools and Services, Inc. has been building high quality, and affordable swimming pools. Forty two years ago, they began their entry into the swimming pool business and as of now, they become a premier builder of custom in ground swimming pools in St. Louis, Missouri, located in Oakville Missouri.
Suntan Pools and Services offer a variety of supplementary services including Maintenance Services, Pool Repair Services, Pool Renovations, Pool Accessories/Products and Custom Deck Installation.
Please contact Suntan Pools to find out more about building your new in- ground pool.
79. San Diego Pools.

San Diego Pools is a premier residential and commercial pool contractor in San Diego County. They provide and ensure that customers will receive the highest level of value and quality.
With Innovative design and construction, San Diego has built a reputation of transforming customers' dreams into reality. Numerous local, state and national awards will support this claim. Customer satisfaction is also their highest priority.
80. Dakota Pools

Dakota Pools is owned by Steven Yonick and operated since 1995. They specialize on pool construction, installation and after sale service. Contact them today to find out more about building your new pool.
81. Proscape Landscape and Pools

Proscape Landscape and Pools is a very dependable Landscape, Pool design and construction company in the Inland Empire which specializes in exterior design and construction. They have over 20 years of experience in providing high quality landscaping, swimming pool repair/remodeling and swimming pool construction.
Providing high quality services is their highest priority so rest assured that all your swimming pool needs will be completely provided.
82. Dive In, Inc.

Dive In Inc. begin as a pool service company since it was founded on year 2005 and quickly expanded into pool construction and remodeling projects. They provide consistent, quality service at an affordable price from the conceptual phase through the construction process and into the servicing of your pool.
Dive In Inc. is a member of Chamber of Commerce, Atlanta Apartment Association, and Association of Pool and Spa Professionals. Thousands of satisfied customers have commended Dive In for their high quality and affordable services.
83. Nautilus Pools, Inc.

Since 1989, Nautilus Pools, Inc. has been providing utmust level of quality, superior pool designing and construction. For 28 years, their staffs with high level of experience has been designing and constructing custom concrete pools and spas in Southwest Florida and earned several National and International awards.
Possibilities are endless with Nautilus Pools since they focus on creative designs and quality workmanship in all the pools and spas they build.
84. USA Pools, Inc.
USA Pools, Inc. in South Florida has 40 years experience and specializes in the construction of new in-ground swimming pools, remodeling and repairs. They offer their services throughout Miami Dade, Broward and Palm Beach counties.
So if you need your pool to be repaired, remodeled, or built from scratch, you can count on USA Pools of South Florida to do it all. All your swimming pool needs will be provided.
85. Eagle Pools.

Eagle Pools, Inc. is owned by Brian Curts and Kenny Young. They are well known in the Northeast Florida area as premier pool builders.
With 60 years of combined experience in construction and renovation of swimming pools, they ensure high standards are met during each step of building your swimming pool. Customer satisfaction is their highest priority.
86. Waterside Pools Inc.

Waterside Pools Inc., is a full service company and also a design consulting company. They provide new pool construction, renovations, and repair/maintenance services.
They use computerized designs to help you visualize and analyze the entire project before starting the construction of your pool and build it using the latest technologies and materials available in the industry.
Waterside Pools Inc. will help you build your backyard paradise.
87. CLEAN SWIMMING POOL SERVICES.

Clean Swimming Pool Services is committed in designing, building, remodeling and caring for your swimming water features.
Their services include building new swimming pool, remodeling your current pool, repairing and maintaining your pool and even providing pool chemicals. Quality and customer service is their highest priority.
88. Swimm Pools, Inc.
Service all of Fairfield County, CT and the Surrounding areas, including Westchester County. Swimm Pools is the leader in residential new swimming pool construction and swimming pool renovation in Fairfield County.
If you are after of beauty, performance, longevity and efficiency, Swimm completely provide these services. They take great pride in providing uncompromised quality and customer satisfaction.
89. Pools by John Garner, Inc.
Pools by John Garner have over 30 years of pool design and construction experience. They offers services like custom swimming pool design and construction, pool cleaning/maintenance, and complete swimming pool renovation and remodeling services and more.
Rest assured that all your swimming pool needs will be completely provided by Pools by John Garner.
90. Morehead Pools

Morehead Pools has 50 years of service and experience in providing swimming pool services around Ark-La-Tex areas. They specialize in pool designing, pool construction, pool maintenance and many more.
Morehead Pools is a member of Master Pool Guild, a network of finest pool builders and the Pace Group Scottsdale, the most high tech progressive pool builders.
91. Gulf Coast Pool and Spa
Gulf Coast Pool and Spa Inc specializes in designing/building swimming pool and in pool liner replacement. They are servicing N Florida and S. Alabama and is located at Pensacola Florida.
They will take each project seriously and believe their pride shows in their work.
92. California Pools.

California Pools has been recognized as a leader within the swimming pool industry since 1952. Serving their customer with quality, professionalism and trust is the reason why over 70,000 customers choose California Pools to build their backyard sanctuary.
Their services include swimming pool/spa construction, swimming pool remodeling, outdoor kitchen installation, backyard accessories, and swimming pool water features. Anything you want with your swimming pool, with their expertise, they will make it happen.
93. Denali Pools

Denali Pools, the leading Austin area swimming pool construction company. Building Impressive custom swimming pools with high quality material and at affordable prices is what Denali Pools offers.
They will design and build the swimming pool that matches your vision, lifestyle, and your budget. They provide their customers a rewarding experience and a 100% satisfaction with their pool.
94. Classic Pools
Classic Pools has more than 40 years of experience and services in building pools in Northeast Ohio. Classic Pools build pools that reflect incomparable individuality, beauty, and quality.
They will help you create the backyard of your dreams. Let your imagination and family's needs guide you in creating a perfect backyard entertainment area.
95. Dream Pools

Dream Pools has offered endless amounts of options for pool layouts and custom construction work for more than 20 years. Dream Pools received the Miami Award for Swimming Pool Contractors from U.S Commerce Association and rated as one of the top pool builder in South Florida.
With state certified and license contractors, verified by HomeAdvisor, Angie's List and Better business Bureau, their entire staff is quality oriented and offers unmatched services in New Pool Construction, Leak Detection and Pool Decks.
96. Hilltop Pools and Spas, Inc.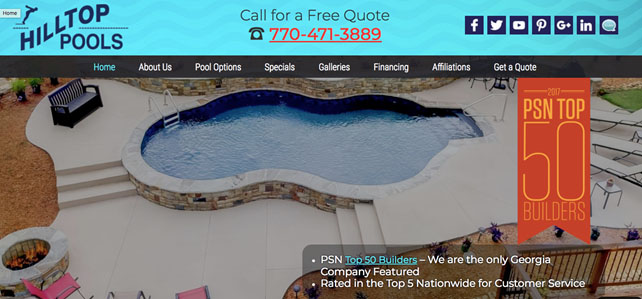 Hilltop Pools and Spas Inc. is one of the most trusted pool companies in Atlanta area and rated in the top 5 nationwide for their customer service. They've been providing residential and commercial custom pool design and construction services.
They specialize in Custom Pools, New Pool Design and Construction, Concrete/Gunite Pools, In-Ground Vinyl Liner Pools, Pools Renovation and Commercial Custom Pools.
97. AAA Pools & Construction

AAA Pools has been operating locally in Sioux, SD and provides commercial and residential pool services throughout the region. AAA Pools team has a combined 100+ years of experience in designing and maintaining swimming pools and spas.
They offer top of the line swimming pools and spas construction with expert design solutions and innovative construction techniques to provide the highest quality custom built pool or spa in the area.
98.Aquality Construction

Aquality Construction is one of the most respected swimming pool companies in Colorado for over the decades.
What set them apart from others is their reputation for 100% satisfaction guaranteed for customers and their attention to details and of course the highest quality standard services they offer.
"A Quality Job at a Fair price" says it all.
99. Pool Blue Inc

Pool Blue Inc. specializes in designing, constructing and installing pools for homeowners in and around Lakeland, Florida for more than 20 years.
Their services include swimming pool construction, in-ground swimming pool design and construction, installation of designer swimming pools, heated swimming pool construction, adding enclosed swimming pools and paving services for pool decks in a variety of materials.
100. Aqua pools

Aqua Pools has designed and built high quality custom in-ground swimming pools since 1971. They offer services like Pool Repair, Resurface and Remodel existing in-ground swimming pools.
Aqua Pools specialize in stamped concrete or commonly known as patterned or imprinted concrete. Concrete design includes brick, slate, flagstone, stone and even wood resemblance which can also be used to beautify any pool deck, patio, driveway and entryway.
Conclusion
Finding a perfect pool construction company is a hard work, with these 100 pool companies list, you should be ready to construction your pool soon.
Do you ever worked with any above pool company, or you have not find a good one from the list, let me know by leaving a comment below.