Hiring incompetent and unprofessional contractors can cost you more than the price of a pool and spa enclosure. It's very unfortunate thou, a fact we cannot run away from.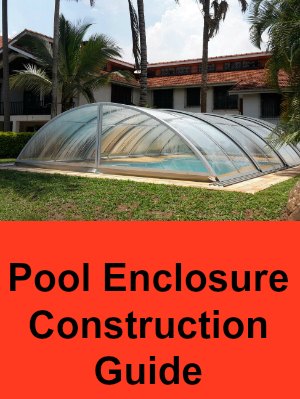 The cost I am talking about here may be in the form of:
Delays in the construction process
Use of substandard materials
Obvious lies
Untrustworthy customer care representatives
Inaccurate quotations, just to mention a few.
The good news is, you can easily avoid these unnecessary costs and inconveniences if you hire the right swimming pool and spa enclosure contractor.
I specifically developed this simple guide to help you in this process. It has 10 important points to consider with useful links and practical examples.
By the end of this guide, you should be able to hire a good pool enclosure contractor without the assistance of an expert. You'll definitely save some money.
So, what are the key factors you should consider?
#1.Choose The Right Pool And Spa Enclosure Type
Spa and pool enclosures come in different designs. You can go for a low profile, high profile fixed, retractable or telescopic pool enclosures.
Furthermore, you're at liberty to choose a pool enclosure manufactured from polycarbonate sheet and aluminum or any other material of choice.
Clearly, you can see that these are two different designs. So, this is one aspect you should have in mind when going about this process.
You need to understand that pool and spa enclosure contractors tend to specialize in specific pool enclosure designs. Remember, every pool enclosure requires special expertise.
It is important that you state every detail of the pool enclosure project. This will help you to choose the right contractor who can handle the task to your expectations.
For instance, it won't make sense to hire a contractor who has specialized in fixed pool enclosures to construct a telescopic pool enclosure.
In short, know the exact type of pool enclosure you need and choose a contractor based on their ability to handle such tasks.
I found these links useful when it comes to choosing the exact type of pool and spa enclosures:
#2. A Proper Budget Reduces Project Failure by Over 50%
It doesn't matter whether you hire the best swimming pool enclosure contractor in town. If you don't have a swimming pool enclosure budget, the project will never run into completion. This is a fact and I have seen a number of people get frustrated.
Even before you begin searching for a contractor, you need to have a realistic budget. Your budget should capture the following:
Swimming pool enclosure cost – polycarbonate pool enclosures are available for as low as $2,999.
Installation cost/labor costs
Logistics/transportation costs in case the pool enclosure does not offer transportation services.
NOTE: Your budget should be flexible to accommodate any changes or improvements during the construction process. You should have at least some extra money to cater for this.
Do need swimming pool and spa enclosure budgeting tips, here are some useful links:
#3. Learn How to Search for a Pool & Spa Contractor in Less Than 10 Minutes
You need to have at list 4 to 6 different pool enclosure contractors. Through this, you'll be able to evaluate the kind of services they offer to choose one that is trustworthy and reliable.
Interestingly, quite a number of companies in the pool and spa enclosure industry rarely do adverts of the services they offer. This is why I recommend the following mechanisms to get the best pool enclosure contractors:
Search for local contractors – search engines such as Google and Bing have local business listings. You can get possible options within your area. Remember, hiring a pool enclosure contractor within your locality is cheap. You can use the search terms – pool enclosure contractor or swimming pool contractors.
Visit the company's website – you can get information you need from their website. You'll know whether the company specializes in the specific pool enclosure you need or not. Be careful not to get lured by the hype.
Referrals – do you know a friend who has installed swimming pool and spa enclosures? Talking to these people face-to-face is a reliable and a simple way to get a good contractor.
Business directories – you can get a list of companies from the existing business directories.
Here is what I actually mean by searching for a pool enclosure contractor:
Assuming you have your list of possible contractors, it's now time to proceed to the next step.
Below are useful links of swimming pool directories:
#4. Schedule a Meeting with Your Contractor
Now, it's time to engage these contractors. You need to schedule a meeting with the contractor to have a one-on-one discussion about your project.
It is at this point that you should strive to know whether the contractor can handle the project or not.
NOTE: Don't hint to the contractor that you're to meet other companies. Treat the contractor as if he/she is the only person you have in mind. Moreover, they shouldn't know that you're trying to compare their services.
I am sure, during the discussion, the contractor is likely to compare their services to competitors. Most definitely, they'll stress on how they offer better services than their competitors.
Take this opportunity to learn more about other companies in the industry. During the discussion, any claim the contract makes must be supported by a verifiable document or source of information.
It is at this point that you need to ask all possible questions about their services.
Below are other sources of information that can help:
#5. Make Sure Your Contractor has a  Proof of Professional Experience And Expertise
Can the contractor produce an evidence of their technical expertise and experience? Do they have any professional training on swimming pool enclosure installation?
Pool and spa enclosures installation require technical expertise and professional training like any other construction projects. They should have an evidence of a formal training.
Not anybody can handle mechanical, plumbing or electrical work such as riveting, forming polycarbonate, installing electrical systems, etc.
Only trained pool and spa enclosure installation technicians will be able to interpret pool enclosure technical manual. They can handle all technical aspects of swimming pool enclosure installation process.
You shouldn't believe the random company's project portfolio. I have seen a number of companies having a false product portfolio to lure unsuspecting individuals. Let the company provide you with the physical address or phone number of their previous clients.
Do you want to learn more about professional training and expertise, below are some useful links:
#6. Request for License And Insurance Documents
Never hire a swimming pool enclosure contractor whose legal existence is questionable. Why do I say this?
Such contractors are fraudsters who rarely fulfill their promises. Moreover, in case of an accident, they won't be liable. I know most unsuspecting homeowners have been victims due to the fair deals.
Deal with a fully registered business entity with up-to-date insurance policies. It is your responsibility to verify and confirm the information the company provides with the relevant authorities.
You should verify the contractor license to confirm whether they are active. At times, authorities may deregister a company for violating construction codes.
Remember, it's nearly impossible to file complaints to file complaints against unregistered companies or claim for compensation.
For more information how to go about this process, you can follow these links:
#7.  Registration with Professional Bodies Is a Must. Don't Ignore It
Licenses and insurance policies may not be enough. There are a number of professional bodies that oversee the installation/construction of pool and spa enclosures.
The professional bodies perform a number of statutory functions such as:
Assist in certification and accreditation of companies
Promote and maintain construction standards
Investigate complaints
Assist in prosecution
Review accreditation, just to mention a few.
It is this simple, avoid companies that are not registered with the professional or accreditation bodies. Such companies are simply trying to avoid accountability in all they do.
Most of these professional bodies have online portals where you can confirm whether a contractor is actually registered with them. This is a simple procedure that shouldn't take more than 10 minutes.
More importantly, you should confirm that the company doesn't have any complaints or cases about incompetence and substandard services.
Below are examples of professional bodies and organizations in the pool and spa enclosure industry:
#8. Evaluate the Terms and Conditions for The Entire Project
Over 83% of homeowners do not go into the details of contracts they sign with the swimming pool enclosure construction companies. It is quite absurd to find that other homeowners only have a verbal agreement.
Let me tell you the truth, unless you have all the offers in writing, none is legally binding. Without a legally binding document your pool contractor may ignore some aspects of your verbal agreement.
The fact that you're dealing with a fully registered and reputable contractor doesn't imply that you should ignore a written contract.
Here are 7 essential components of a construction contract:
A clear duration/time frame – when the contractor expects to start and complete the project.
Payment schedule – how should you make payments and under which conditions?
Which aspects can make the contract invalid?
What are the other services included in the contract apart from the swimming pool and spa enclosure construction?
Which duties should I fulfill as the owner of the project? How about the responsibilities of the contractor?
In case one party doesn't fulfill his/her promises, what happens next?
At what stage does the contractor transfer the full ownership of the project to you?
For a fact, you need to read everything in the terms and conditions of the contract and if possible, get a legal assistance. This is an important document, especially if you wish to file a complaint against the contractor.
You can learn more about construction contracts here:
  #9. Contractors Must Have Obtained a Building/construction Permit?
Assuming you have hired a contractor based on the 8 aspects I have mentioned above, it is now time to begin the actual construction process.
However, before this process begins, the swimming pool contractor must obtain a construction or building permit from the local authorities such as county or city.
Normally, failure to acquire this document may come with several consequences, especially if the project fails to meet the required local standards. Possible penalties may include:
The swimming pool contractor's license may be revoked for failing to follow the law.
As a pool owner, you may be prosecuted for allowing "illegal activity" to take place on your property.
After the completion of the swimming pool and spa enclosure installation, the local authorities will perform the final inspection to ensure the structure conforms to the required standards. This is a sure way to ensure the contractor did a good job. Remember, it is only the local authorities who can approve the pool enclosure to be safe.
The procedure of obtaining building/construction permit varies from state to state. A professional swimming pool enclosure installation contractor knows how to go about the process. You can leave this to the contractor.
Learn more about building permits here:
#10. Your Pool and Spa Enclosure Project Must Conform to the Required Safety Standards?
Well, as the county/state engineers inspect the final project they will determine whether it is safe or not. It is really frustrating when the authorities fail to approve the project. In such situations, the contractor will be blamed for this.
So, how can you avoid such inconveniences?
Let your contractor provide you with a list of all safety features and requirements. Moreover, the contractor should tell you how they intend to incorporate each feature. Don't forget to do your homework on this too.
Here are a few examples of safety requirements:
Bonus Tip:
Once your pool and spa enclosure is complete, don't forget to write a consumer review about the contractor. It should be an honest review, not influenced by the contractor. This is the best way to expose incompetent swimming pool contractors.
As you do research, some of your decisions will be based on previous complaints and recommendations from sources such as the Better Business Bureau (BBB), or any other credible sources.
So, your review will help other homeowners to make informed decisions and avoid pitfalls that may have not been available at the time of hiring a contractor.
In short, writing reviews or feedbacks is the best way of appreciating the efforts by others (reviews and feedback your read).
Conclusion
As you can see, finding a good swimming pool enclosure contractor is not as difficult as most people perceive it to be.
I am sure, this will only take you a few days to get a qualified individual. All you need to do is follow all the vital points I have highlighted above alongside every link.
Again, in case you find any difficulty in doing so, don't hesitate to contact us or use the comment section below.