Swimming Pool Installation:The Step by Step Guide to Construct an In ground Pool
Today, I'm going to show you how to install an in ground swimming pool in 10 simple steps.
I will cover everything you need to know about swimming pool installation – from choosing suitable designs, actual pool installation, putting in place an enclosure to landscaping.
By the end of this guide, you should be able to handle any DIY in-ground pool installation process.
Now, let me show you exactly how to go about it:
Step 1
Choose the Right Swimming Pool Designs and Plans
Here's the truth;
Before you think of constructing a pool in your home, one of the many things that you must do is getting architectural designs and plans.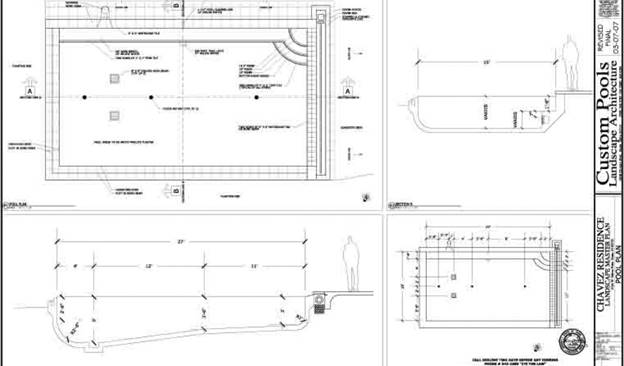 Technical drawing and design of an in ground swimming pool – Photo Credits: NOVICAP
You can't just come from nowhere and start constructing this facility without a guideline, can you?
The reality is:
Without a design, you're just wasting time and resources.
So let's first understand what the designs and plans entail in this case.
What an In ground Swimming Pool Design Actually Entails
Swimming pool designs and plans are a paper representation of what the actual pool will look like. It is something drawn on paper to provide a guideline for the contractor during physical construction.
Here is an example of what I am talking about: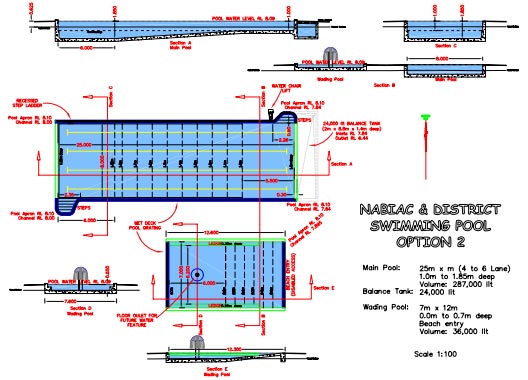 Swimming pool design – Photo Credits: FINAL MAJOR POOL PROJECT BY ERIN
The design allows you to picture what the pool would be like. Also, it enables you to understand the basics needed as it factors in all the requirements from start to finish.
You have a lot of pool designs at your disposal to choose from. But hey! Don't freak out; we'll break them down for you to understand them in details.
By the way, as long as you know precisely what you want to attain by the end of the process, the designing and planning process is never gonna be a daunting task.
So what do the pool designs and plans involve?
Let us find out;
Consider the Traditional In Ground Pool Designs
Conventionally, swimming pools were designed in rectangular, square and circular shapes. The shapes still are popular even today.
But they aren't the only limited options for designing backyard pools.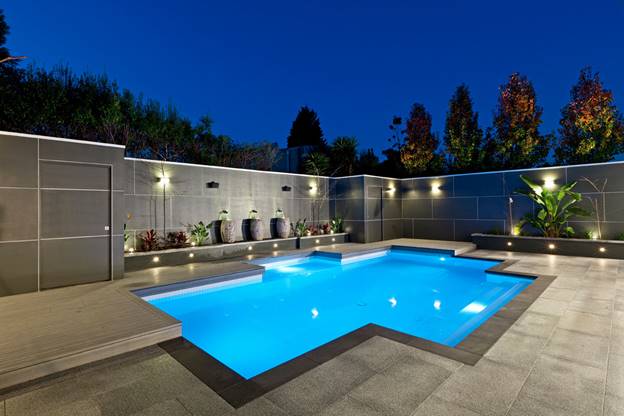 Simple swimming pool designs – Photo Credits: AMAZA DESIGN
The choice you make as far as design is concerned hugely depends on the purpose of the pool as much as it is constructed within the homestead.
Modern & Irregular In Ground Pool Designs may Work
Nowadays, some of the typical designs include kidney-shaped, freeform, Lazy-L, True-L and Figure 8 among others.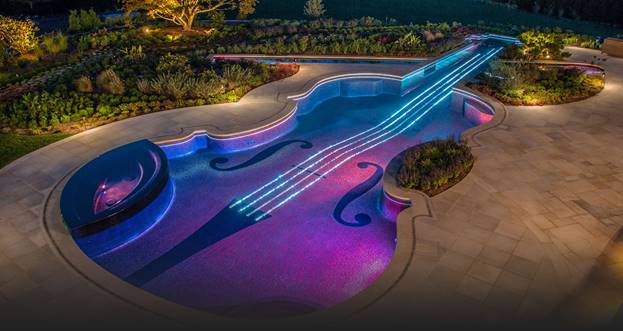 Swimming pool with complex designs – Photo Credits: AMAZA DESIGN
And the best part is; you can easily modify the traditional shapes to conform to the modern pool designs.
We shall look into all the swimming pool designs option in the later sections of this article, so strap in.
But the shape is not the only factor regarding design and plan.
Some of the elements that these aspects also consider include landscaping and the existing features in the backyard.
Other features are the basin depth, decking style, overall appearance of the home and water features among others.
You can have a look at this swimming pool drawing and the actual structure:
In ground swimming pool drawing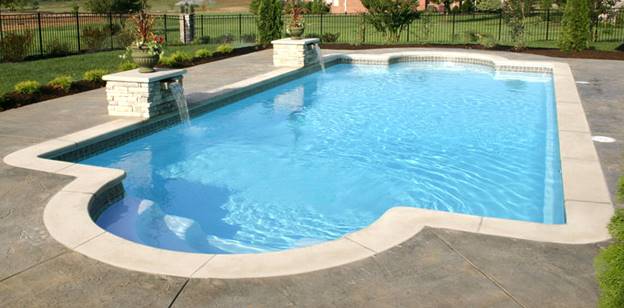 Actual in ground swimming pool
These are pool design and construction by: CALM WATER POOLS
And the good thing about having a swimming pool plan is that it helps you to estimate the budget for the entire project.
It covers all aspects including the materials and timeframe.
So it makes it easy for you to determine whether or not you'll afford to cater for the cost based on what is provided.
You also need to note that the more complex the swimming pool design is, the more expensive it is to construct.
More resources:
Step 2
Get Swimming Pool Building Permit
Now you've got your architectural plan, and you've decided on what particular one to go for depending on your budget.
But you can't just get out and start constructing. There is this vital part that you have to undergo – get a government approval.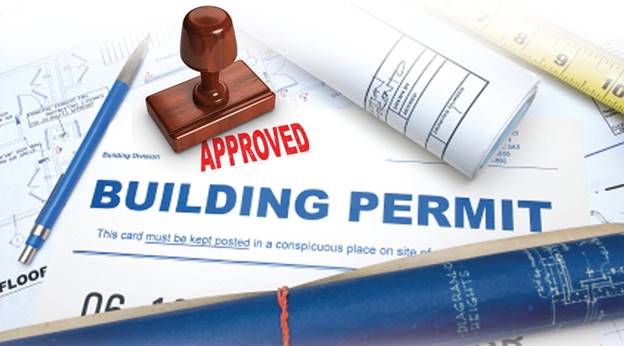 Authorities must approve your construction designs
Each municipality, town, city or state has a particular body that overlooks construction of pools in their respective jurisdictions.
So before you even start excavating the land, you need to take the plan and design to the authorities to get approval.
Typically, the authorities look into a wide range of factors.
The interest is to determine whether or not your proposed swimming pool meets the minimum ratified threshold.
Factors Authority Consider before Approving In Ground Swimming Pool Construction
Normally, the authorities will consider a range of factors before approving your designs. They may visit the site, conduct experiments, do surveys, etc.
This will ensure you don't contravene any laws or by-laws.
They do this to ensure the following:
Ideally, the essence first is to promote safety standards. The authorizing bodies have the mandate to assess whether or not the proposed swimming pool is secure for human use.
Swimming Pool Design and Site meet the Set Construction Standards
You may have the best design; however, it may not meet the construction standards and requirements. Besides, the site where you want to install the in ground pool could be a public property.
Or, it may interfere with other utility infrastructures.
By looking into all these, the authorities aim to ensure total conformity with construction standards.
The fact of the matter is;
Depending on the design and site where you intend to install the in ground swimming pool, the authorities may:
Approve the design, thus you will get the permit
Decline the design, hence denying you the permit
Propose adjustments in the existing design
Once you get the swimming pool permit, you're now free to commence your work.
More resources:
Public Swimming Pool Construction Permit Application
Step 3
Mark Out an Area for the Swimming Pool Installation
Once your plan is approved, then you head straightaway to the site and start the construction works.
So what is the first thing you need to do?
Given that you're constructing it with your homestead you need to ensure that you protect other people and the environment too.
So you have to erect a somewhat temporary barrier.
It will act as an indicator of a construction work taking place in that specific area.
This ultimately enhances the safety of other people too.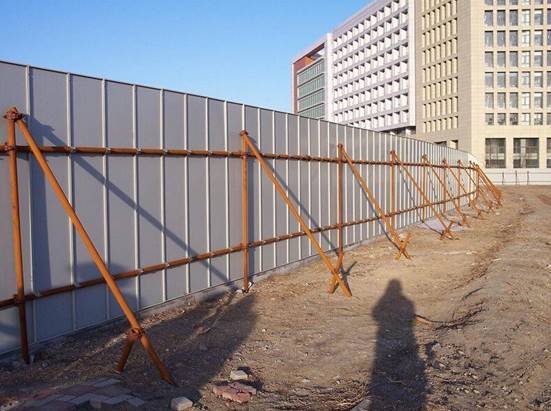 A temporary barrier on a construction site – Photo Credits: ONLINE CONSTRUCTION REVIEW
Moving on now:
The second thing that you have to do is to clear the site.
If there are any bushes, clear them out…I mean just let the area to be clear.
Then start marking out the area. This you must do in accordance with your plan.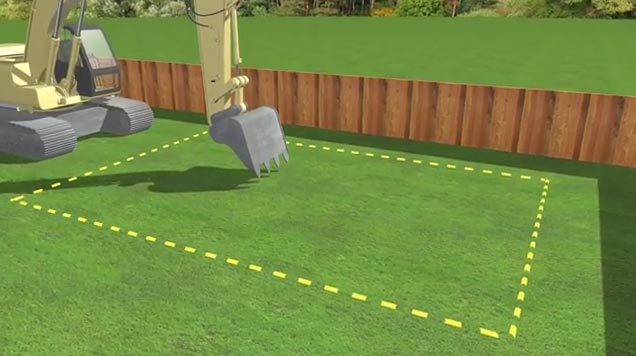 Mark out the area ready for excavation – Photo Credits: WIKI HOW
Ensure that all the dimensions correspond to what is in the plan.
Even as you do this, allow for some allowance too.
Step 4
Now Excavate Where to Install the Inground Pool
Excavation of the land is a sign that the actual construction is now in progress.
You need to get the right machinery for this process.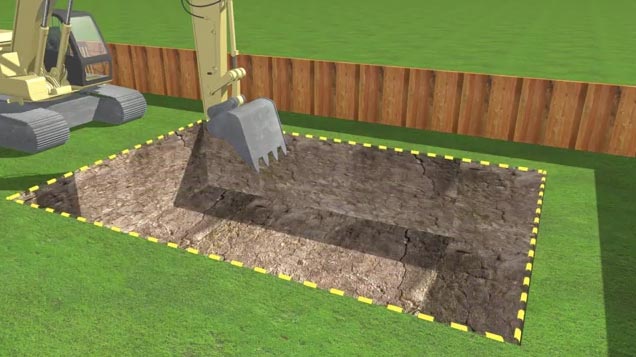 Excavate where you intend to construct the in ground swimming pool – Photo Credits: WIKI HOW
The truth is:
Working with an experienced and reliable contractor is advantageous.
They'll let you know how and where to get such equipment, not only quickly but also at pocket-friendly rates.
You also need to know that the pace and efficiency in excavating the land also depend on the type of the equipment you're using.
During excavation, irregular shapes are inevitable. And that is why it is recommended to leave some allowance for modification.
You have to be extremely careful at this stage.
So that you don't run into utility lines in the event that the site is close to any such gas, electricity or water.
Furthermore, you have to review the area for installing the in ground pool.
It will help you to determine whether or not necessary reinforcement is needed.
During excavation, discard all the soil from the ditch into one place.
It becomes easier to dispose of especially when you're done with the project.
Step 5
Begin the InGround Pool Installation Process
In this case, the process is likely to vary depending on the particular type of pool you're installing.
So let's look at what it takes to install these two swimming pool options;
Option 1: Installing Fiberglass Swimming Pool
It is pretty easy given that after excavation, the efforts needed don't seem to be much.
So let's quickly go through the installation process
Set the Base Where to Install Fiberglass Pool
After you're done with excavating the land, you need to level it ( It needs to be even).
Basically, you need to set the floor.
One ideal way of doing this is by laying a bed of sand on the floor to provide the pool with a flat base.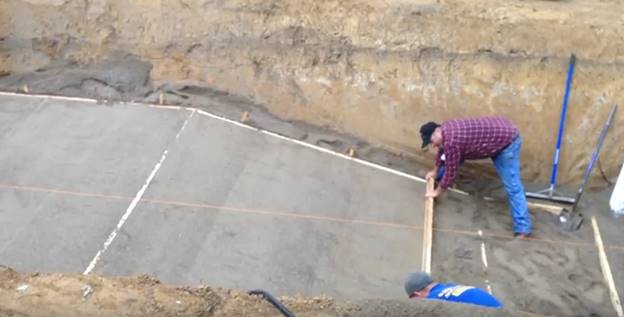 Preparing where you will install the fiberglass pool – Photo Credits: JSCROW
It is recommendable that you set up the screed bars to act as guides for the slope.
This helps in making screeding a relatively straightforward process.
The other suitable way is by setting up the base using a 2' thick layer of gravel. Remember the gravel layer also determines the height of the pool.
Therefore, a relatively lesser level layer of gravel is ideal.
Use a Crane to Lift & Install the Pool
After leveling the base, now take a crane, attach the fiberglass kit on it and lift it to the base bed.
Then you need to ensure that you check all the levels and make it structurally sound.
The essence here is to prevent it from continuous shifting and to settle over time.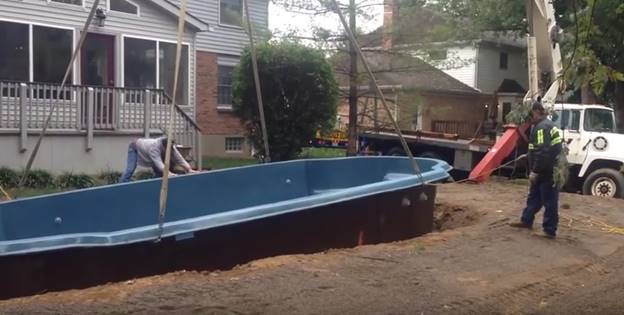 Installing a fiberglass swimming pool – Photo Credits: JSCROW
Ensure that you lift and re-set the pool as many times as possible. It does not matter as long as it is level.
You know what, if you rush it in this phase, the pool shell might fail to rest correctly on the foundation leading to shifting.
The plumbing for this unit needs to be done around the shell before putting it in the hole.
Primarily, it helps you to get more room for working.
It also enables you to inspect every fitting and piece of pipe visually.
Basically, plumbing, in this case, involves fitting the skimmer box to the deepest part.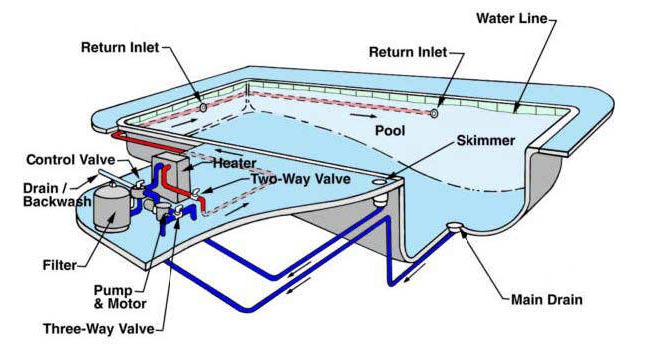 Components of swimming pool – Photo Credit: PARPOOL SPA
It also involves installing the PVC piping to the filtration.
You also need to set the salt chlorinator and pump filter.
Let me tell you the truth:
Honestly, this is a critical stage that will ensure your fiberglass swimming pool works effectively.
Therefore, you must fit the following parts appropriately:
Return inlet
Different valves; swimming pool plumbing system may have two-way valves, three way valves and control valves
Swimming pool pumps and motors
Drain/backwash system of the swimming pool
Drain system; they must have drain covers
Filter system; these may include the DE or cartridge filter system to remove very fine particles of dirt in the water.
So, even before you begin filling the swimming pool, test every part to ensure they are working appropriately.
Again, as you install the plumbing system of the pool, critical joints should be accessible.
This allows for easy troubleshooting and maintaining the swimming pool in future.
Fill Pool with Water & Backfill at the Same Time (Ensures Stability)
This happens when you're done with plumbing, and the fiberglass is well set and leveled in the hole.
You can backfill using gravel, crusher dust, or a mixture of cement and sand. The pool kit will simultaneously be filling water as you backfill it.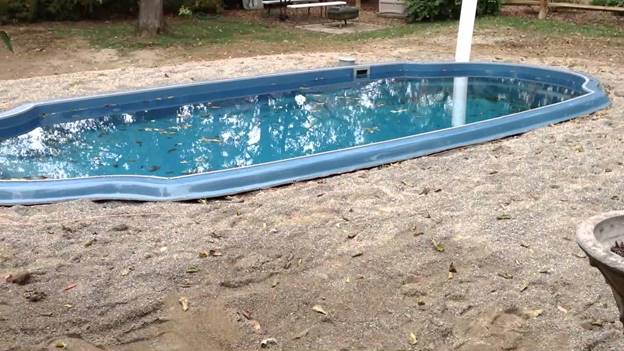 After covering all the plumbing system and around (Next you'll pour concrete) – Photo Credits: JSCROW
Do you know why it should be simultaneous?
Because it needs to provide equal stability and pressure.
So when the water is filling the fiberglass kit, and you're also backfilling it the force exerted tends to be equal to stability.
The net effect is that you'll have a strong fiberglass swimming pool.
You can also have a drain pipe system at this point.
Remember, this is not a permanent swimming pool plumbing system.
It makes draining water around the swimming pool easier.
Of course, during this time, the electrician should also be wiring various components of the pool.
This can include the pumps and HVAC system.
You see, the filter and pump system need to be wired so that they can begin circulating water immediately the pool is full.
However, this is not cast on stone. It is understandable that some circumstances may prevent it.
I will take you through the other processes of preparing swimming pool deck after installing concrete swimming pools (option 2).
More resources:
Installing Fiberglass Swimming Pool
Option 2: Building Concrete Swimming Pools
This one requires more effort than installing fiberglass swimming pool.
It might appear cumbersome, but I'll make it somehow straightforward for you to comprehend.
But before you do anything, you need to grade the surface.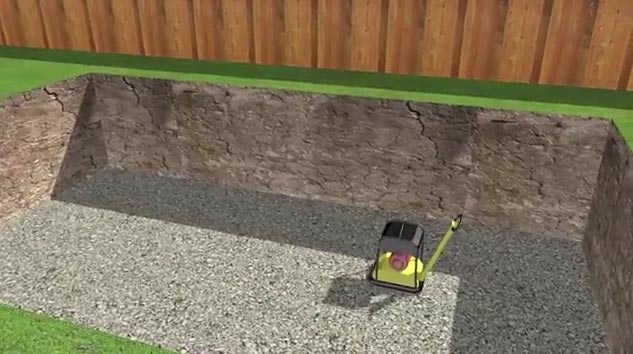 Level the floor of the swimming pool – Photo Credits: WIKI HOW
Reason:
This is because during excavation, the surface becomes rugged.
Additionally, it also becomes loose and better way to make it compact is through grading.
Another important aspect regarding grading of the surface is to ensure that you do it while considering the floor of the swimming pool orientation.
Now, let's look at the critical stages of installing a concrete swimming pool;
Install Swimming Pool Wall and Braces
Once you've graded the surface, you can now start on building the walls. Use the metal and wood bars to frame the walls. The walls must be even and consistent with each other.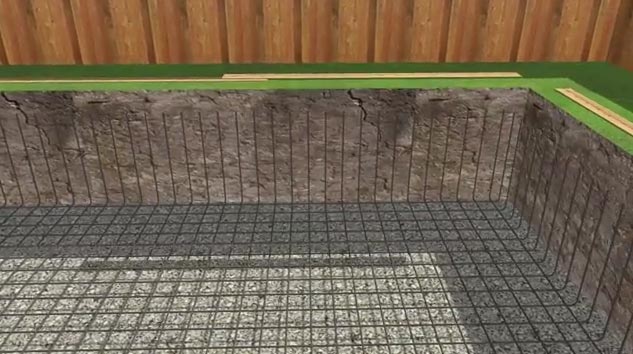 Reinforcing swimming pool wall and floor with steel – Photo Credits: WIKI HOW
Metal and wood bars make it easy for you to find the evenness of the wall frames.
Now Put Pool Plumbing System in Place
Pool plumbing system entails a number of aspects including, piping, drainage pump and drains entrapment among others.
Please, refer to the image in option 1 above to learn more about swimming pool plumbing system.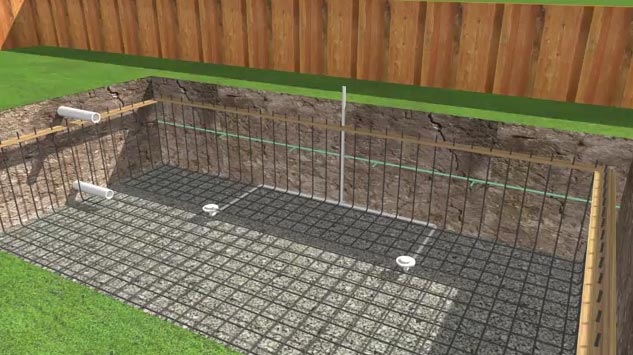 Install the plumbing system of the in ground swimming pool – Photo Credits: WIKI HOW
All these plumbing features must be fixed well.
You also have to ensure that all the plumbing fittings are consistent with the pool drawing plan and design.
You may not want to read this, but here we go:
Pool plumbing can be intensive given that it is one of the most critical components.
It plays an integral role in determining the efficiency of the pool both in the short and long-term basis.
During plumbing, you need to install pool pump and filter appropriately.
Pool pump enables the water to circulate whereas the filter eliminates smaller particles and debris from the water.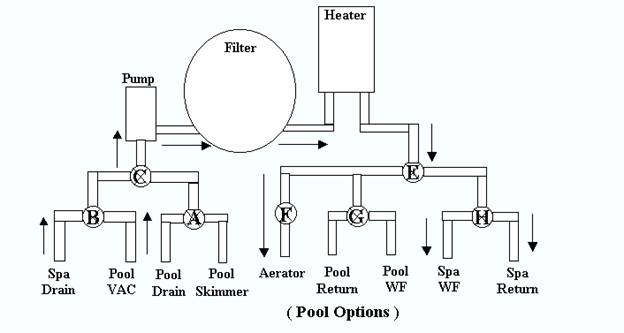 Drawing showing the plumbing system of a swimming pool – Photo Credits: HOW I BUILT MY OWN SWIMMING POOL
At the same time, the valves that help in controlling the flow of water must also be set accordingly.
Also, have it mind that the supply and filtration system that for your pool must meet the specific codes for your area.
You can get a professional plumber to guide you more on how to install them.
Incorporate Swimming Pool Electrical System
You need to run electricity in your inground pool system.
In this case, mostly, electricity is often required for filtration, run pumps, and lighting.
Practically, you need a qualified and competent electrician to handle this phase.
Remember water is an electrolyte and you can imagine what bad wiring in conjunction with water can lead to.
Just keep everyone safe on this, no one should suffer from electrocution as a result of the poor wiring system.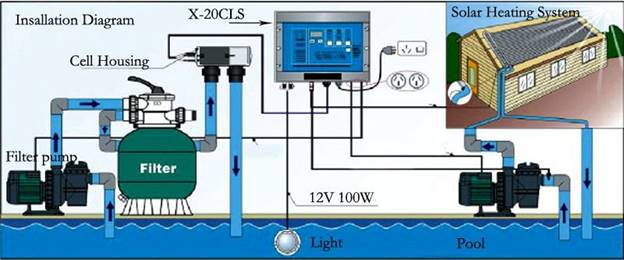 Section of swimming pool electrical system – Photo Credits: SWIMMING POOL FILTRATION
The electrician, in this case, has no choice apart from having all the safety precautions in place.
Build the Swimming Pool Walls (Mix & Pour Concrete)
Now it's the time to start building the actual walls and the floor.
Get the right proportion of sand and cement, mix them with water to form some sort of concrete.
If possible, use a cement truck to pour the mixture given that the pool is relatively big for manual application.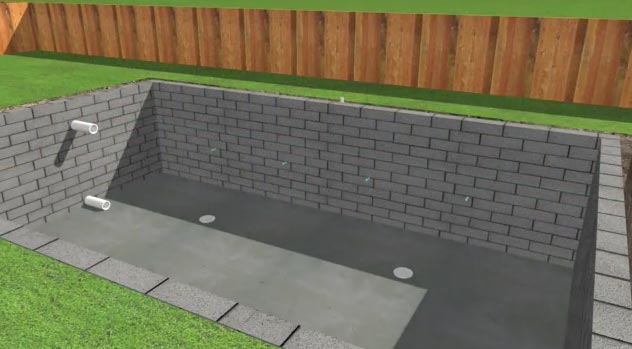 Installing swimming pool floor and walls – Photo Credits: WIKI HOW
Start by pouring the concrete on the floor. Make sure that you also grade and smoothen the floor surface after pouring the concrete.
While at it, ensure that you pay close attention to the angle of the swimming pool floor.
So that you don't miss it especially when you intended to get one with varying depth.
After you've completed the floor, now shift your focus on erecting the walls.
It becomes easy to build the walls once you're done with the floor.
Build the walls using poured concrete or cinder blocks until it reaches to the ground level.
Proper reinforcement should be done on the wall to prevent it from any possibility of collapsing.
This is also another vital phase that requires the input of a qualified contractor.
But before moving to the next step, let the concrete to cure properly for at least a month or so.
Install Swimming Pool Vinyl Liner & Coping
These are some of the features of the finishing touches to do on your in ground concrete swimming pool.
The vinyl liner is part of the intervention of ensuring that moisture is barred from leeching out.
The liners also help in enhancing the interior aesthetics of the pool before it is filled with water.
Just to let you know, you can also opt for several lining materials other than the vinyl.
All these depend on your budget and of course your preference.
Your contractor should be able to guide you in selecting the best one based on various factors.
And then we have the swimming pool coping.
This is primarily installed to construct a cap at the edge of the concrete pool.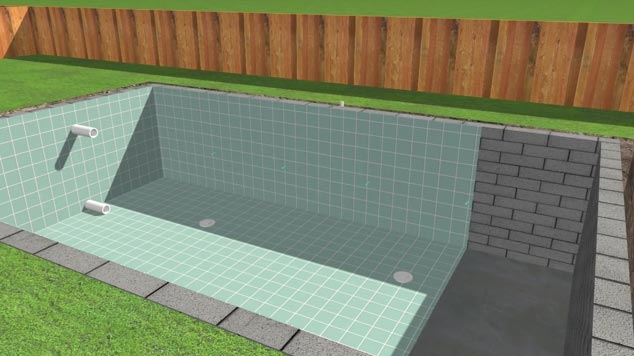 Doing finishing on the swimming pool floor and walls – Photo Credits: WIKI HOW
Coping helps to cover the edges of the concrete. It also conceals the steel that could be projecting from the walls.
If you didn't know, coping is essential in integrating the tile and finish of the swimming pool.
In addition, it prevents your swimming pool concrete pull from getting at the back of the pool shell.
Step 6
Test the Plumbing & Electrical Pool Systems
What is necessarily required here is to determine whether or not the plumbing and electrical systems are functioning.
At the time, it is best to do this at this stage than assuming all is well.
Because should you find some fault, it becomes easy to fix then continue to the next step.
At some point, you'll need to fill the swimming pool with water for these tests to be effective.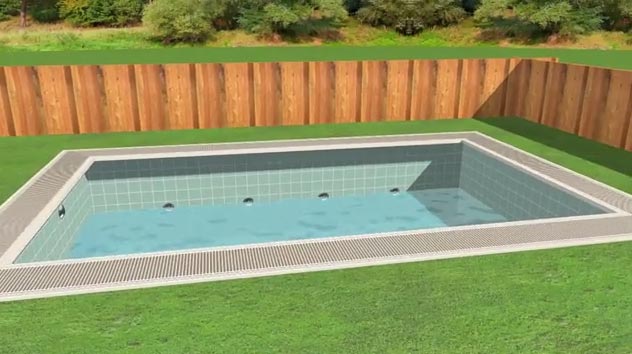 Fill the swimming pool with water to run the tests
So, if you find any kind of malfunction in plumbing or electricity, you only need to drain off the water and then fix the fittings accordingly.
While at it, you can also test if there are leakages and even fix them appropriately.
But if you find out that all systems are working, then you can comfortably move to the next step.
Step 7
Make the Swimming Pool Deck
Actually, before this stage, you ought to have filled all the spaces behind the wall using concrete.
It is also an ideal way of making the walls stable.
Then you'll be tasked with installing a pool deck. You got lots of options at your disposal.
For example, this is a wood swimming pool deck: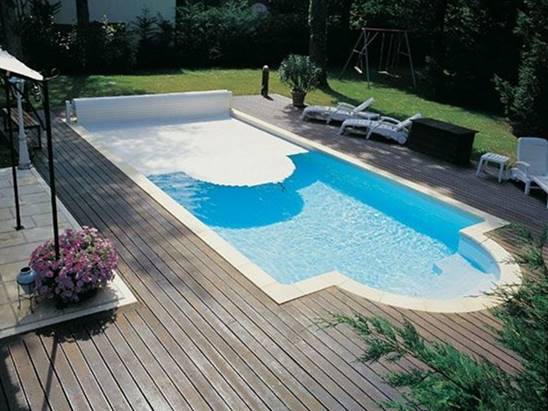 Wood swimming pool deck – Photo Credits: ARCHI PRODUCTS
But before you choose on a particular one, you need to ensure that you consider the safety measures first.
Talk to your contractor regarding this and see what can work best for you.
The type of swimming pool deck to be installed on your swimming pool also depends on your area.
You need to check with the relevant authorities to determine the best option for your pool.
It is important that you be cautious at this stage.
Remember, the pool deck material should complement backyard.
It should be something that at the end of it; be appealing to the eye and match the surrounding.
Furthermore, you need to ensure that you pick a relatively durable option.
It is a tedious process so I bet you wouldn't want to involve in demolishing and re-installing after every few months.
But most importantly, ensure that it is not a material that can make you and other users to slide and fall easily.
Just pick something that is durable, safe, good-looking and of course cost-effective.
Step 8
Fill Swimming Pool with Water
At this stage, it means you have gotten almost to the completion of the entire process.
What you've got left at this point are the simple finishing operations just before you use your swimming pool.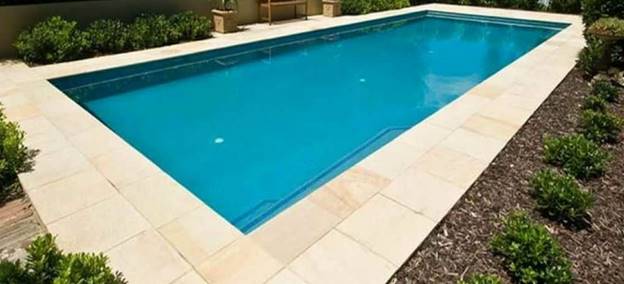 Swimming pool full of water – Photo Credits: XTEND STUDIO
Filling the pool depends on how you did your plumbing.
If you had an internal inlet, you can just open the source and let the pool filled to the bream.
If not, you can outsource a water supply company on the other hand to fill the pool.
It is at this point that you also need to re-check the entire pool to determine whether there is further leakage.
And the most critical aspect of this phase is to make sure that you fill the pool using clean water.
It should be from any unwarranted chemicals and free from toxins or any contamination.
This can turn out to be a disaster if you opt to fill the pool with any of that kind of water because for one, you might get an infection.
Besides, you might end up incurring extra cost, wasting time and effort in draining off and refilling the pool.
Step 9
Install a Pool Enclosure
Installing a swimming pool barrier is important.  In fact, the law states that every swimming pool must have a barrier.
You may opt for a pool fence or a pool cover.
However, I am a proponent of swimming pool enclosures.
It is a requirement in most of the localities for a swimming pool to have an enclosure.
Remember an enclosure is relatively somewhat different from a swimming pool fence.
An enclosure is meant to cover the pool water from harsh climatic conditions, such as temperature variations during extreme winter or summer.
So whether the weather is devastating, once you have the pool enclosure fitted, you will still be able to enjoy your swimming sessions.
The good news about it is:
Pool enclosures come in various designs and configurations.
This makes it easy for you to make your selection based on your preference.
Additionally, you can choose to go for a retractable pool cover or better still go for a fixed one.
And the best news here:
Once you install an ideal pool enclosure made from an ideal material, it can last for as more as two decades before thinking of replacing it.
So, it relieves you of the pressure to buy another one, and in this case – you save more cash. Who wouldn't like that?
Installing the pool enclosure is easy. You just need to get the right measurements and order one from the famous stores that deal with the same.
Alternatively, you talk to your contractor. Chances are always high that they know some of the best places to obtain these materials.
Furthermore, they deal with such items regularly.
So it becomes easy for them to recommend you to a better dealer where you can obtain quality at cost-effective rates.
Once the swimming pool is ready for use, installing the pool enclosure can take a maximum of three days.
More resources:
Swimming Pool Installation Video
Build Your Own Swimming Pool from Start to Finish Video
Swimming Pool Kit DIY Installation Video
Step 10
Decorate around the Swimming Pool
Now, it is time to decorate the area around your swimming pool.
Obviously, this is a sign that you are done with your swimming pool installation process.
The idea here is to transform the surrounding around your swimming pool area.
Here are a few ideas to consider:
Grow Plants around the Swimming Pool
First decoration idea that you might think of is growing plants around.
Vegetation like trees is suitable when planted in your backyard.
Trees will provide you with ideal shadows to relax after swimming.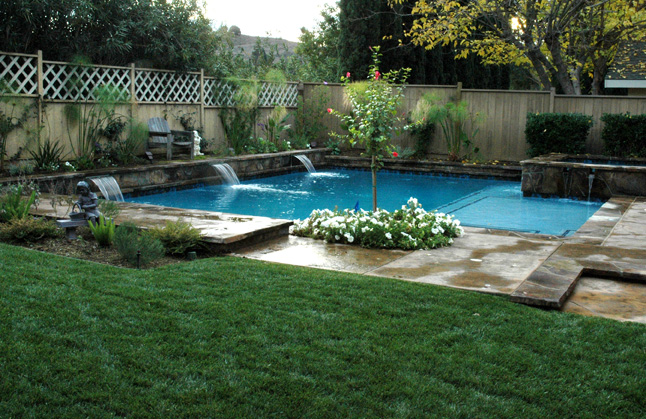 Plants around the swimming pool – Photo Credits: GREEN SCENE LANDSCAPE
However, you need to ensure that you do not plant too much of them. Why am I saying so?
This will prevent the leaves from littering the pool area.
Too much of trees will also act as habitat for wild birds.
Which in most cases, it may cause unnecessary destruction ranging from noise and also scatter the surrounding.
Another decoration idea is adding nicely painted stones around the pool area.
These stones help in giving the environment a natural touch.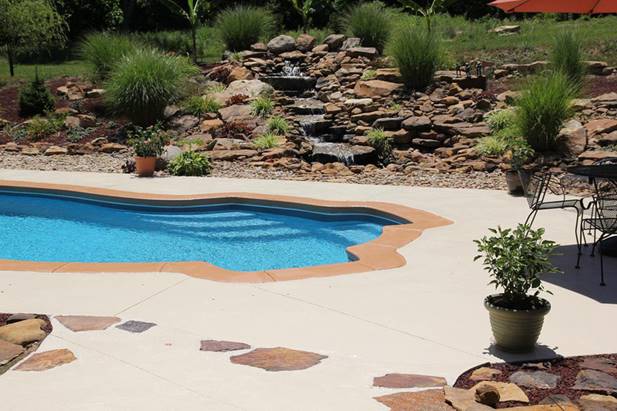 Stones around the swimming pool – Photo Credits: SEAL KRETE
If well done, you will have one of the coolest pool yards on your homestead.
Just make sure that the stones are not designed or placed in a manner that can cause harm to the pool users.
You may also decide to install a swimming pool fence around and paint it to blend with other elements on the poolside.
It does not matter what kind of material you are going to use to decorate the swimming pool.
The most important thing that you need to factor first is safety.
As long as it is safe to use both to you as a swimmer and the environment, you are good to go.
Always remember the items or any other thing that you are using to decorate the swimming pool yard has to blend with the surrounding.
Otherwise, what would be its need?
It has to provide that extra aesthetic and relaxing feeling.
But at the end of it all, just ensure that it is not a costly option unless you can afford and you also deem it necessary.
In short, this is how you can install a fiberglass or concrete in ground swimming pool.
Now, the ball is in your court…
Which challenges did you face when installing in ground swimming pool?
Between concrete and fiberglass, which of the two do you find easier to install?
Let me know what you think by leaving a comment below.